Do you find yourself overly critical of your children no matter their age? Or one child more then the other(s)? I am well aware of one of many faults, that of criticizing my children far too often and over the dumbest things…and all too often in a not-so-nice voice. Admitting I have a problem is the first step, right?
If you have any thoughts on the post, words of wisdom or helpful advice I'd love for you to share them. We're all in this together—I hope!
Before you criticize your child, ask yourself this question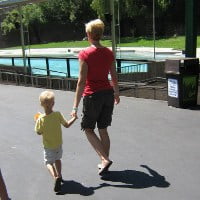 I am not the perfect mother, which I'm sure you've already figured out if you've read any of my past Rocky Mountain Moms Blog posts. I don't profess to be the perfect mother but I do know areas in which I could—and should—improve and am trying to work on them one baby step at a time. (I learned that life-changing philosophy from Bob Wiley in What About Bob?)
My latest self- motherhood-improvement attempt is trying to cut back on the little criticisms I find myself throwing at my children throughout the day AND if I do find the need to point out something, using a much more motherly voice to do so. I'd like to tell myself that as long as I'm not saying anything that would directly hurt their feelings or worse, their self-esteem, then it's merely constructive criticism I'm giving them. But is it really constructive?
Though it would seem harmless to ask one daughter why she always has to doodle on her homework papers and follow it with "the look" at dinnertime when I find her using her fingers way too often, I'm wondering if it all adds up over time. If I'm finding fault with even the smallest things like one daughter leaving her wet towel on the stair railing yet again—and using my not-nice voice to point it out to her, will my children have a hard time feeling like they measure up?
Yes, I'm trying to raise them to be stalwart adults with strong values, a good work ethic and compassion for their fellow men but how compassionate is a mom who seems to constantly harp on her children in a pretty harpy voice? (See how imperfect I really am?) Fortunately I don't think I've done any permanent damage…yet.
So in an effort to reverse any serious effects of my suboptimal parenting skills, my latest baby step is to bite my tongue while asking myself this question: "Is it eternal?" In other words, is what they're doing something that will be a detriment to their health, a harm to others or lead to a life of crime? If not, if they're simply cutting their slices of cheese way too thick or repeatedly forgetting to comb their hair after showering, then I really ought to let it go.
And if I hear them slurping their aptly named Slurpees a little too loudly, then a kind reminder of Slurpee etiquette is probably more effective than "the look." (By the way, you should really save "the look" for special occasions, i.e. when you're out in public; otherwise it might lose its effectiveness.)
It's not easy to break ol' parenting habits but I'm doing my best, Bob-Wiley style. You've got to start somewhere, right?
Original Rocky Mountain Moms Blog post by Emily Hill, mother of four and big fan of Bob Wiley.
…
P.S. Don't forget to sign up for free is this REALLY my life? updates via RSS or email.
…