This creamy chicken and corn chowder with sweet potatoes is flavorful and super family friendly. Pair it with freshly-baked peasant bread and Caesar salad for the perfect weeknight meal!
.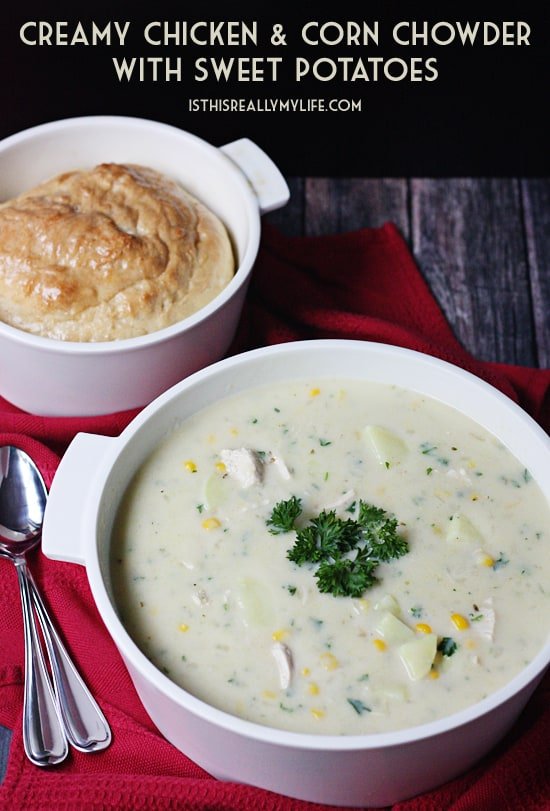 This is a sponsored post for REVOL. All thoughts, opinions and love for this new soup recipe are mine.
.
The weather has definitely gone from balmy to blustery the past few days, which makes it the perfect time to try out a new soup recipe.
Getting my hands on some REVOL porcelain cookware from France made it even more perfect.
I first had this creamy chicken and corn chowder with sweet potatoes a few years ago around Christmas and I seriously can't believe it's taken so long for me to make the recipe. It was a huge hit with the family and is totally going in our soup rotation now that chilly weather is here.
.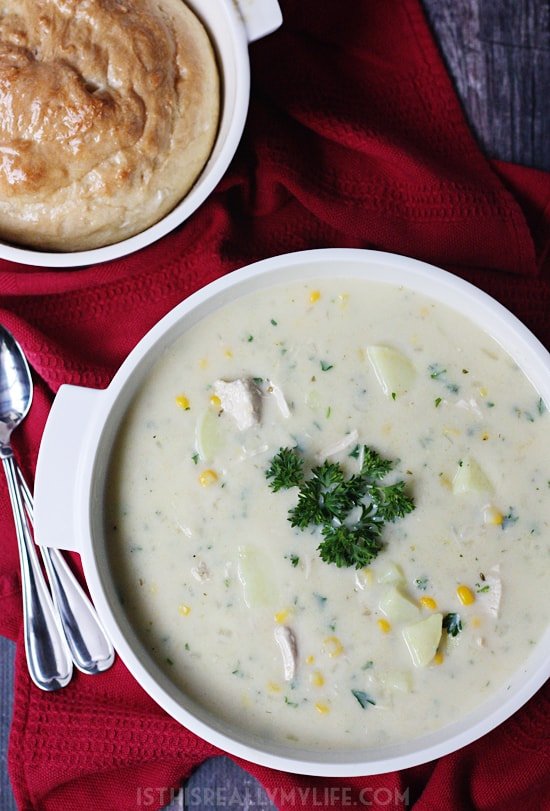 .
I paired this absolutely scrumptious chicken and corn chowder with Madison's "famous" peasant bread and a Caesar salad for the perfect weeknight meal. The best part is having enough leftovers so Nathan can enjoy soup and bread at work tomorrow. I'm totally his favorite.
.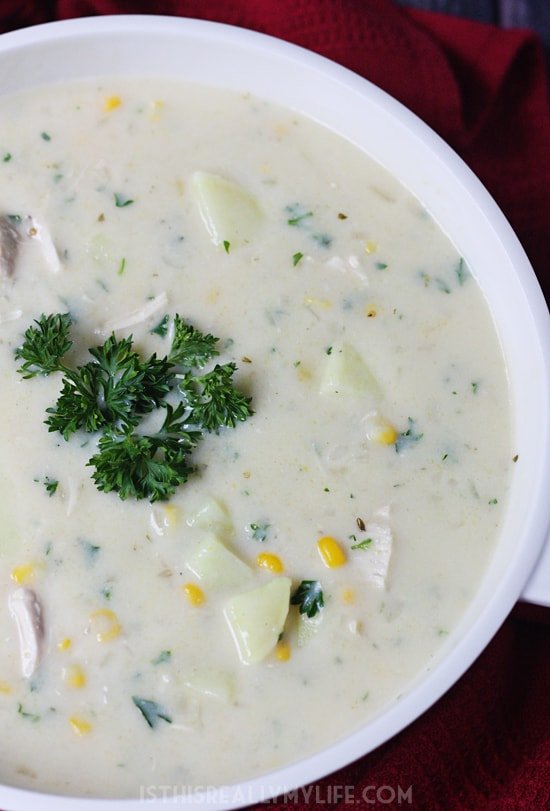 .
I wasn't sure how the family would like the sweet potatoes but they were perfection. The flavor complemented the chicken and corn far better than plain ol' potatoes would have. George was the only one who wasn't a fan, but that kid doesn't like any form of potatoes other than french fries.
.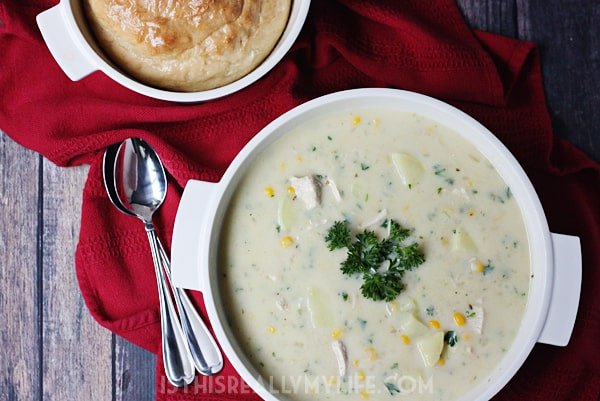 .
What might have made this chicken and corn chowder even better was the REVOL cookware. Okay, maybe not but it did make preparing and serving it much easier.
.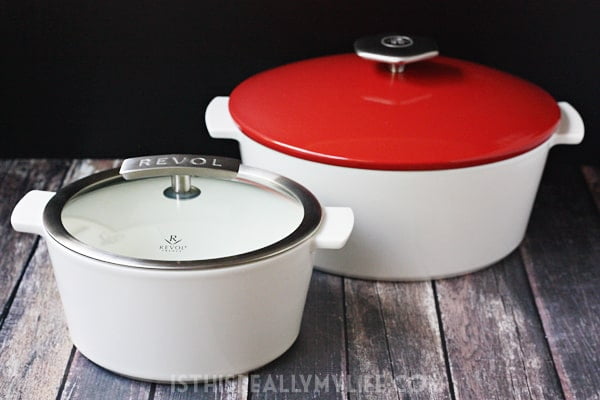 .
The REVOL Revolution 2 Dutch oven pictured is entirely made of ceramic and is suitable for every heat source including induction, stove top, electric top, oven and microwave. It is lighter than cast iron and doesn't need any special care or seasoning. That's my kind of cookware. Even better, the Revolution 2 Dutch oven went from stove top to fridge (I made the soup earlier in the day), back to stove top and then finally to the table for serving. Although I hand washed it, I could have put it in the dishwasher—not something I can do with my other Dutch oven.
.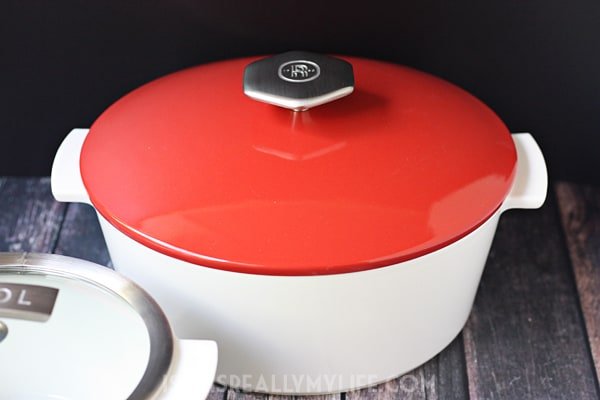 .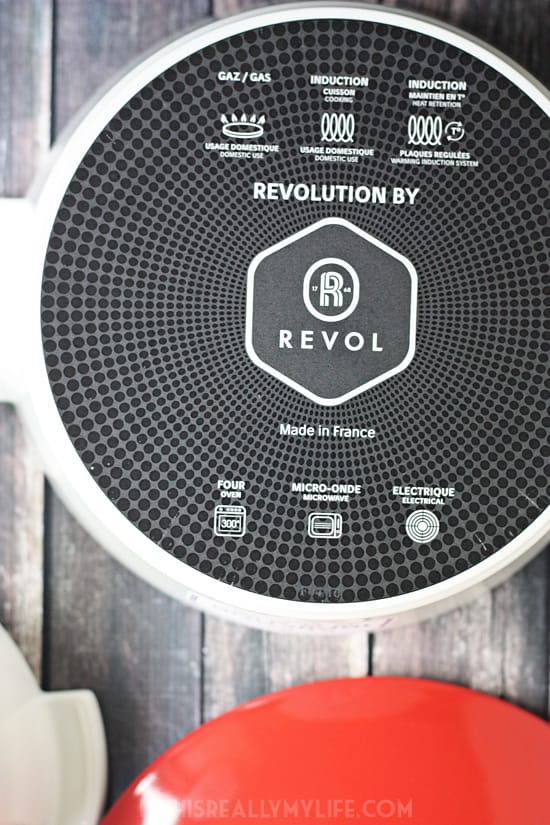 .
I baked the peasant bread in the REVOL Revolution round cocotte. It's similar to the larger Dutch oven but has a stainless steel and glass lid making it easier to see what you're cooking and better control the cooking process. It's perfect for notorious lid lifters like myself.
.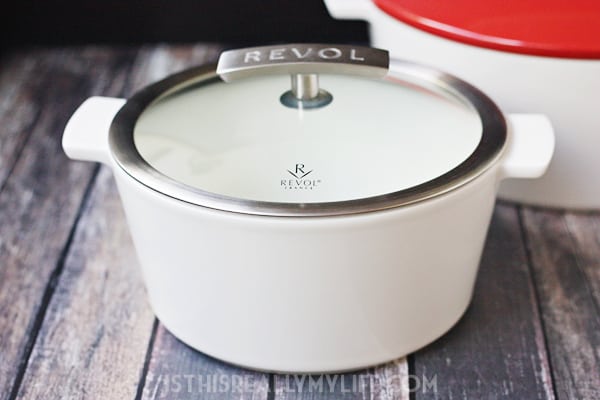 .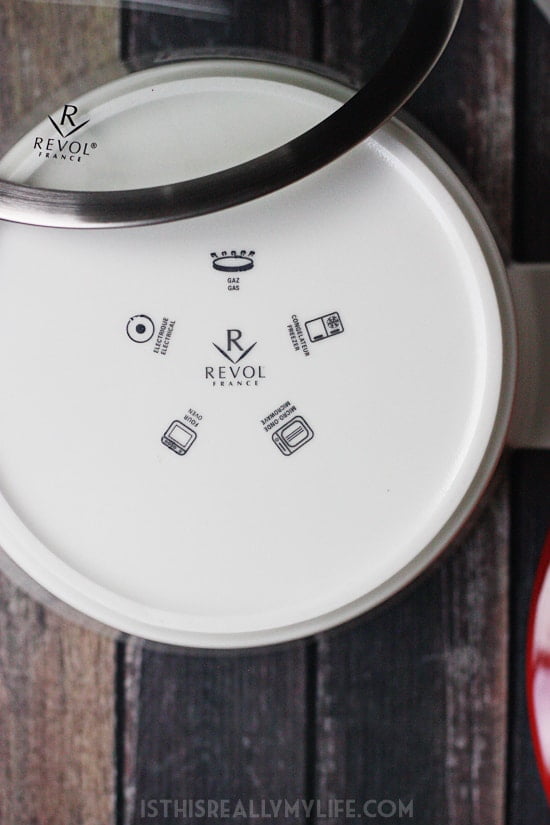 .
REVOL's Revolution cookware won't rust or scratch and remains impeccable even if you use it every day. Ceramic is a natural material so it does not contain any heavy metals or toxins which makes it 100% food friendly. Plus porcelain is non-porous so the cookware won't react to food and will not absorb fats, odors or bacteria. REVOL ceramic cookware is full of all kinds of superpowers.
I'm not gonna lie. REVOL cookware—along with their dinnerware and serveware—isn't cheap but it will last forever and they do offer the occasional sale. After sauteing, simmering, boiling, baking, refrigerating, reheating and cleaning, I think it's worth the investment. Or worth putting on your Christmas wish list.
.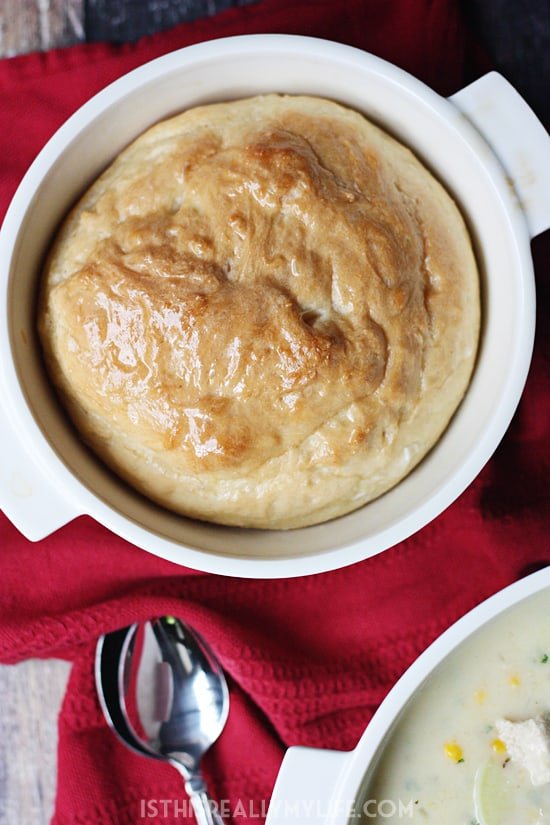 .
You can get the recipe for the peasant bread HERE and the printable recipe for creamy chicken and corn chowder with sweet potatoes below. Enjoy!
.

Creamy Chicken & Corn Chowder with Sweet Potatoes
This creamy chicken and corn chowder with sweet potatoes is flavorful and family friendly. Pair it with freshly-baked bread and salad for the perfect weeknight meal! Serves 6 to 8.
Author:
Emily ~ isthisREALLYmylife.com
Ingredients
3 cups whole milk (or skim)
1 cup yellow corn muffin mix
2 T unsalted butter
1 onion, finely diced
2 garlic cloves, minced
½ tsp ground cumin
½ tsp dried oregano
2 quarts chicken stock
1½ pounds boneless skinless chicken breasts, cooked and diced
2 sweet potatoes, peeled and diced into ½-inch pieces
1 cup shredded Monterey Jack cheese
3 cups frozen corn (do not thaw!)
½ cup chopped fresh parsley
Salt and pepper to taste
Instructions
Whisk milk and muffin mix in a medium bowl until combined; set aside.
Melt butter in large Dutch oven over medium heat. Add onion and cook until soft, about 8 minutes. Stir in garlic, cumin and oregano and cook until fragrant, about 30 seconds.
Add stock, chicken and sweet potatoes. Bring to a boil, reduce heat and simmer until sweet potatoes are tender but not soft (about 8 minutes).
Whisk milk and muffin mix one more time; stir into soup. Simmer until soup thickens, about 10 minutes.
Add cheese and corn and cook until cheese starts to melt. Stir in parsley and season with salt and pepper to taste.
Serve topped with additional shredded cheese. Refrigerate leftovers in an airtight container in the refrigerator for up to 3 days.
.
My family also loves these soup recipes. I bet yours would too!
.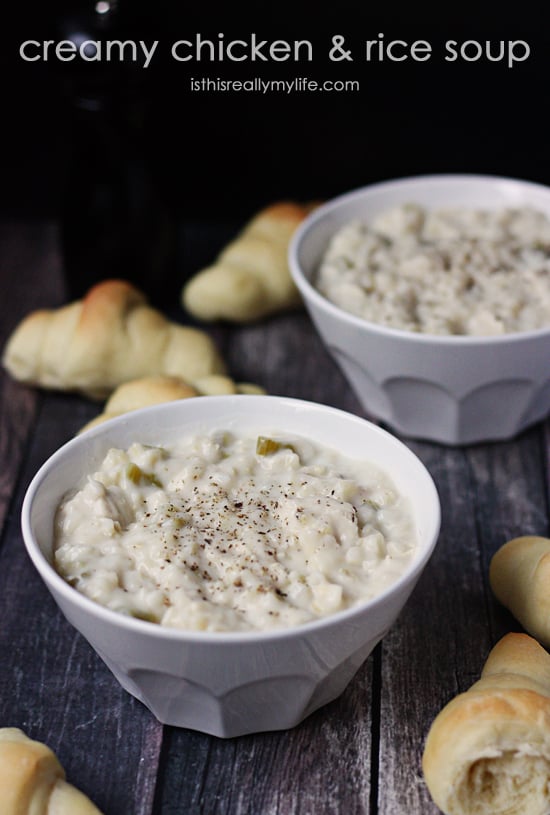 .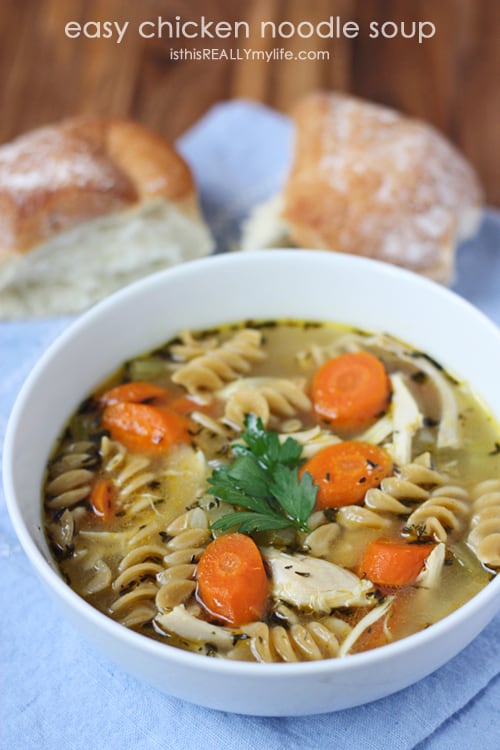 Super easy chicken noodle soup
.


Cafe Zupas Wisconsin cauliflower soup
.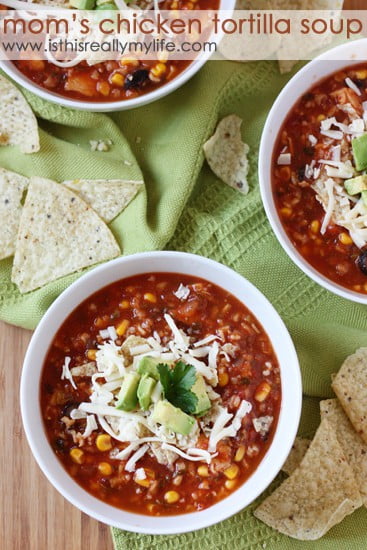 .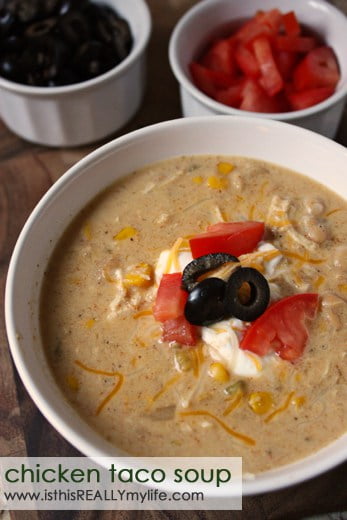 .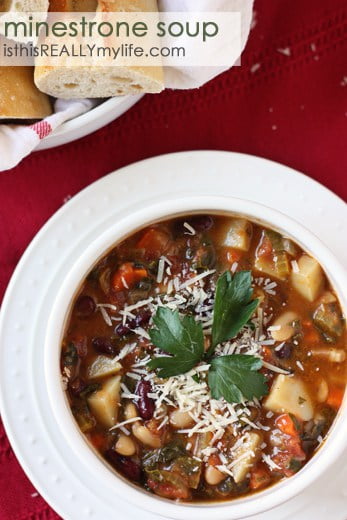 Homemade minestrone soup
.
.
Looking for more yummy recipes? Try browsing my best of Is This Really My Life Pinterest board. I guarantee you'll find quite a few!
.
.

Feel free to "like" is this REALLY my life? on Facebook. It won't always earn you an extra entry in a giveaway but it will give you warm fuzzies.
Don't forget to sign up for free is this REALLY my life? updates via RSS or email so you don't miss a single awesome post.
.