I could not for the life of me figure out why my girls consistently forgot to wipe down the counters when it was their week to do dishes. I would remind them time and time again, usually after setting down an important paper only to find it speckled with grease spots or damp with what might have been the morning's cereal milk.
Then it occurred to me. They're not your typical forgetful teenagers. They're victims...victims suffering from a very serious disease: counter blindness. It's a real thing, my friends, for I've seen it happen over and over and over again. And guess what? Counter blindness doesn't just affect chore-ridden kids. It also prevalent among homeowners who have kitchens with granite counter tops in styles that expertly camouflage food particles.
You know, something along the lines of the counters pictured in a few of my layered pesto dip photos.
.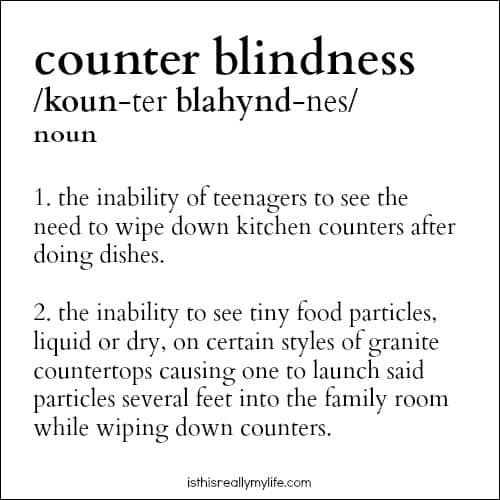 .
Counter blindness is a serious problem—so serious, in fact, it probably warrants a GoFundMe campaign.
Expect a donation invitation to hit the Facebook within the week.
.
If you're looking for a bit more humor, you should browse my humor & funnies Pinterest board.
.
Follow Emily Hill's board humor & funnies on Pinterest.
.

Feel free to "like" is this REALLY my life? on Facebook. It won't always earn you an extra entry in a giveaway but it will give you warm fuzzies.
Don't forget to sign up for free is this REALLY my life? updates via RSS or email so you don't miss a single awesome post.
.