I really wanted to title this post "Has ConsumerCrew figured out how to keep you from wasting days and days hours of precious time researching products before you buy?" but it was way too long.
Before Olivia was born, Nathan decided he would exercise faithfully if only he had a treadmill. But I didn't want him to buy just any treadmill because I'd be using it too. (I knew even then I'd be using it a heck of a lot more than he would.) I can still remember spending far too long jumping from one website to the next trying to figure out which treadmill would be best. You know, one that would not be used as a clothes rack or jungle gym.
After some slight bruising due to banging my head against the keyboard a few too many times, we found the perfect treadmill, but man, was it a painful process...and I'm not talking about the bruising.
I've seen Nathan go through a similar process when purchasing his favorite items: electronics. (I actually think his thinning hair is the result of a past search for the perfect non-Apple MP3 player.) That is why I'm super jazzed about ConsumerCrew, a new site that promises to do all the dirty work product research for you so you can spend that precious time of yours doing more important things...like hopping on the treadmill.
...


...
Here's what makes me think this ConsumerCrew thing is super nifty:
Our job is to help you find the best products for the cheapest price. It's a one-stop resource for product advice that you can trust. What makes it so special is that your experience is completely personal. Simply tell us what you are looking for, and we'll analyze, compare, and recommend the perfect match to fit your needs.
...
I hear that personal-shopper thing totally rocks. I'm thinking this ConsumerCrew thing is just like that—an online personal shopper with my best interests (and budget) in mind. It's perfect for taking the guesswork (and thinning hair) out of purchases big or small. Whether you're a new homeowner shopping for the right washer and dryer or a doting husband hoping to buy the perfect anniversary band, ConsumerCrew will find exactly what you're looking for...and in 1 business day (on average).
...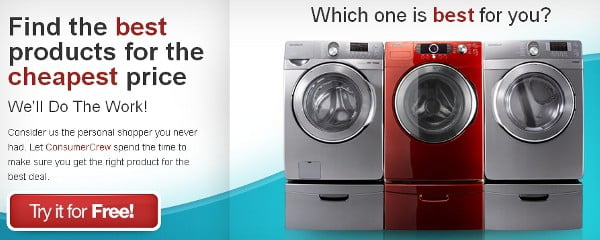 ...
Right now you can sign up for a free 10-day trial, but at less than $30 a year, including unlimited product checks, I say just go for it! (You could also sign up for a 3-month membership for under $12 or a monthly membership for around $5.) Heck, I'd have paid twice that for someone else to have done the research on that $%*@ treadmill! (I say "$%*@" because the motor blew after a couple years; Nathan's currently using it as a clothes rack.)
While you're getting your ConsumerCrew on, check out the company's Facebook contest. On May 13th, anyone who currently "likes" ConsumerCrew will be entered to win one of two $50 gift cards to Target or Best Buy! Bet you could get an awesome non-Apple MP3 player with your winnings!
...
And now for today's giveaway...because ConsumerCrew is awesome like that.
...
ConsumerCrew is giving away a $50 Target gift card to one lucky ITRML reader!
...
For your chance to win, leave a comment telling me what product you'd like ConsumerCrew to research for you!
For extra entries, you can do any/all of the following. Please leave a separate comment for each one you do (each one earns you an extra entry).
~ "Like" ConsumerCrew on Facebook (for another chance to win!).
~ Follow ConsumerCrew on Twitter.
~ "Like" ITRML on Facebook.
~ Become a friend of ITRML on Google Friend Connect (sidebar) and/or subscribe to ITRML.
~ Tweet about this giveaway and leave the URL of your tweet.
~ Update your Facebook status with a link to this giveaway.
This giveaway will end at midnight on Thursday, May 19th. In the meantime, sign up for that free trial and give ConsumerCrew a try!
Note: Winner will be notified via email. If no reply is received, a new winner will be drawn.
Disclosure: Though ConsumerCrew provided me with the $50 Target gift card to give away in this review, my excitement about a site that saves me time and a few early signs of aging is all mine. Though you can see their ad at the top of my sidebar, they did not pay for advertising, but I know the guy who launched the site. Why blog if you can't help out a friend once in a while? Oh, and they didn't buy me a new treadmill, but that's okay. It's working well as full-time clothes hanger and part-time jungle gym.