I've made bar cookies before like these delicious sugar cookie bars (perfect for Valentine's Day if you tint the frosting pink!) and these "I can eat the whole pan" bar cookies (I really need to update the post with a photo...sheesh!), but I'd never made a batch that used a single pan—a saucepan, to be exact. I'm all about single-pan anything and love any excuse to bake a batch of cookies. Or bar cookies. Or coconut chocolate chip saucepan bars.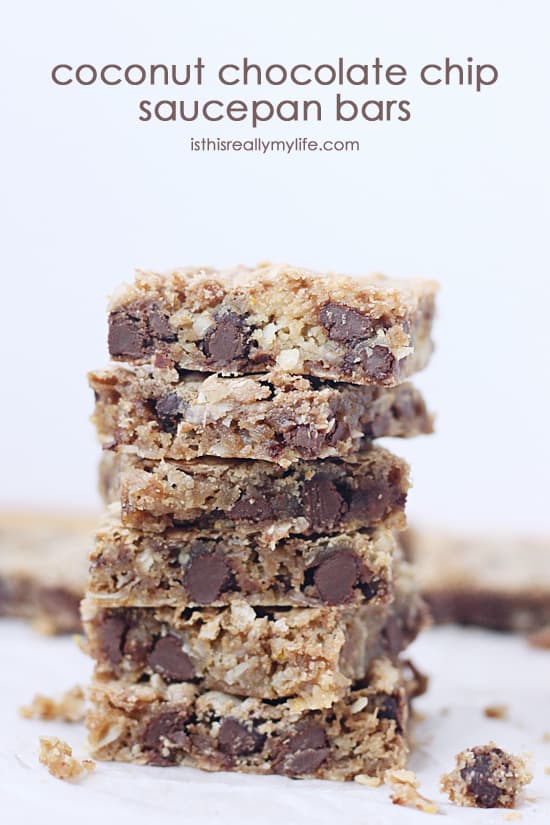 It just so happened Livi and I were the only ones home one evening, and what better way to bond than to bake a dessert? I always make sure I have everything I need for a basic cookie recipe on hand; it's part of my emergency preparedness plan. And yes, coconut is included.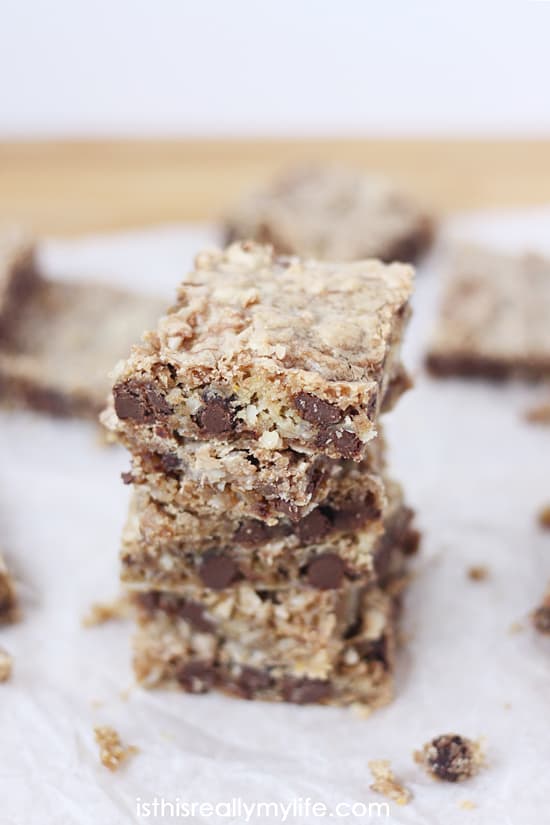 These coconut chocolate chip saucepan bars were super easy, though we did learn we'll wait a little longer to fold in the chocolate chips. I thought the batter was cool enough but discovered it wasn't as my chocolate chips started to melt and turn the batter into more of a swirled cookie. Not that anyone complained. There was still enough chocolate chip goodness in every bite!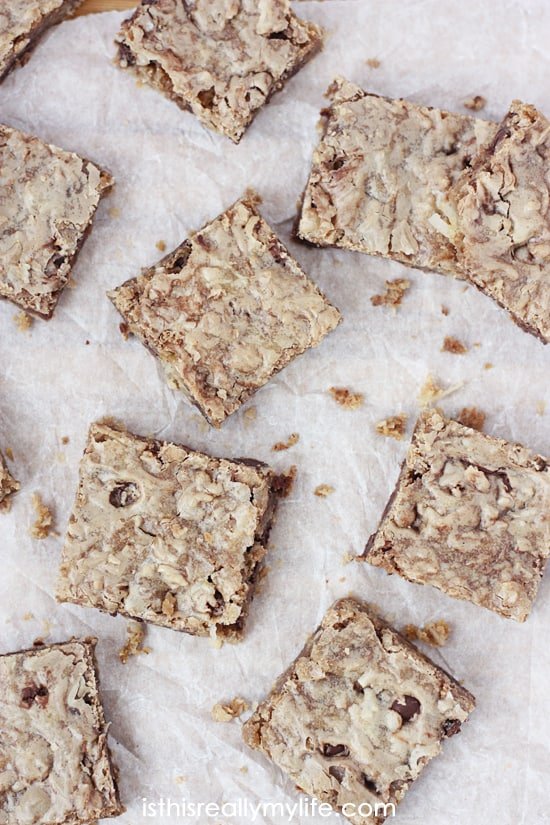 I bet you could add chopped pecans to this recipe for even more delightful saucepan bars. Next time I might even try using half milk chocolate chips and half semisweet to mix things up a bit. Mmm...
Printable recipe for coconut chocolate chip saucepan bars below. Enjoy!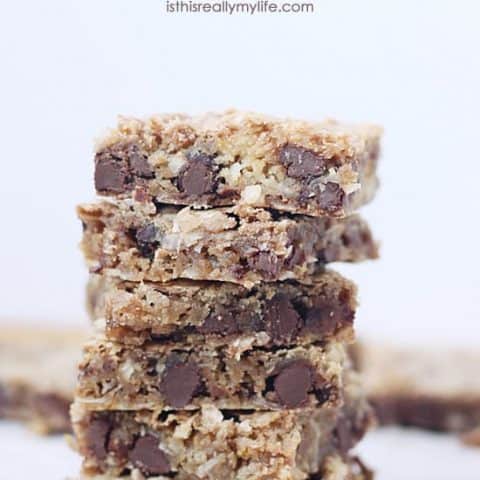 Coconut Chocolate Chip Saucepan Bars
These coconut chocolate chip saucepan bars are made in a saucepan and then spread into a 9x13-inch pan for some of the yummiets bar cookies you'll ever bake! Try throwing in a ½ cup of chopped walnuts or pecans. Mmm... Makes approx. 24 bars.
Ingredients
½ cup unsalted butter
½ cup brown sugar
½ cup sugar
2 T water
1 tsp vanilla
1 egg, room temperature
1 cup flour
1 ¼ tsp baking powder
½ tsp salt
1 cup semisweet chocolate chips
1 cup shredded coconut
Instructions
Preheat oven to 350 degrees. Spray a 9x13-inch pan with cooking spray; set aside.
Melt butter over medium-low heat in a medium saucepan. Remove from heat and stir in sugar, water, vanilla and egg using a wooden spoon.
Add the flour, baking powder and salt; stir until thoroughly combined. Let cool a couple minutes before folding in chocolate chips and coconut.
Pour into pan and spread evenly. Bake 20 to 25 minutes or until light golden brown. Let cool before cutting into bars.
Nutrition Information:
Yield:

12
Serving Size:

1
Amount Per Serving:
Calories:

276
Total Fat:

15g
Saturated Fat:

9g
Trans Fat:

0g
Unsaturated Fat:

4g
Cholesterol:

36mg
Sodium:

179mg
Carbohydrates:

37g
Fiber:

2g
Sugar:

26g
Protein:

3g
You might also want to make these sugar cookie bars for Valentine's Day, and St. Patrick's Day and all the days...