I adore coconut. ADORE. IT. I'm not sure if it's because coconut is so sugary and sweet or because it makes me think tropical thoughts. And being that I live in Utah, I don't get a taste of the tropics very often.
Thanks to a baby shower for Holly, a Twitter friend, I finally baked up a batch of this coconut bread. I've been wanting to try this coconut bread recipe since it made its debut in 2008 at one of our church's annual progressive dinners and bake-offs.
…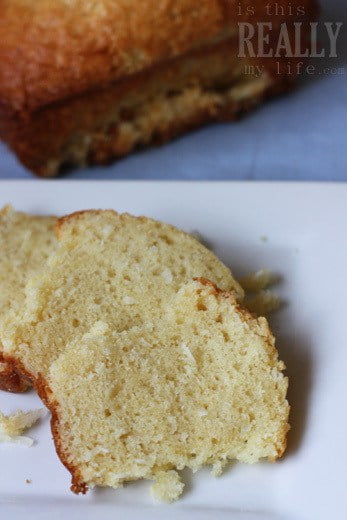 Pin It

Yes, 2008. Why it took me over three years to make this coconut bread is beyond me. I think it's due to it tasting best after being refrigerated overnight.
Who thinks that far ahead when baking? I mean, seriously.
But it's totally worth the wait. Yes, this decadent bread—I'd almost call it a pound cake—is delicious the same day it's baked, but it is EVEN BETTER the next day right from the fridge. We ate it in record time….even though the loaves were slightly deformed due to my crappy efforts at removing them from the pan.
Note to self: Be generous with the cooking spray, have a little more patience and use a better knife.
Good thing it makes two regular-sized loaves or four mini loaves. You'll eat half day one and half day two. There will be no leftovers by day three. Enjoy!
Printable recipe for coconut bread below.
…
This coconut bread is quite possibly my favorite dessert-style bread. You could even call it a pound cake, it's that good. And truly, it is best when refrigerated overnight. Enjoy!
Author:
Emily ~ isthisREALLYmylife.com
Ingredients
4 eggs
2 cups sugar
1 cup canola oil
2 tsp coconut extract
3 cups flour
½ tsp salt
½ tsp baking powder
½ tsp baking soda
1 cup buttermilk
1½ to 2 cups flaked coconut
Instructions
Preheat oven to 350 degrees. Grease two large (or four mini) loaf pans.
In a large mixing bowl, combine eggs, sugar, oil and coconut extract and beat well.
Sift together flour, salt, baking powder and baking soda and add to egg mixture. Mix well.
Add buttermilk and coconut and stir until thoroughly combined.
Pour into loaf pans and bake 40 to 45 minutes or until a cake tester inserted in the center comes out clean.
Let cool. Wrap tightly in saran wrap or foil and refrigerate overnight.
Notes
If you don't have buttermilk, you can combine lemon juice with regular milk. Just put 1 T lemon juice in a measuring cup and fill to the 1 cup mark with milk. Let sit for a few minutes and then use in the recipe.