It's a sad state of affairs when only 31% of kids play outside. Let's join CLIF Kid and reclaim play by getting kids off the screen and out the door.
.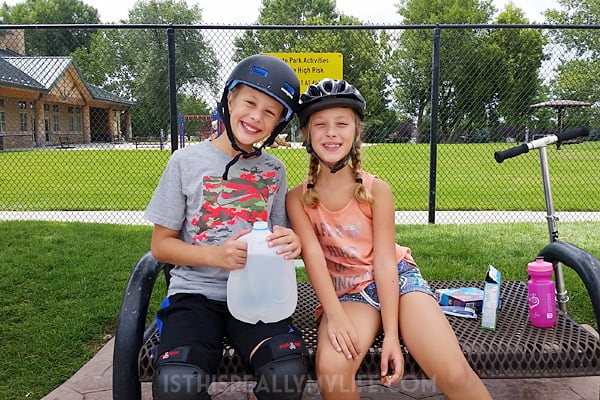 .
Remember when our parents used to tell us to get outside and play with the strict guideline to not return until dark? They basically said, "Don't come back until the street lights come on" or in my case, "Don't come back until the street lights come on or you've broken something and are bleeding to death."
Side note: I fell off my bike while flying down a closed overpass, ripping my chin wide open and dripping blood all over my banana seat bike. When rinsing it in the neighbor's sprinklers didn't help, I made my way home. It was my first set of stitches but not my last.
.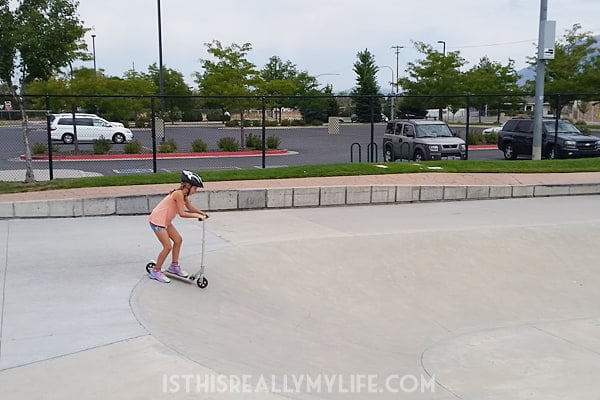 .
Not surprisingly, play is disappearing at home, in school and in our communities. While 70% of moms played outside when they were kids, only 31% of their kids play outside today. As much as I love technology, I feel it's largely the cause of our kids' inactivity. I'm definitely guilty of allowing them to spend too much time indoors when they should be running amok in the neighborhood.
By the way, if they're running amok outdoors, they're not making messes indoors. It's a total win.
.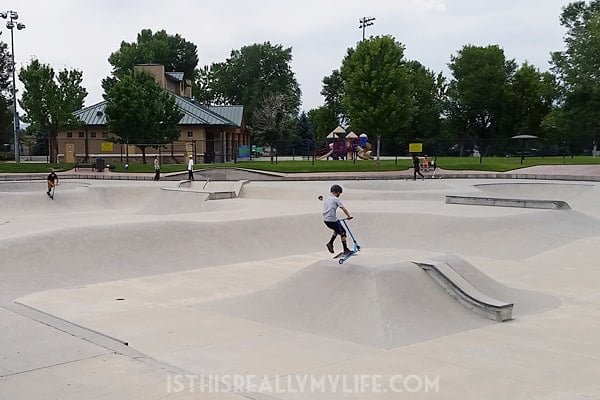 .
This summer I made a concerted effort to reclaim play by kicking them off the screens and out the door more often, even if that meant I had to get outdoors myself. We hiked, swam and walked the dog. The kids took tennis and swim lessons and even chased chickens around my sister's property in Kentucky. It's not always easy to get them outdoors; often it takes a bit of gentle pushing and a list of suggested outdoor activities. One of the new favorites this summer was our local skate park.
.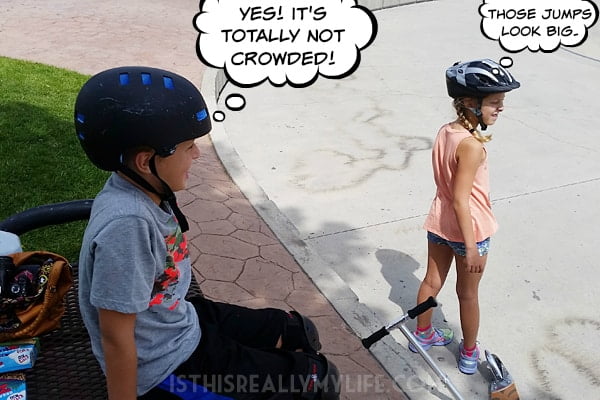 .
The last time we went to the local skate park, George had a gallon of water in tow. He gets pretty hot and sweaty scootering up, down and around this popular place of play. He also gets hungry (typical for a boy of nearly 11) but hates packing bulky snacks. Plus most of the snacks in our pantry don't fuel play for very long…that is until we added boxes of CLIF Kid Zbars.
.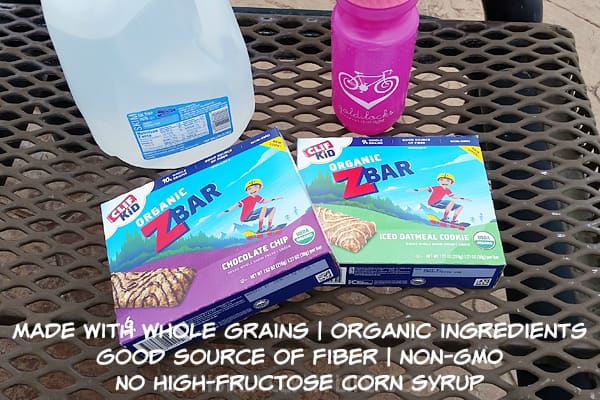 .
CLIF Kid makes nutritious snacks from organic ingredients that are specially-crafted for kids' developing taste buds and active lives. Their CLIF Kid Zbars are a new favorite with my kids. They for reals love them and have asked me to buy them instead of our standard granola bars.
.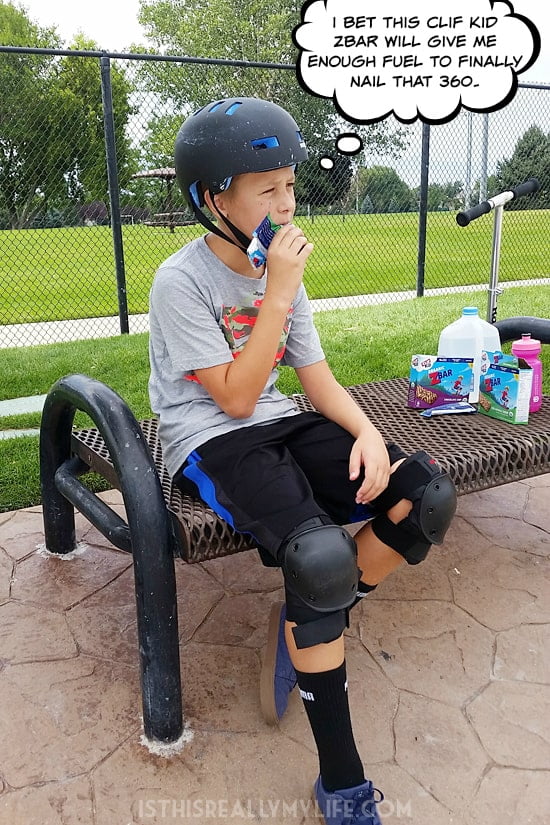 .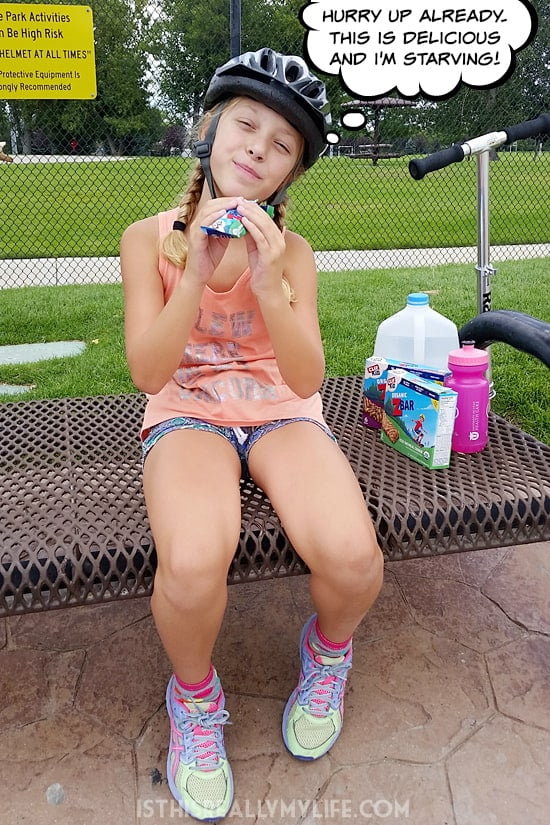 .
I'm happy to oblige since they're an appropriate portion size, are made with organic ingredients and are non-GMO, and they have important nutrients for active kids without high-fructose corn syrup, artificial flavors or synthetic preservatives.
In case you don't believe me when I say the kids love these baked bars, here's a bit of proof.
.
.
If our CLIF Kid Zbar taste-test video didn't float your boat, check out the official CLIF Kid video on YouTube. You can also visit the CLIF Kid Facebook page where you'll find everything from ideas for packing a nutritious school lunch to action shots of kids having all kinds of outdoor adventures.
CLIF Kid is dedicated to reclaiming play and they're encouraging boys and girls everywhere to get back outside, push their boundaries and feed their adventures—important life skills for kids and grownups alike! Let's promise to help CLIF Kid by getting our kids off the screen and out the door. All you need to do is say, "Don't come back until the street lights come on. Or you need to refuel. In that case, you've got three minutes to grab a drink of water and a CLIF Kid Zbar before I kick you out the door."
.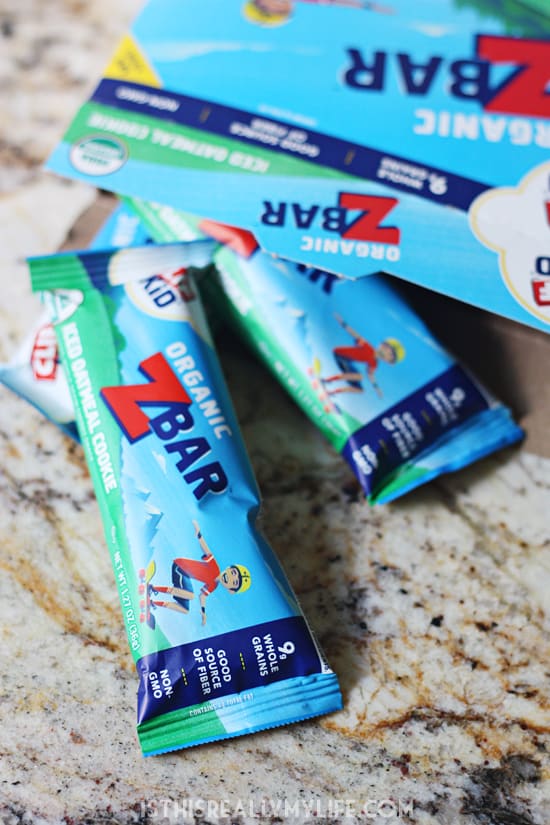 .
I was selected for this opportunity as a member of Clever Girls. The content and opinions expressed are my own.
.
Looking for more good ideas and yummy things? Try browsing my best of Is This Really My Life Pinterest board. I guarantee you'll find quite a few!
.
.

Feel free to "like" is this REALLY my life? on Facebook. It won't always earn you an extra entry in a giveaway but it will give you warm fuzzies.
Don't forget to sign up for free is this REALLY my life? updates via RSS or email so you don't miss a single awesome post.
.