And I'm not even 77kids' target audience.
Well, I am as far as the buying of the super cute American Eagle-inspired children's clothes, but when it comes to the new 77kids store at City Creek Center, it's all about keeping those shoppers-in-training entertained…and if the stars align (and those mini shoppers catch site of the interactive LCD screens), excited to be there as well.
77kids' mantra is "long live fun."
I like that mantra.
I was able to tour the new 77kids store the City Creek preview gala and fundraiser.
My adorable tour guide Kim (honestly, ADORABLE) showed me the ins and outs of their first retail location in Utah. In fact, this store is the furthest store west other than a store in some state like Michigan. Awesome, right?
From the bright colors and unique designs to the eye-catching styles and whimsical details, 77kids has done it right. And I'm not just talking about the clothes. Take a look:
…
…
Super cool dressing rooms sized perfectly for little ones complete with racks that read "like it," love it!" and "gotta-have it!" plus a porthole that opens from the inside so you can check how the outfit changes are going.
…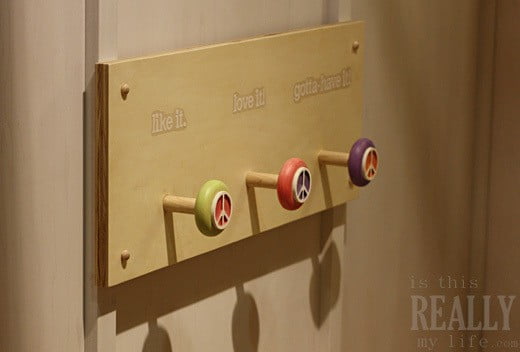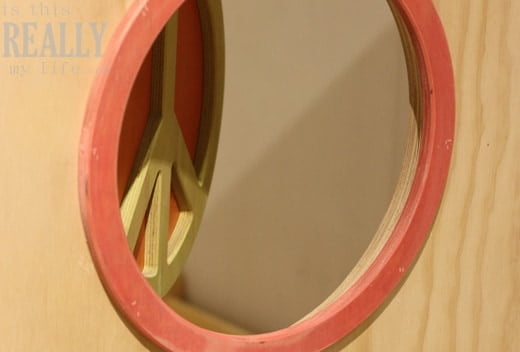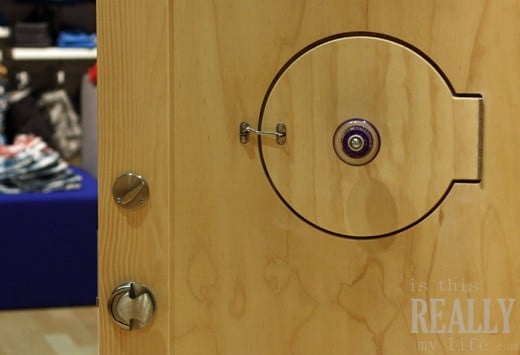 …
And the clothes? Let me use one of my favorite expressions…in all caps: TO DIE FOR.
…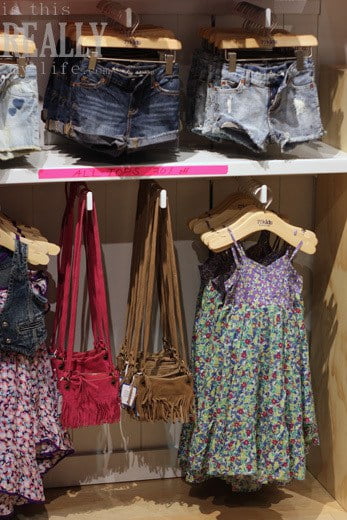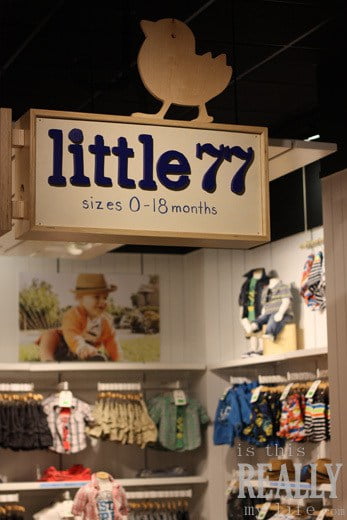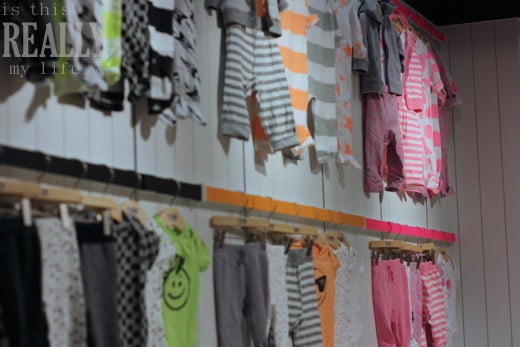 …
I may have bought that sundress in the bottom right corner of the top photo for Olivia. And you should totally see the swaddling blankets. Tres cool.
What tickled my fancy the most were the reinforced knees in the boys' jeans. Without fail George puts a hole in the left knee of his jeans. Every pair he owns has one and a few even have a matching hole in the right knee.
But enough about the stuff I think is cool. Check out what they've done in the store to make shopping with your kids as painless as possible.
Rounded corners on most every wooden display.
A choice of prize when Mom checks out.
And the most popular "toy" of all, the large computer touchscreens complete with store playlist (choose your faves), instant photos, 77look finder (snap an image and virtually try on outfits) and even personalized rock videos.
Here's my super (not) awesome polaroid. I was even able to add a little customization.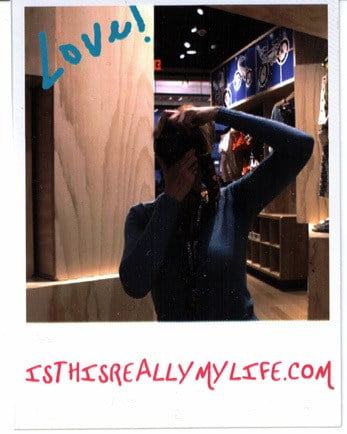 Oh, but the best is yet to come. Click on the screenshot below or this link to see me star in my very first rock vidoe courtesy of 77kids.
The fun doesn't stop there. I ran into Kim and Lindsey in the story and made encouraged them and their spouses to create a video they could call their own.
…
I really should've taken more shots of the clothes, but I'll let you browse the collection in all its hipness at 77kids online. While there that evening, I managed to pick up a lot of goodies:
Oh, and these babies:
George and Livi LOVE these Fred Chopstick Kids silicone chopstick holders/helpers. They've picked up all kinds of snacks including pretzels, chips and fruit snacks. (They have yet to actually eat Chinese food with them…)
So…it seems the shoes don't fit George and the dress is a bit snug for Livi. That means a return trip to 77kids at City Creek Center. Anyone want to join me? I may even bring the kids.
And now for the GIVEAWAY!!!
77kids is giving away one (1) $25 gift card good both online and off!
Bring on the Top Siders and reinforced jeans!
To enter, leave a comment telling me what you most wanted to be when you grew up(required). Was it an astronaut or maybe a rock star? How about a prima ballerina or high school math teacher?
For extra entries, you can do any/all of the following. Please leave a separate comment for each one you do (each one earns you an extra entry).
"Like" 77kids on Facebook (or tell me you already have).
"Like" ITRML on Facebook (or tell me you already have).
Subscribe to ITRML (or tell me you're already a subscriber).
Tweet about this giveaway with @77kids in the tweet and leave the URL.
Update your Facebook status with a link to this giveaway.
This giveaway will end at midnight on Thursday, April 5th.
Note: Winner will be notified via email. If no reply is received, a new winner will be drawn.
Disclosure: A big thank-you to 77kids who provided me with gift card for the giveaway and a little spending money so I could properly review their new store. Believe you me, I properly reviewed it. And then some.
P.S. For another awesome review of the store (and cute photos to boot!), check out my friend Vanessa's post: "77kids in Utah."