Yes, brinner (i.e., breakfast for dinner). Our family enjoys eating things like these delicious cinnamon waffles for dinner on a weekly basis.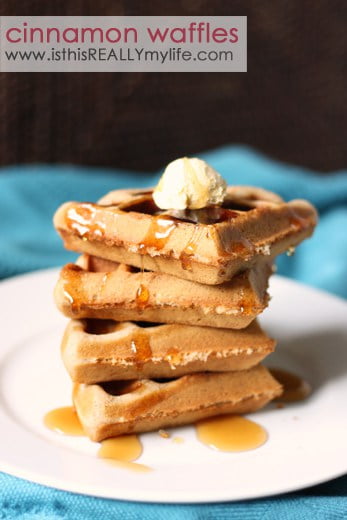 If you're new to ITRML, then you may not have heard about our family's themed dinners three days of the week. Tuesday is Taco Tuesday (Mexican-inspired dishes; Wednesday is Waffle Wednesday (breakfast-themed meals); and Thursday is Thursketti (Italian, baby). These themed dinners have greatly simplified meal planning.
In fact, it's all the meal planning I do these days. *sigh*
Last week we baked up a huge batch of these cinnamon waffles and everyone loved them. When I cooked the first set of waffles, I was a bit disappointed they weren't as crisp as our typical Belgian waffles. But I happily discovered they crisped up after sitting a minute or two. Yay for crisp edges!
Though you don't need much syrup with these babies (if any at all), I couldn't resist topping it with butter, syrup and powdered sugar. What can I say? I love sugar for breakfast as much as I love it for lunch, dinner and dessert.
Do you ever eat breakfast for dinner? If so, what's your favorite brinner meal?
Printable recipe for cinnamon waffles below.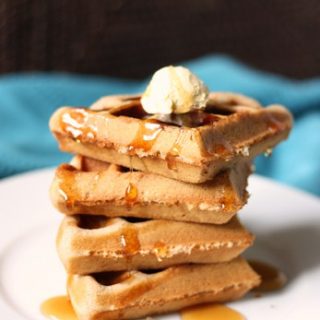 Cinnamon Waffles
Delicious cinnamon waffles that work well in your regular or Belgian waffle maker. Don't worry--they'll crisp up after you remove them from the waffle iron!
Ingredients
2 cups flour
¼ cup sugar
½ cup light brown sugar
1 to 1 ½ tsp cinnamon ( or more to taste)
4 tsp baking powder
¼ tsp salt
1 ¾ cups milk
½ cup canola oil
1 tsp vanilla
2 egg whites
Instructions
Preheat a waffle iron and lightly spray with cooking spray.
Whisk flour, sugars, cinnamon, baking powder and salt together in a medium bowl until no lumps remain.
Pour milk, oil and vanilla into the flour mixture; stir until just combined.
In a separate bowl, beat egg whites until soft peaks form. Fold the the beaten egg whites into the batter.
Pour about ⅓ cup of batter onto waffle iron and cook until golden brown. Serve hot.