I have made more than my fair share of cookie recipes from Two Peas and Their Pod. Maria is one serious queen of the cookie (and bread and soup and everything in between), so when I heard she had a new cookbook coming out featuring her 30 all-time favorite cookie recipes, I was all over it.
Maria teamed up with Foodie Crush to put together this mouthwatering collection of cookies, which gives me another reason to buy it. Heidi's food photography is nothing short of amazing. I would love to be that talented but I have resigned myself to being a professional amateur (kind of like those professional students who never graduate).
Cookie Cravings includes all of my favorite cookie recipes-I know I say all of my cookie recipes are my favorite, but these really are my favorite:) There are 15 favorites from the blog and 15 new recipes that haven't been published anywhere else. Plus, Cookie Cravings includes all new cookie photos for each recipe, photographed and designed by the talented Heidi from Foodie Crush.
See? I told you.
Cookie Cravings will go on sale in March, but if you sign up for their cookbook email list, you'll stay up-to-date on everything including special discounts and tasty extras…like a recipe for a brand new cookie, chocolate toffee almond cookies.
I've tried said recipe.
It is DELICIOUS.
Of course, her photo is even yummier, but that's no surprise. She probably didn't take it at 8:30 p.m. at night in a poorly lit kitchen with a Lightscoop to fake daylight.
I'm super excited for Cookie Cravings because let's face it, along with Diet Coke, freshly baked cookies are a sanity staple around these parts.
Printable recipe for chocolate toffee almond cookies below.
Adapted from the original recipe by Two Peas & Their Pod.
…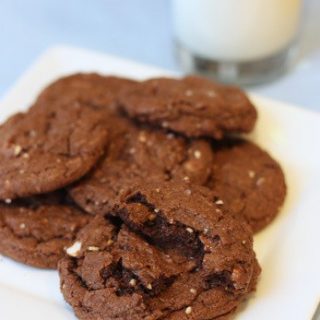 Chocolate Toffee Almond Cookies
Yield: 4 dozen

Prep Time: 10 minutes

Cook Time: 10 minutes

Total Time: 20 minutes

This is one of my most favorite cookie recipes from Two Peas & Their Pod. The chocolate cookie combined with toffee , chopped almonds and hint of salt is absolutely perfect!
Ingredients
2 1/2 cups flour
1 tsp baking soda
1/4 tsp salt
3/4 cup dark cocoa powder
1 cup unsalted butter, softened
1 cup granulated sugar
1 cup light brown sugar
2 large eggs
1 tsp vanilla extract
1/2 tsp almond extract
1 package Heath milk chocolate toffee bits
1 cup almonds, chopped
Sea salt, for sprinkling
Instructions
Preheat oven to 350 degrees. Line baking sheet with parchment paper or silicone mat. Set aside.
In a medium bowl, whisk together flour, baking soda, salt and cocoa. Set aside.
In a large bowl, cream butter and sugars together until smooth. Add eggs, vanilla and almond extracts. Mix until blended.
Add flour mixture to sugar mixture and mix until flour disappears. Stir in toffee and almonds. Drop cookie dough by rounded tablespoons onto prepared baking sheet, about 2 inches apart. Sprinkle dough with sea salt.
Bake cookies for 8 to 10 minutes. Don't over bake. Remove from oven and let sit on baking sheet for 2 minutes. Transfer to cooling rack and cool completely.
Notes
FOLLOW HALF-SCRATCHED ON INSTAGRAM (@half_scratched) and share the recipes you're whipping up in the kitchen. Don't forget the #HALFSCRATCHED hashtag so we can see what you've made!
Nutrition Information:
Yield: 24 Serving Size: 2
Amount Per Serving: Calories: 298Total Fat: 16gSaturated Fat: 8gTrans Fat: 0gUnsaturated Fat: 2gCholesterol: 41mgSodium: 161mgCarbohydrates: 38gFiber: 2gSugar: 26gProtein: 3g


…


Feel free to "like" is this REALLY my life? on Facebook. It won't always earn you an extra entry in a giveaway but it will give you warm fuzzies.
Don't forget to sign up for free is this REALLY my life? updates via RSS or email so you don't miss a single awesome post.
…