As much as I would love to be a Vianne Rocher, I haven't the natural ability to weave magic into my chocolate making nor the mysterious beauty to capture the heart of a wandering gypsy like Johnny Depp. One thing I can do is dip all sorts of already yummy things into melted chocolate and that's good enough to capture the hearts of friends and family.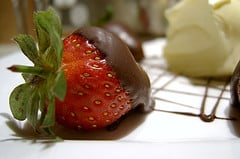 Tuesday night we had our quarterly Enrichment activity where Cindy Robison, a good friend of mine and owner of Chocolate Covered Wagon and Trolley Taffy Station, showed us how to melt chocolate and then create chocolate-dipped delights. (Not "afternoon delights," though you could totally pair the two together for an extra special treat…) She had a kitchen full of pre- and post-microwaved chocolate buttons, strawberries, large marshmallows, fortune cookies, peanut butter fudge, raspberries and potato chips. Yes, even potato chips and I'm telling you, DON'T knock it 'til you try it on that one!
Cindy prefers to buy her chocolate at Bakers C & C (Bakers Cash & Carry), which has a new location on Vine Street in Murray. You can buy chocolate in button form, which she says works really well for melting small to medium amounts. Cindy also brought some seriously TO DIE FOR toasted coconut and I found out it is also from Bakers C & C. I'm making a special trip just for that dang toasted coconut!
Before I break down my plate of goodies shown below, here are a few of Cindy's helpful tips and tricks shared with us that night:
A candy thermometer is helpful but not necessary
A work area of about 70° to 75° F is preferable
Never melt chocolate above 120° F. (The ideal range for dark and milk is 108 to 111° F; white chocolate is 95 to 99° F)
A cooling area of 50° to 55° F is perfect; the fridge makes the perfect place to cool chocolate but DON'T leave chocolate in the fridge longer than 30 minutes
Bowls, pans and utensils need to be completely dry; chocolate will lose its dripping consistency if its overheated OR if water is added
The double-boiler method is not recommended due to the possibility of moisture contact with the chocolate; instead, use one of the two methods listed below
Fresh fruit needs to be thoroughly dried before dipping; consume fresh fruit items within 24 hours of being dipped
Store chocolate in a cool, dry place or freeze; DO NOT store in the refrigerator (that's why I keep my stash of emergency chocolate chips in the freezer!)
Melting chocolate in the microwave*
*This method is recommended when melting less than two pounds of chocolate at a time
Place desired amount of chocolate in a microwave-safe container. Set your microwave on  a low heat (30% to 50% power) or defrost setting. Microwave the chocolate in 30-second increments, stirring each time. Continue microwaving and stirring until chocolate is almost completely melted. The "almost" is important because you don't want to overheat the chocolate. Melt it until it still has a few lumps in then stir to melt the rest.
Melting chocolate in the oven*
* This method is recommended when melting larger amounts of chocolate
Place desired amount of chocolate in an oven safe sauce pan, baking pan or bowl. (If using large blocks of chocolate, break the blocks into smaller chunks.) Place it in the oven on the lowest temperature setting possible. Remember, you don't want to heat chocolate above 120° F! Stir the chocolate every few minutes. To test the temperature, place your hand on the side of the pan. If the pan is too hot to touch, remove the pan for a few minutes. Note: for most ovens the lowest setting is low enough not to overheat the chocolate. As a guide, about five pounds of chocolate will melt in approximately 30 minutes.
Dipping
Take your treat of choice and dip it in the chocolate. Let the extra chocolate drip off and place on a cookie sheet covered in wax or parchment paper. Refrigerate for about 10 to 15 minutes or until set. Feel free to reheat chocolate as your dipping if it starts to thicken and set. You'll be amazed at how many fun things you can dip in chocolate–for proof, check out the plateful of goodies I brought home that night: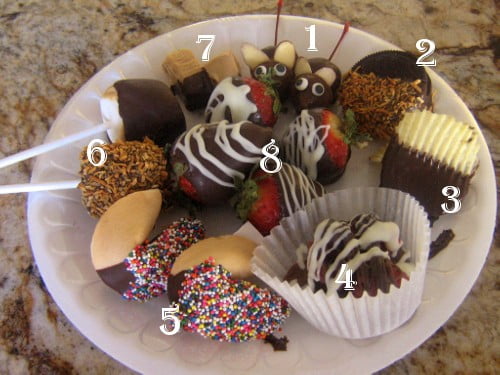 Here's a breakdown (clockwise starting with those super cute mice):
Maraschino mice: maraschino cherry for the body (and tail); chocolate kiss for the head; sliced almonds for the ears; candy eyes for the eyes
Oreo dipped in dark chocolate and rolled in that amazing toasted coconut
Ruffles potato chips dipped in dark chocolate
Raspberry something (I had no idea what to call these!): spread a small layer of chocolate on your wax or parchment paper; place three raspberries on the chocolate and top with one or two more raspberries (makes a sort of pyramid shape); drizzle dark and white chocolate over the top
Fortune cookies dipped in dark chocolate and rolled in those fun-yet-obnoxious candy sprinkles that escape every which way when used by kids to decorate sugar cookies (I'm a little bitter)
Jumbo marshmallows: one is dipped in dark chocolate and rolled in toasted coconut; the other is dipped in a mixture of half peanut butter and half white chocolate (melted) and once set, dipped in dark chocolate
Peanut butter fudge dipped in dark chocolate
Gorgeous, juicy red strawberries dipped in dark chocolate and drizzled with white chocolate
Cindy also had strawberry marshmallows on hand but I didn't get a chance to test those. And at her store you'll find Utah-shaped krispy treats partially dipped in chocolate. Though I went heavy on the dark chocolate, feel free to use milk or white if that's your thing. Whatever floats your boat (or dips your strawberry)!
I couldn't end this post without a quick shout-out about Chocolate Covered Wagon. Located in Sandy and Trolley Square, this hidden little shop is brimming with scrum-diddly-umptious goodies. My faves are the Spokes (pretzels dipped in all sorts of fun combos) and her gourmet apples (my fave is the White Water Rapids, though the Oreo Timberline has called my name as well). She also has a wonderful selection of old fashioned salt water taffy (pulled on an old taffy pulling machine and wrapped by hand), sweet cream caramels, truffles, fudge, gourmet popcorn (I can eat an entire bag in one sitting) and even chocolate-covered cinnamon bears. Oh, and her corporate gift baskets are amazing! Love you, Cindy!

P.S. If you have any questions about anything in this post, feel free to ask them in the comments below or email me. If I don't know the answer I'll check with Cindy and get back to you!
Strawberry image by The Lightworks, shared via Flickr.