Before you get all "that girl is CRAZY" on me, let's break down these chocolate covered potato chips.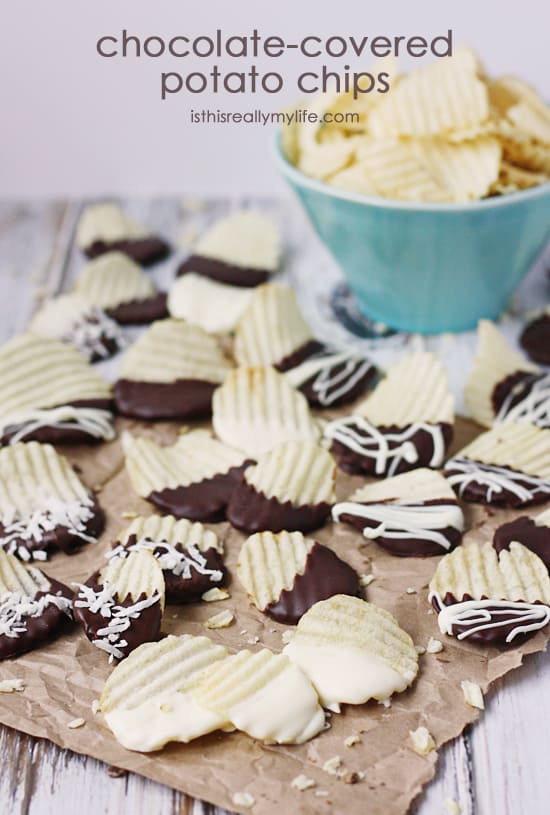 You have two main ingredients: ridged (or ruffled) potato chips and chocolate. Basically you're combining salty crunchiness with chocolate creaminess and throwing in some coconut or drizzled chocolate for good measure. And you're doing it in about 5 minutes.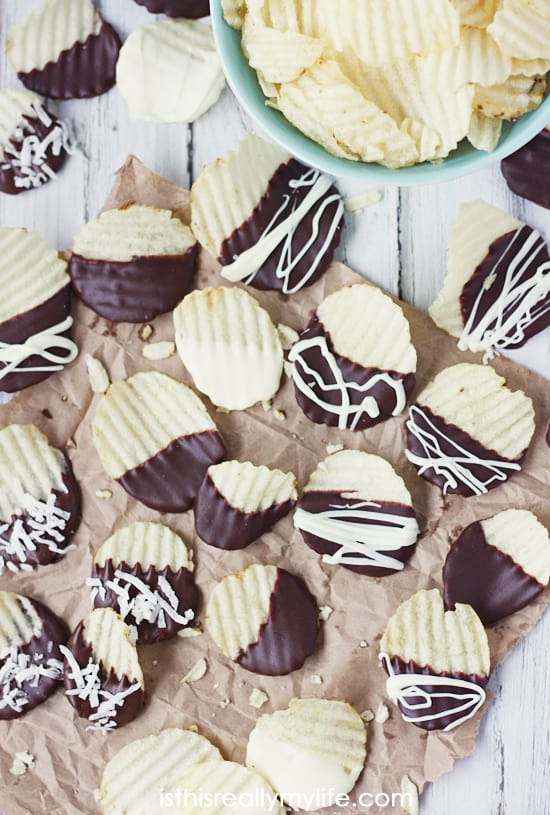 Holy Hannah, people. You will wonder why you ever questioned chocolate covered potato chips; they are beyond reproach.
I wish they were also way beyond my mouth because once I start eating them, I can't stop.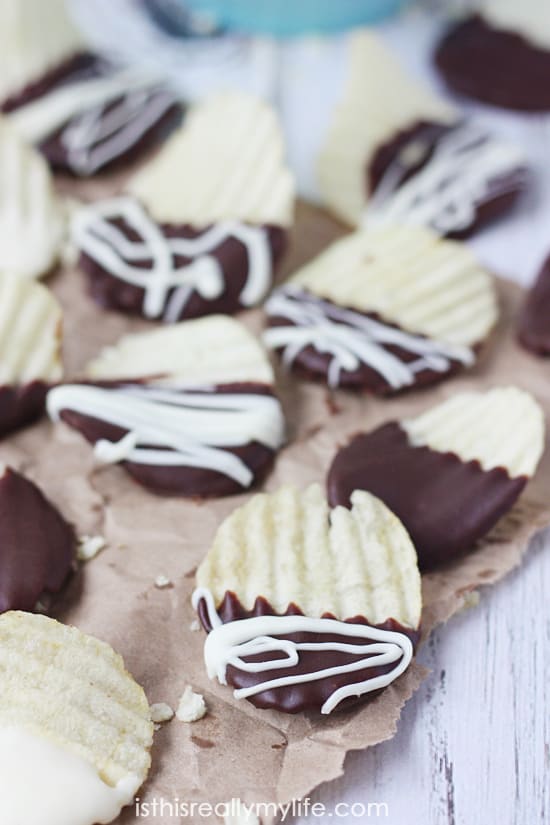 This is the first time we've tried white chocolate and I have to say, it rivaled the semisweet. The flaked coconut was a fun addition but my favorite was the drizzle of contrasting chocolate. Though we didn't try it, I think caramel would be yummy drizzled on the semisweet chocolate and cinnamon sugar sprinkled on the white chocolate. We're so trying that next time.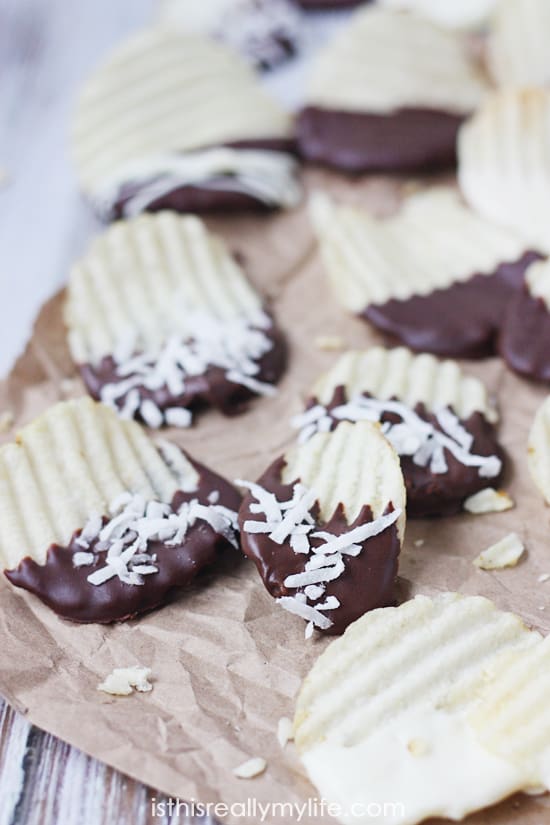 While I prefer using the chocolate glaze from my better than everything chocolate bundt cake, you could also microwave semisweet chocolate chips without the butter and corn syrup. But I find the glaze makes for easier dipping and allows more time for adding toppings like coconut, chopped peanuts—heck, you could even try chopped peanut butter cups!
You will want to eat these chocolate covered potato chips within the first 24 hours or so because the potato chips start to get a bit soft.
It's not like eating the entire batch in one day is a problem or anything.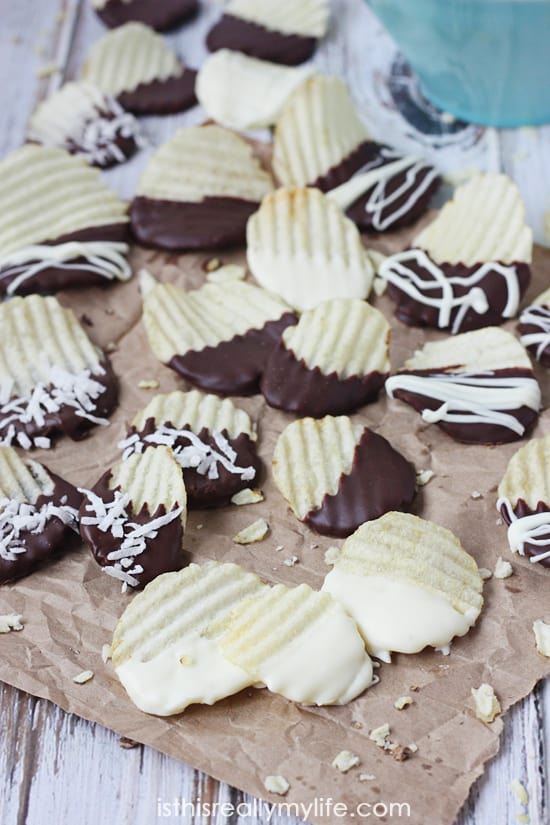 Printable recipe for chocolate covered potato chips below. Enjoy!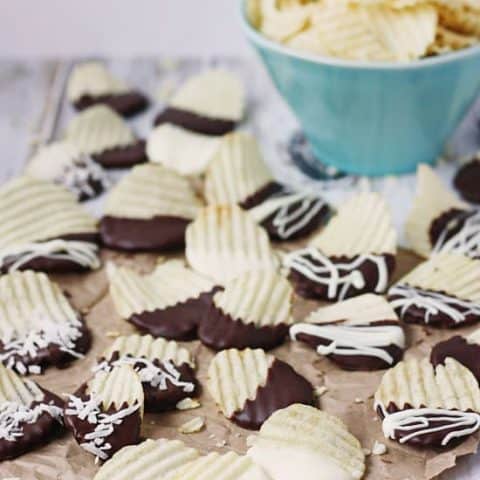 Chocolate-Covered Potato Chips
These chocolate-covered potato chips come together in about 5 minutes. And then they're gone in about the same amount of time. So good! Uses about half a family-size bag of potato chips.
Ingredients
1 regular size bag ridged potato chips (we prefer Lay's)
¾ cup semisweet chocolate chips
3 T butter
1 T light corn syrup
1 cup white chocolate chips
Optional toppings: coconut, chopped peanuts, caramel, chopped peanut butter cups
Instructions
Line counter or cookie sheet with parchment paper.
Combine semisweet chocolate chips, butter and light corn syrup in a microwaveable bowl. Microwave on high 30 to 45 seconds, stirring every 15 seconds, until completely melted. Do not overcook!
Place white chocolate chips in a microwaveable bowl. Repeat directions in previous step for melting chocolate.
Dip potato chips in melted chocolate and place on parchment paper. Sprinkle with toppings before chocolate sets. If drizzling with contrasting chocolate or caramel, wait for chocolate to harden.
Serve (or eat) immediately.