Try these soft, chewy, chocolaty chocolate chunk hazelnut blondies for a delicious twist on your traditional blondie recipe.
.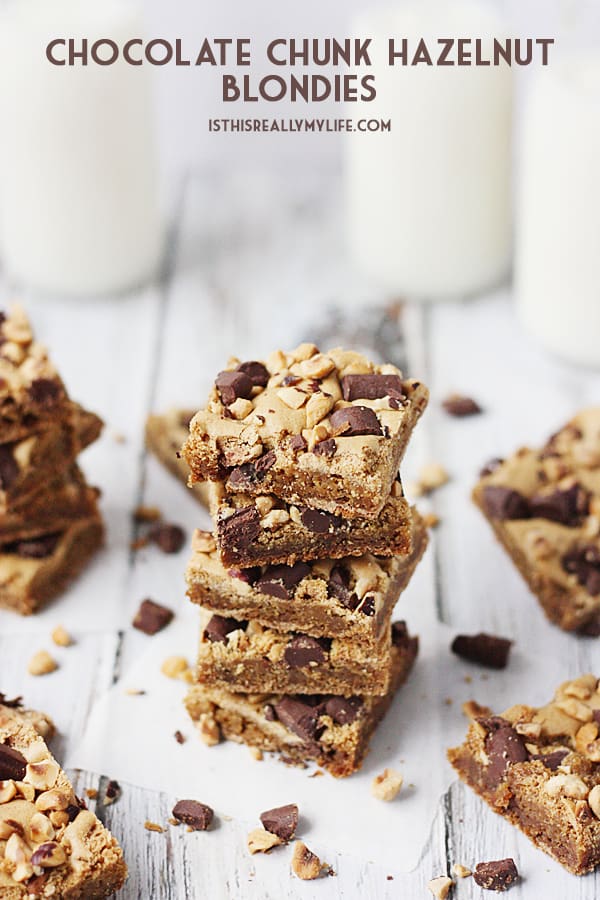 .
I don't think I've ever made a traditional blondies recipe. I've baked batches of chocolate caramel cookie blondies and even candy corn blondies but that's the extent of my blondies experience.
.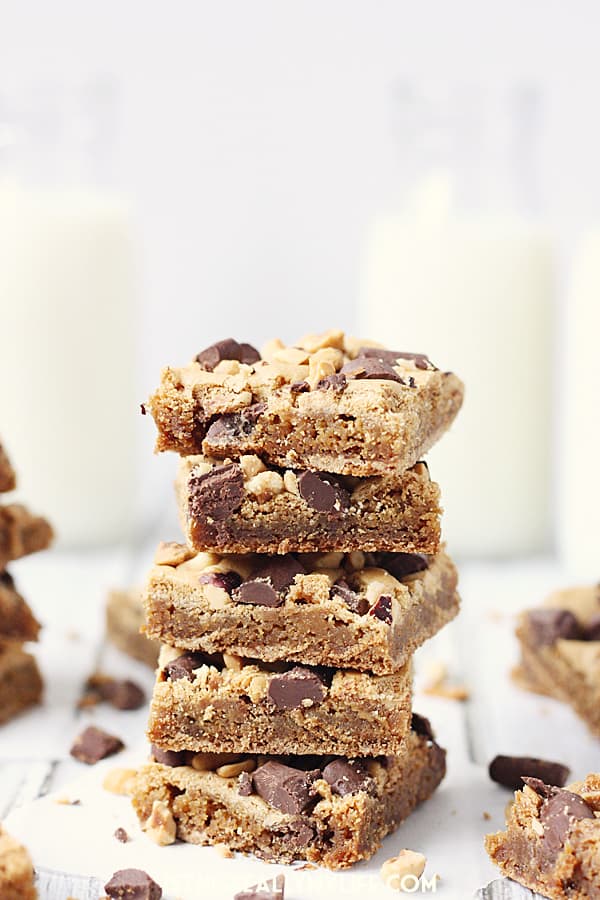 .
I'm actually way okay with that because my variations on blondies are always tasty. The same goes for these chocolate chunk hazelnut blondies—the combination of dark chocolate chunks and hazelnuts is delightful!
.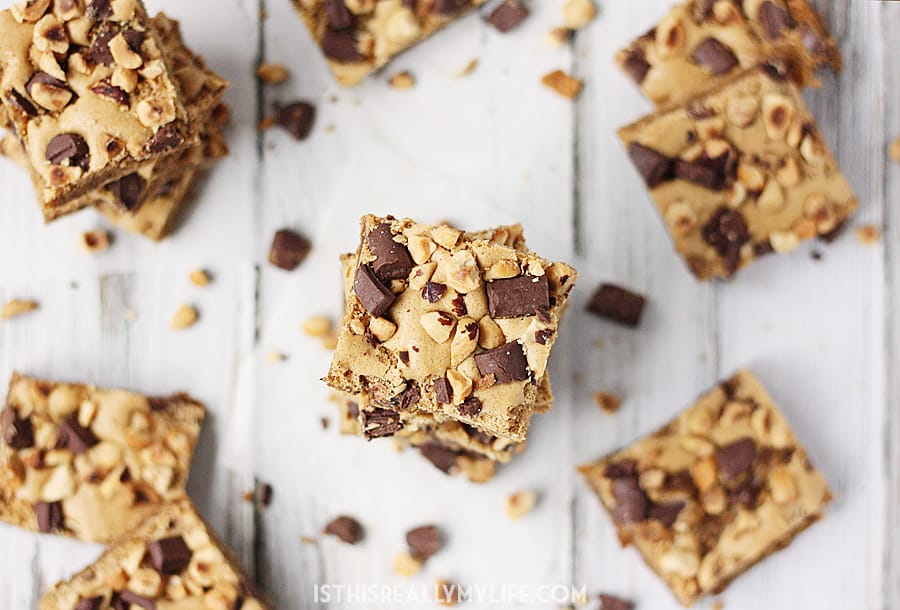 .
Though the recipe didn't specify dark chocolate chunks, I thought the flavor paired nicely with the hazelnuts. But if you prefer something less rich, try semisweet chocolate chunks or roughly chopping your favorite milk chocolate candy bar.
.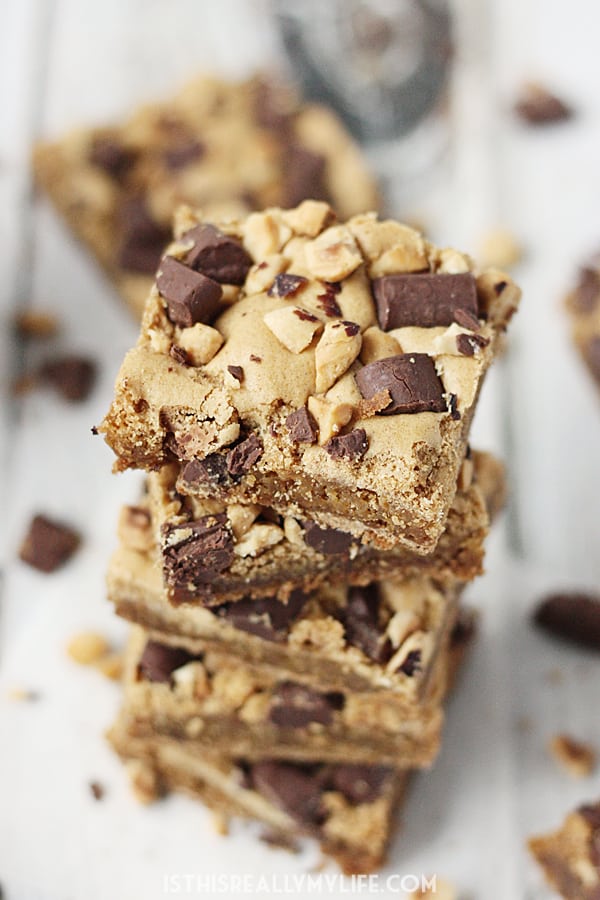 .
Be very careful not to overbake these chocolate chunk hazelnut blondies. You do want the toothpick you've inserted in the center to come out clean, but you don't want the bars to get too dark. Even if the center is slightly undercooked, it will set a bit while cooling. Plus, there's nothing wrong with slightly gooey blondies!
.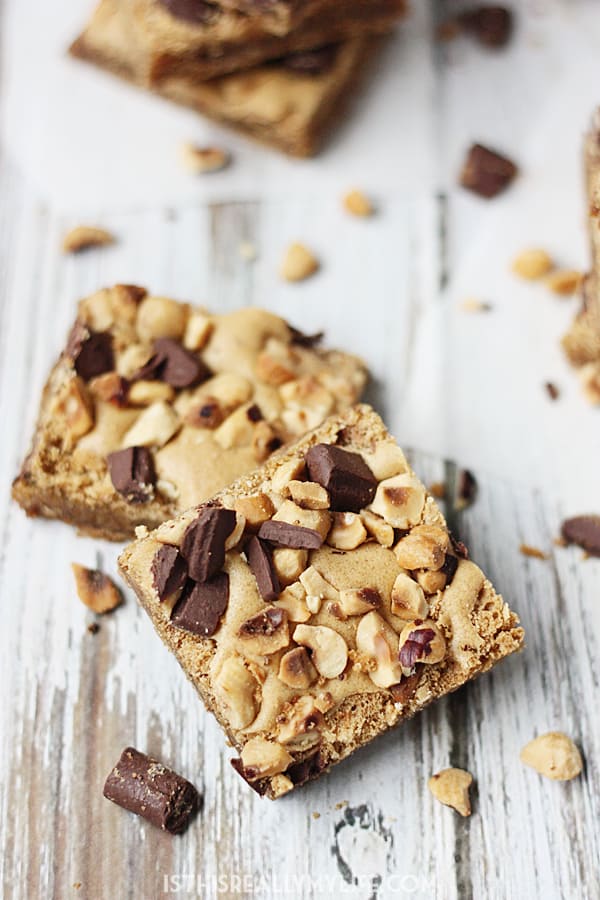 .
Feel free to adjust the amount of chocolate chunks and hazelnuts to taste. I prefer more chocolate (just like I prefer more cheese and more butter and more bacon), but you can scale it back if you think it's too rich.
.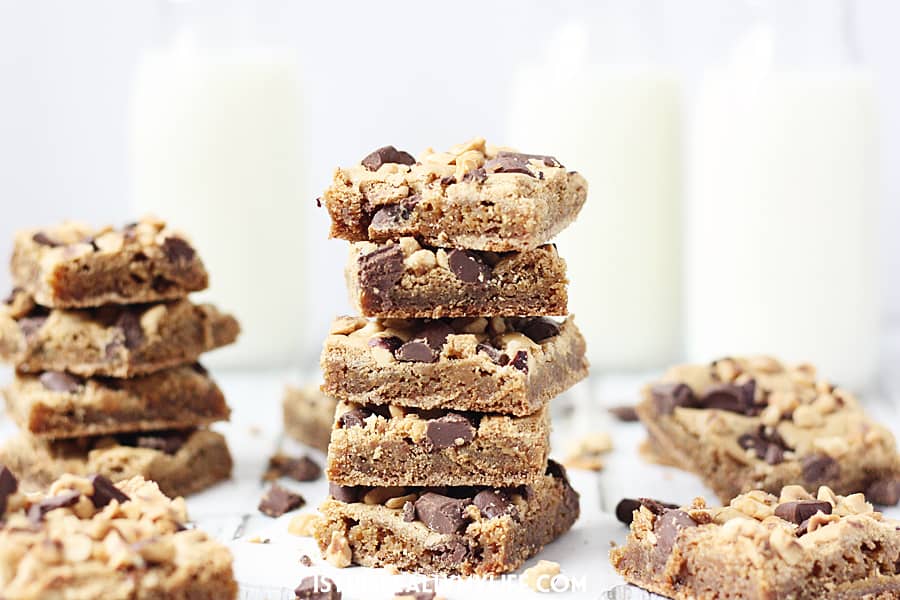 .
Printable recipe for chocolate chunk hazelnut blondies below. Enjoy!
.

Chocolate Chunk Hazelnut Blondies
Try these soft, chewy, chocolaty chocolate chunk hazelnut blondies for a delicious twist on your traditional blondie recipe.
Author:
Emily ~ isthisREALLYmylife.com
Ingredients
2 cups packed brown sugar
⅔ cup unsalted butter, cubed
2 eggs
2 tsp vanilla extract
2 cups flour
1 tsp baking soda
1 tsp baking powder
½ tsp salt
½ cup chopped hazelnuts
¾ cup dark chocolate chunks
Instructions
Preheat oven to 350 degrees F. Spray a 9x13-inch baking dish with cooking spray; set aside.
Combine brown sugar and butter in a medium saucepan. Cook over medium heat, stirring constantly, until butter and sugar are melted and mixture is smooth. Note: sugar won't totally dissolve.
Remove from heat and transfer to large mixing bowl; stir to cool.
Stir in eggs, one at a time, then vanilla. Stir in flour, baking soda, baking powder and salt until thoroughly combined (batter will be thick).
Spread batter in pan, smoothing out the top. Sprinkle hazelnuts and chocolate chunks evenly over the top.
Bake 25 to 30 minutes or until toothpick inserted in the center comes out clean. Cut into squares while still warm. Store leftovers in an airtight container.

.
.
If you're looking for more yummy recipes, you should browse my "best of" Pinterest board.
.
.

Feel free to "like" Is This Really My Life on Facebook. It won't earn you an extra entry in a giveaway but it will give you warm fuzzies.
Don't forget to sign up for free Is This Really My Life updates via RSS or email so you don't miss a single awesome post.
.