Though not all our plants are flourishing in our garden, our zucchini plant is doing just fine. In fact, I'm worried it might grow so big a giant will climb down its stalk in the middle of the night. (For the record, if he's toting a goose that lays golden eggs, I'm okay with it.)
So far we've pulled off two zucchini, one regular size and one so big I'm not sure yet what to do with it. But I knew exactly what to do with the "normal" one, and that was to bake something yummy. Usually I whip up a batch of zucchini brownies (recipe soon!), but this time we went for muffins. I found this Zucchini-Chocolate Chip Muffin recipe on Allrecipes.com and tweaked it just a bit, switching out the walnuts for pecans. I also doubled the recipe so it made just over two dozen. They were delicious! And because I consider zucchini muffins a vegetable, I ate three to help fulfill my daily requirement for veggies.
Next time I think I'll try half whole wheat flour and substitute half the oil with applesauce. Then I can eat five without an ounce of guilt!
…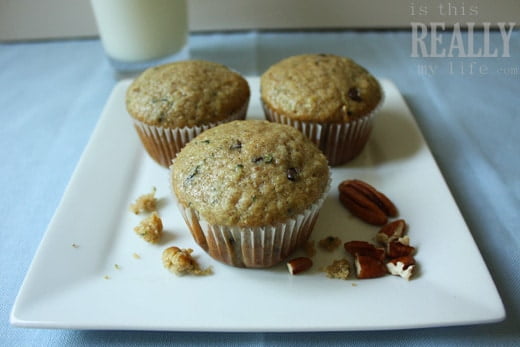 Someday I'm going to figure out this food photography thing.
And yes, I did iron the cloth napkin. Twice.
..
Chocolate Chip Zucchini Muffins
1 1/2 c flour
3/4 c sugar
1 tsp baking soda
1 tsp ground cinnamon
1/2 tsp salt
1 egg, lightly beaten
1/2 c vegetable oil
1/4 c milk
1 T lemon juice
1 tsp vanilla extract
1 c shredded zucchini
1/4 c miniature semisweet chocolate chips
1/4 c chopped pecans or walnuts (optional)
Preheat oven to 350 degrees. In a large bowl, combine flour, sugar, baking soda, cinnamon and salt. Combine the egg, oil, milk, lemon juice and vanilla; mix well. Stir into dry ingredients just until moistened. Batter will seem thick. Fold in zucchini, chocolate chips and pecans. Fill greased or paper-lined muffin cups two-thirds full. Bake for 20 or until a toothpick inserted in the center comes out clean.