The first thing that comes to mind when I think of the first day of school is not chocolate chip Twix cookies (gasp!) but all the things I'll accomplish while my children are gone for seven hours. And then I remember how I thought that last year and was sadly mistaken.
But the second thing that comes to mind is cookies. Cookies are the perfect back-to-school treat for the entire family…especially me because I have all that time to eat them before everyone arrives home.
Wanting to try something new (as usual) and jonesing for my favorite candy bar (Twix), I combined the basic dough recipe from these chocolate sprinkle cookies with a huge handful of chopped Twix candy bar.
.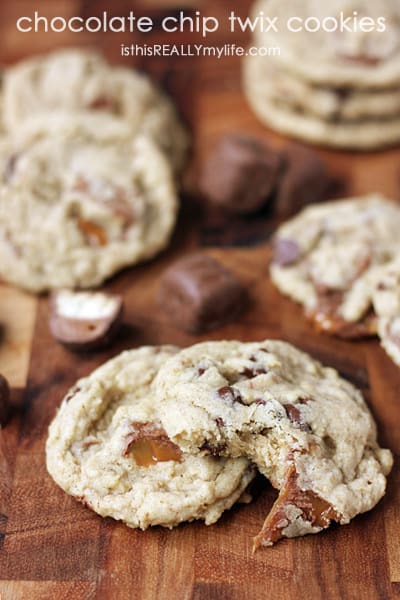 .
Oh my.
Double oh my if you eat one (or more) hot from the oven.
These were a hit, which pretty much makes me the best mom ever. For now.
Printable recipe for chocolate chip Twix cookies below.
…

Chocolate Chip Twix Cookies
The dough is just as to die for as the baked cookies. Feel free to mix it up with a different candy bar like Snickers or Butterfinger. You'll want to refrigerate the dough at least 2 hours if possible to prevent cookies from spreading too thin.
Author:
Emily ~ isthisREALLYmylife.com
Ingredients
1 cup unsalted butter, softened
1 cup sugar
1 cup brown sugar, packed
2 eggs
1 tsp vanilla extract
2½ cups old fashioned oats
2 cups flour
1 tsp baking soda
1 tsp baking powder
½ tsp salt
1 cup semisweet chocolate chips
1½ to 2 cups coarsely chopped Twix candy bar
Instructions
Cream together butter, sugar and brown sugar until light and fluffy (about 2 to 3 minutes). Add eggs and vanilla. Beat until thoroughly combined.
Place the oats in a blender or food processor and blend until fine. Combine the ground oats, flour, baking soda, baking powder and salt in a medium bowl. Add dry ingredients to the butter mixture and mix until combined. Fold in chocolate chips and candy bar pieces. Cover and refrigerate dough for at least two hours or overnight.
Preheat oven to 350 degrees. Roll the dough into 1½-inch balls and place 2 inches apart on ungreased cookie sheets. Bake 8 to 10 minutes or until just barely set. Cookies will continue to set once removed from the oven. Let cool 2 minutes before transferring to wire rack..
Notes
I used regular size Twix candy bars and sliced them into just over ⅛" pieces. Feel free to make them smaller or larger depending on preference.
…
Here are a few other cookies you may want to bake to kick off the school year:
…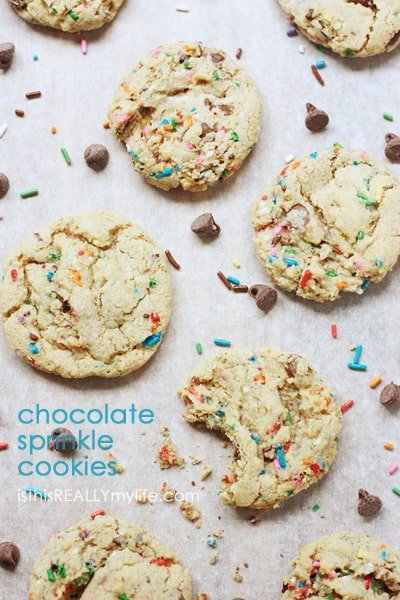 …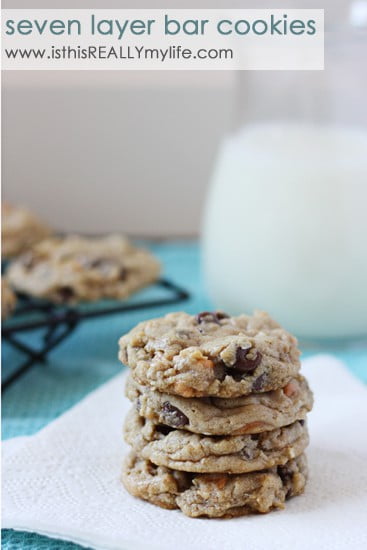 …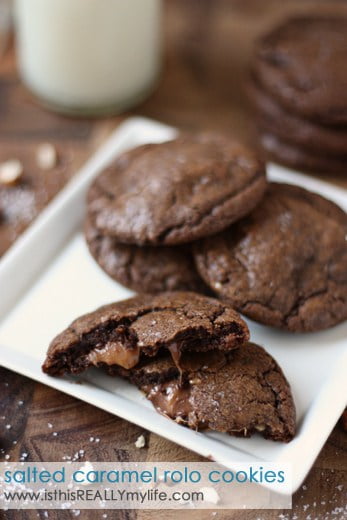 …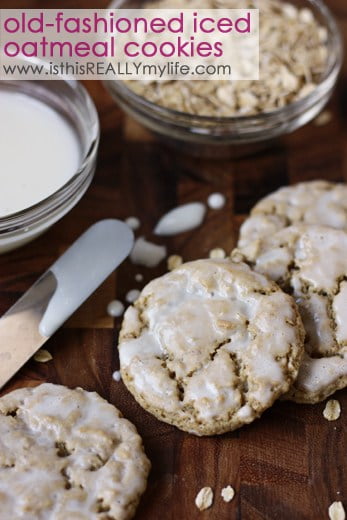 Old-fashioned iced oatmeal cookies
…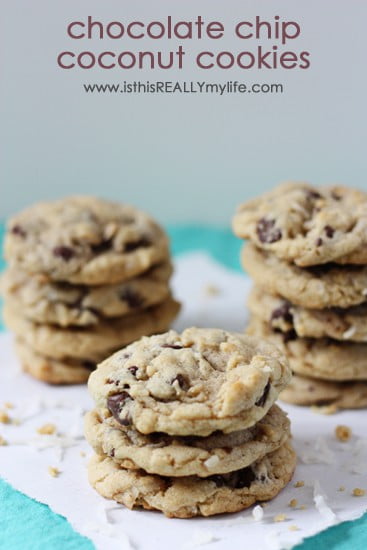 Chocolate chip coconut cookies
…


Feel free to "like" is this REALLY my life? on Facebook. It won't always earn you an extra entry in a giveaway but it will give you warm fuzzies.
Don't forget to sign up for free is this REALLY my life? updates via RSS or email so you don't miss a single awesome post.
…