Baked red velvet donuts are kicked up a notch thanks to the addition of mini semisweet chocolate chips and a drizzle of vanilla icing.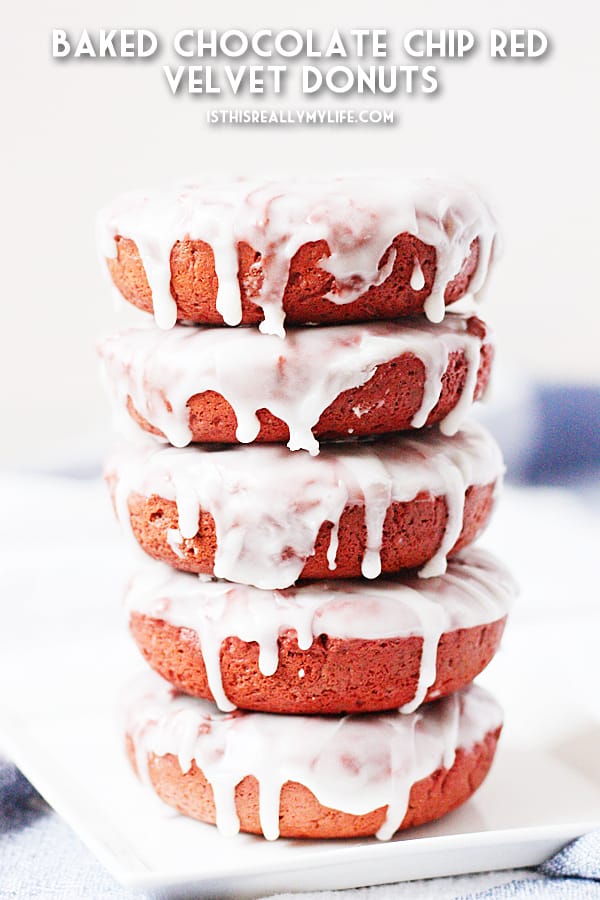 Remember my chocolate chip red velvet swirl bundt cake? You should because it was absolutely divine. I even ate a slice or two for you. Today I'm continuing the red velvet theme with these baked chocolate chip red velvet donuts baked by Madison.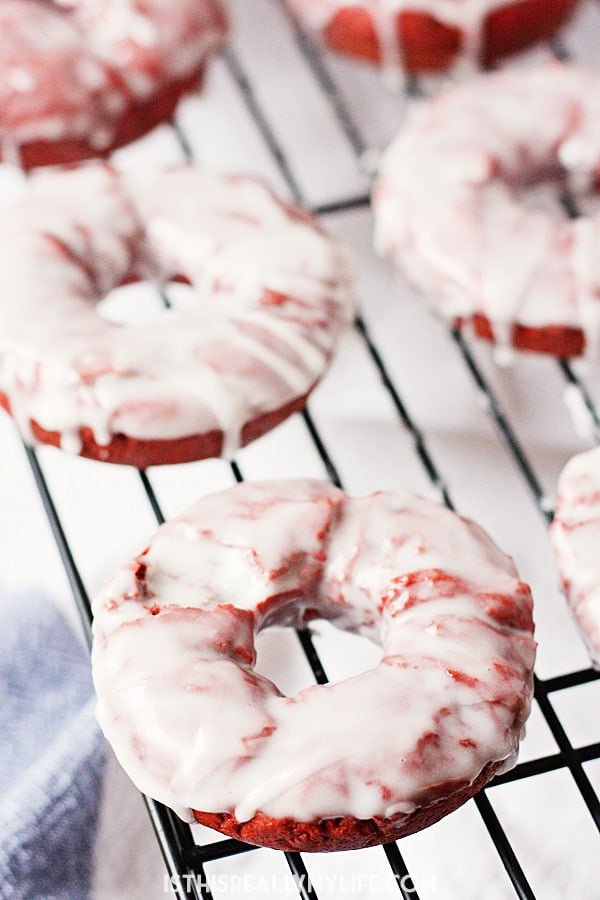 These baked chocolate chip red velvet donuts are inspired by the Baked Red Velvet Donuts from Taste and Tell. We took her recipe and threw in a handful of mini semi-sweet chocolate chips because let's be honest, I don't ever pass up an opportunity to throw chocolate chips—or any chocolate for that matter—into a dessert recipe.
These baked red velvet donuts were our first attempt at making donuts. We're totally hooked.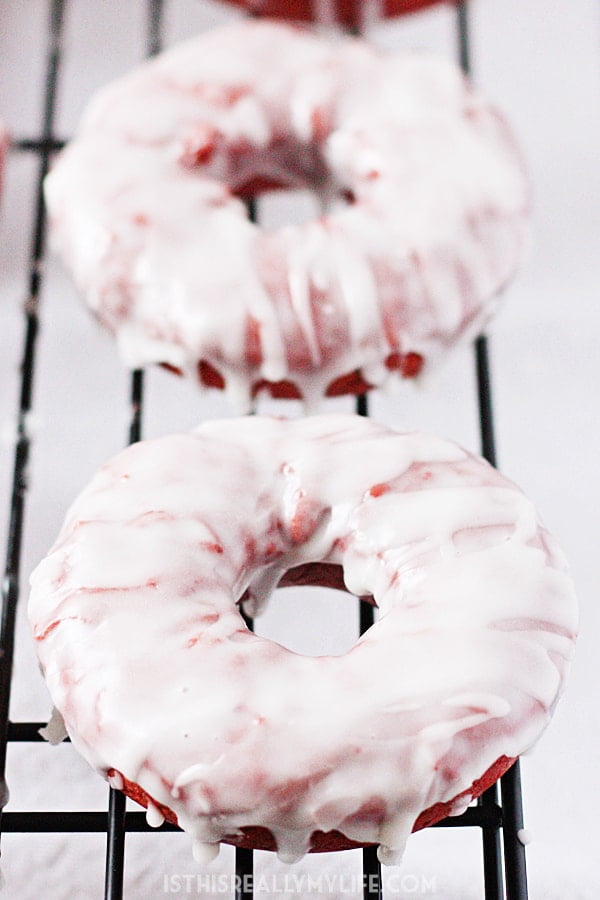 To ensure fabulous donut shape and size, invest in a quality donut pan. We have a Wilton nonstick donut pan but not in a set of two. I'm totally investing in a second one so we can bake a dozen at a time!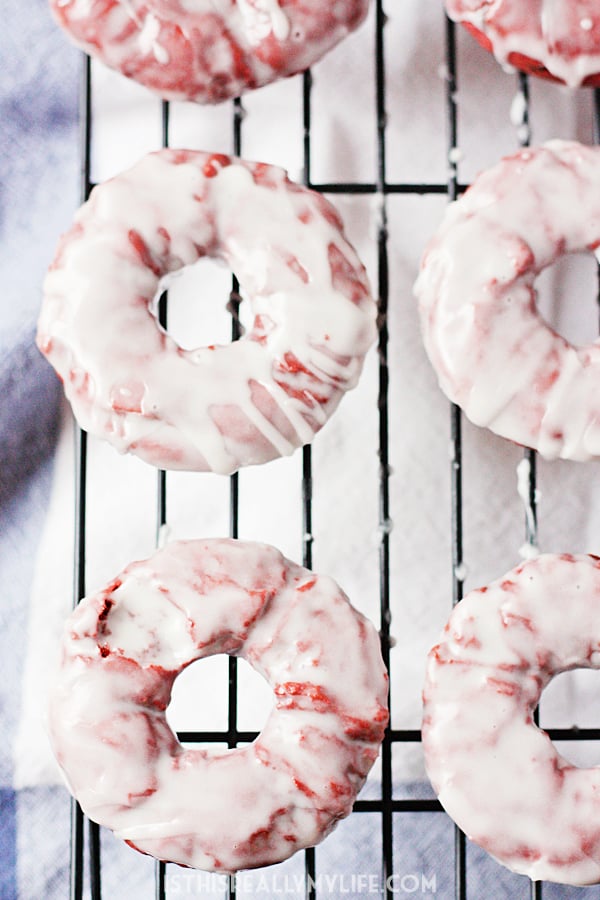 Recipe for baked chocolate chip red velvet donuts below. Enjoy!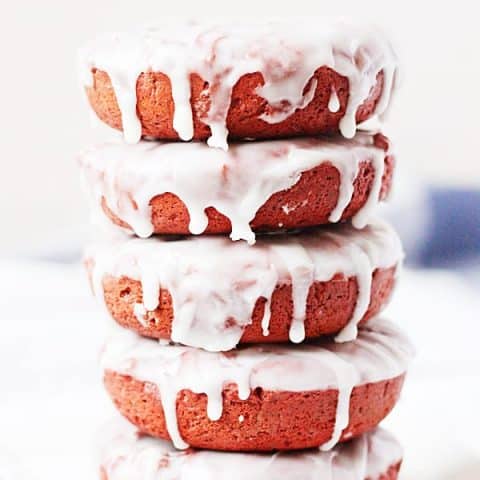 Chocolate Chip Red Velvet Donuts
The chocolate chips in these baked red velvet donuts sweeten the deal.
Ingredients
Donuts
2 ¼ cups flour
1 Tbaking powder
1 tsp baking soda
½ tsp salt
¾ cup sugar
1 egg
2 T unsalted butter, melted
2 oz unsweetened chocolate, melted
½ T vanilla extract
½ cup buttermilk
½ T red food coloring
¼ cup mini semi-sweet chocolate chips
Icing
2 T hot water
2 cups confectioners' sugar
1 T milk
½ tsp vanilla
Instructions
Donuts
Preheat oven to 350 degrees. Lightly spray a donut pan with cooking spray.
In a large bowl, combine flour, baking powder, baking soda and salt. Set aside.
In another bowl, mix together sugar and egg. Add the melted butter and melted chocolate to the egg/sugar mixture. Add the vanilla and buttermilk and red food coloring.
Gradually add the dry ingredients to the wet mixture, mixing just until combined. Fold in chocolate chips.
Fill the donut pan with the batter, filling each about two-thirds full. Bake for 12-15 minutes. Cool.
Icing
In small bowl, stir together all ingredients until sugar is completely dissolved. Use immediately to glaze donuts. You can either toss them in or dip just the tops. If the glaze starts to harden, add more hot water.
Notes
Recipe adapted from TasteandTellBlog.com.
Here are a few more red velvet recipes you need to try!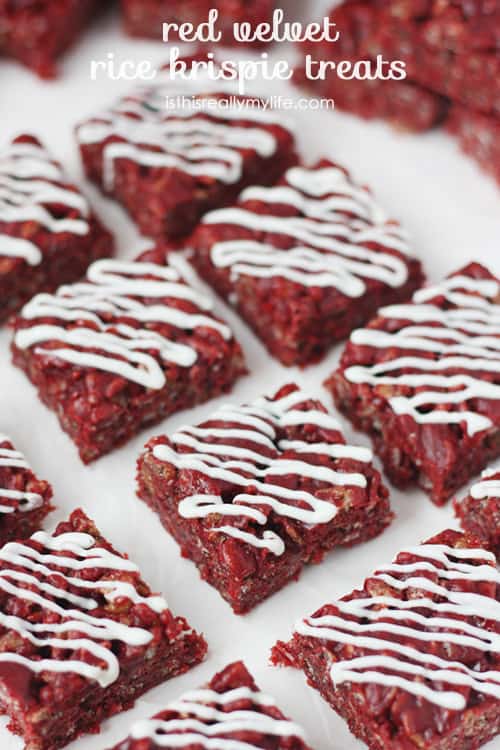 Red velvet rice krispie treats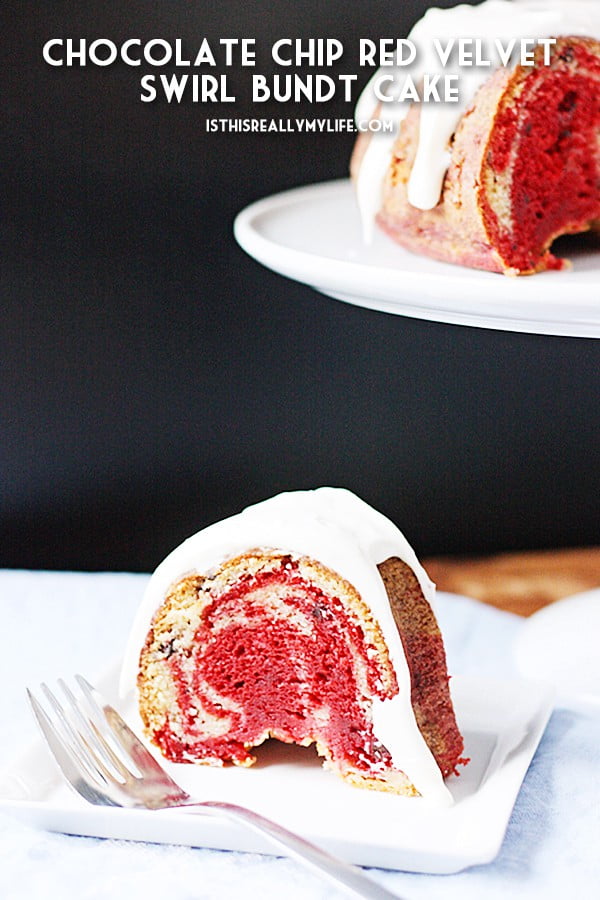 Chocolate chip red velvet swirl bundt cake