These chocolate caramel pretzel cookies were originally posted on Barbara Bakes. A big thank-you to Barbara for the guest post. If you haven't yet visited Barbara Bakes, you're missing out! You also need to check out her sister site, Pressure Cooking Today. She has me convinced I need a pressure cooker for my birthday.
Guess what? These chocolate caramel pretzel cookies are as decadent and drool-worthy as they sound. We may have made them one or two more times since first creating the recipe.
And I now stock up on Flipz White Fudge Covered Pretzels every time they go on sale.
...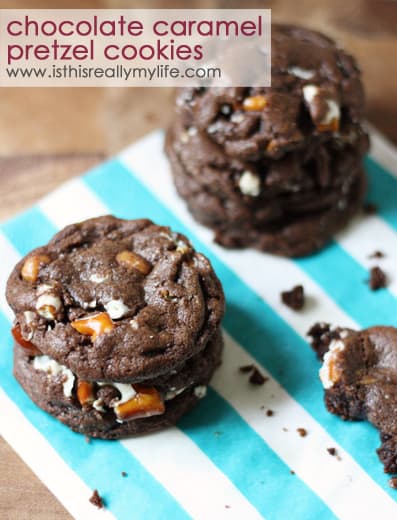 ...
I wanted to come up with some sort of new-ish cookie creation for Barbara's post because she always inspires me with her "sweet" recipes. I rummaged through my baking shelves and discovered a package of Kraft Caramel Bits I'd been dying to try. And then I laid eyes on my secret stash of Flipz White Fudge Covered Pretzels and the deal was done.
I present to you a batch of chocolate caramel pretzel cookies...reminiscent of those caramel and chocolate-covered pretzel sticks. Only more chocolaty. And chewy. And downright delicious fresh from the oven.
...

Chocolate Caramel Pretzel Cookies
Rich, fudge cookie with chopped white fudge pretzels and mini caramel bits. You'll die, I promise.
Author:
Emily ~ isthisREALLYmylife.com
Ingredients
1 cup unsalted butter
1½ cups white sugar
2 eggs
2 tsp vanilla extract
2 cups all-purpose flour
⅔ cup Ghirardelli natural unsweetened cocoa powder
¾ tsp baking soda
½ tsp salt
1 (11-oz.) bag Kraft Caramel Bits
1 cup coarsely chopped Flipz White Fudge Covered Pretzels
Instructions
Preheat oven to 350 degrees. Grease baking sheet or line with parchment paper or silicone mat.
In a large bowl, cream together butter and sugar until light and fluffy (about 2 to 3 minutes). Add eggs and vanilla and beat another 1 to 2 minutes.
In a separate bowl, combine flour, cocoa, baking soda and salt. Add to butter mixture and mix until thoroughly combined.
Fold in caramel bits and pretzels.
Drop by rounded tablespoons onto cookie sheets and press slightly to flatten.
Bake for 9 to 10 minutes or until set. Allow to cool 5 minutes on cookie sheet before removing to a wire rack to cool completely.
...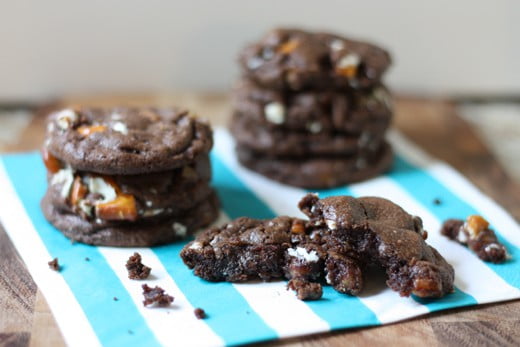 ...
And now I'm craving chocolate caramel pretzel cookies, which isn't good because I ate half the batch last time I baked them!
You might also want to try the other version of these chocolaty, fudge-fabulous treats we recently baked: dark chocolate peanut butter cookies.
They're filled with chopped Reese's Peanut Butter Cups and dark chocolate chips. Next time we might go crazy and try chopped Twix candy bars. Or maybe Snickers.
Mmm....
...


Feel free to "like" is this REALLY my life? on Facebook. It won't always earn you an extra entry in a giveaway but it will give you warm fuzzies.
Don't forget to sign up for free is this REALLY my life? updates via RSS or email so you don't miss a single awesome post.
...