Disclosure: I was compensated by Mom It Forward and McCormick to participate in this virtual bake sale. All thoughts, opinions and blondies are 100% honest,delicious and all mine.
***UPDATE: Our team won the McCormick Virtual Bake Sale, and we couldn't have done it without you! You'll find a list of the winning blogs at the end of this post.***
The title of this post should really be "chocolate caramel cookie blondies recipe and a virtual bake sale but that was far too long so I shortened it.
...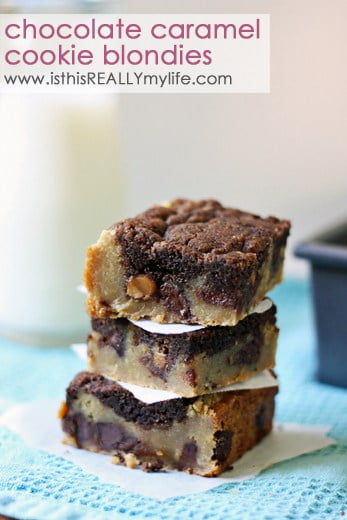 Let me explain what this virtual bake sale is all about and how you can help my team win.
I am on a team with five other fabulous bloggers who are competing against five other teams to score the most Pinterest repins of their McCormick-inspired desserts. My blondies recipe was inspired by the McCormick choco-mint crownies recipe but instead of a chocolate chip cookie and mint brownie, I went with a chocolate caramel cookie and almond blondies.
It was a "holy crap I'm totally making this up" experiment. And it totally worked.
If only our school hosted bake sales but alas, they prefer wrapping paper to baked goods when it comes to fundraising. The only bake sale in which I've participated was the one where my girls baked and sold plates of cookies to earn spending money for Disneyland. And that was about five years ago.
But back to how you can help us win.
Every repin of these blondies = one bake sale item (virtually) sold.
For the "sale" to count, you must repin it from the the McCormick Virtual Bake sale board to one of your Pinterest boards.
You can start be repinning my blondies HERE. 
If you want extra brownie points, find our team's desserts on the McCormick Virtual Bake sale board and repin them as well.
The team with the most collective repins wins!
...
Below is the collection if my team's fabulous and decadent bake sale desserts and below that are the links to the original recipes PLUS the link to their pins on the McCormick Virtual Bake Sale board to make it easy to repin if you so desire.
Can you tell we love chocolate?
Clockwise from top left:
...

Chocolate Caramel Cookie Blondies
Here's a different take on the "crownie" (cookie brownie). This one takes a chocolate caramel cookie dough and combines it with an easy blondies recipe. If you're not a huge fan of almond flavoring, substitute 1 tsp vanilla extract for the ½ tsp almond extract. NOTE: You will have leftover dough from the chocolate caramel cookies. Feel free to refrigerate the leftovers and then bake up a batch of cookies later using a 350-degree oven and a baking time of 9 to 10 minutes.
Author:
Emily ~ isthisREALLYmylife.com
Ingredients
Chocolate caramel cookie dough
½ cup unsalted butter
¾ cup sugar
1 egg
1 tsp McCormick vanilla extract
1 cup flour
⅓ cup natural unsweetened cocoa powder
⅜ tsp baking soda
¼ tsp salt
1 bag caramel bits
Blondies
½ cup salted butter, melted
1 cup brown sugar
1 egg
½ tsp McCormick almond extract OR 1 tsp McCormick vanilla extract
Pinch of salt
1 cup flour
Instructions
Chocolate caramel cookie dough
In a large bowl, cream together butter and sugar until light and fluffy (about 2 to 3 minutes). Add eggs and vanilla and beat another 1 to 2 minutes.
In a separate bowl, combine flour, cocoa, baking soda and salt. Add to butter mixture and mix until thoroughly combined.
Fold in caramel bits. Set aside.
Blondies
Preheat oven to 350 degrees; grease an 8x8-inch pan.
In a medium bowl, mix melted butter with brown sugar and beat until smooth. Beat in egg and vanilla.
Add salt and stir in flour. Pour into pan.
Drop chocolate caramel cookie dough by teaspoonfuls onto blondies and gently press into batter. (Remember, you'll use only half the dough or so.)
Bake uncovered 20 minutes. Cover with foil and bake another 10 minutes until edges are golden brown. Cool completely before serving.
-25 minutes, or until set in the middle. I always err on the side of caution with baking times — nobody ever complained about a gooey-middled cookie. Cool on rack before cutting them.