This is a sponsored post written by me on behalf of Chobani. All opinions are 100% mine.
While my oldest two don't love homework, they're old enough to know complaining about it won't get them anywhere. (All it gets them is a "get used to it; college is 10x as hard.") On the other hand, my youngest two think complaining about homework will make it magically disappear.
It does disappear if by disappear you mean "gets put off until the night before it's due."
To try to help ease the transition from school to homework—because if it's done before dinner it seems to be less of a battle—I decided to have snacks and drinks ready for them when they get home. I call it a mini snack station, because that makes it sound extra cool, and I stock it with servings of healthy snacks like pretzels, real fruit leather, mini carrots, organic fruit juice, applesauce and string cheese. Today we added Chobani Kids Greek Yogurt Pouches to the mix for an extra creamy, protein-packed after-school snack.
.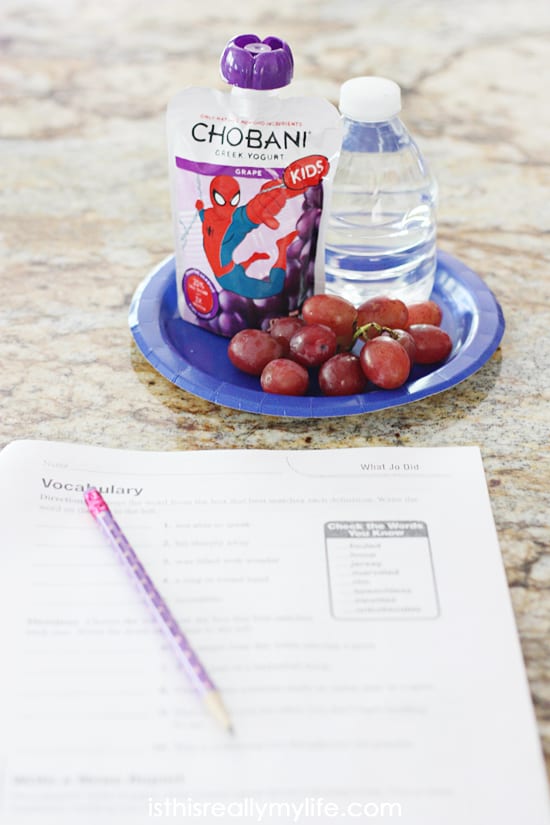 .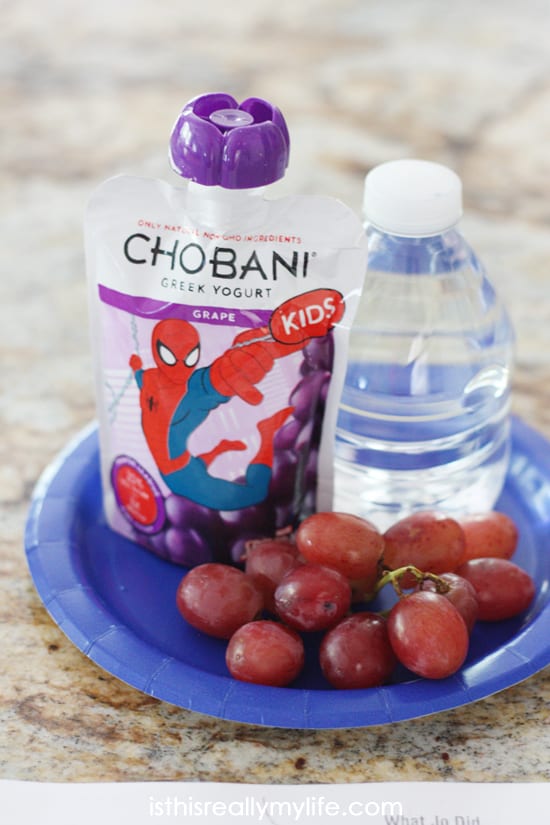 .
I don't know what it is about these mini snack stations but they've definitely minimized the moaning and groaning that usually accompanies George and Livi when they arrive at the kitchen island to work on homework packets. I shouldn't be surprised because snacks (i.e., Diet Coke and chocolate) always help curb my complaining.
Colorful mechanical pencils help too. Go figure.
But let's get back to Chobani and their Greek yogurt products for kids because hello, super kid-friendly Greek yogurt means valuable nutrients for growing bodies. Chobani Kids and Chobani Tots contain real fruits and vegetables; you won't find anything artificial in their ingredients list. Instead you'll find only natural ingredients and no preservatives or artificial colors or flavors. They also contain less than 5% lactose, are gluten-free and have live and active cultures and probiotics.
Gotta love those probiotics!
We didn't try the Chobani Tots Greek Yogurt Pouches because the Tots pouches are designed for babies beginning at six months. But I'm totally going to suggest my sister try them with her little ones. They're made with whole milk and provide 12 mg of omega-3 DHA, and tots need their omega-3s!
Chobani Kids Greek Yogurt Pouches have 25% less sugar and twice the protein of the leading kid's yogurt (the ones my kids usually suck down) and are a good source of calcium. The Chobani Kids Pouches come in dual-flavor 4-packs (flavor options are Strawberry, Grape and Vanilla & Chocolate Dust) and feature Spider-Man and Doc McStuffins.
Chobani Kids Greek Yogurt Tubes also contain 25% less sugar than the leading yogurt tubes and provide 5 grams of protein compared to 2 grams for other kids yogurt. The Chobani Kids Yogurt Tubes are available in four flavors: Strawberry, Banana, Mixed Berry and Watermelon.
If you're ready to create your own mini snack station and fill it with healthy snacks like Chobani Kids Greek Yogurt, visit Chobani Kids Savings to save 75 cents off your purchase!
.

.
If you're looking for more product reviews, browse my ITRML reviews Pinterest board.
.
Follow Emily Hill's board ITRML reviews on Pinterest.
.

Feel free to "like" is this REALLY my life? on Facebook. It won't always earn you an extra entry in a giveaway but it will give you warm fuzzies.
Don't forget to sign up for free is this REALLY my life? updates via RSS or email so you don't miss a single awesome post.
.