Thank you to NatureRaised Foods for sponsoring this article. Learn how NatureRaised Foods is "Doing What's Right, Right from the Start™" in your area.
Recently we had a Sunday that included an open house and a family get-together. Wanting to provide food for both events, I turned to one of my favorite summer salads—one that is easy to make and super easy to double...or quadruple in this case. As far as I'm concerned, this chicken pasta salad should be eaten all summer long!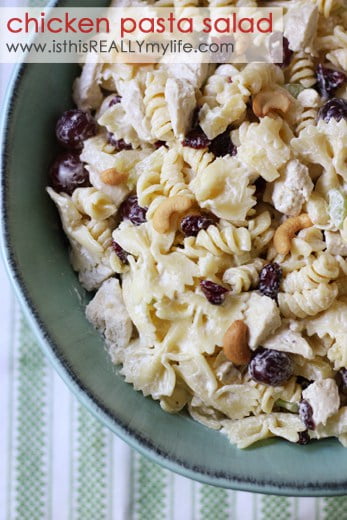 Humor me as I digress for a moment....
When I'm cooking for family and friends, I look for quality ingredients, especially when it comes to chicken. Having a daughter who is an animal lover has helped me become more aware of the type of chicken I buy. That's why I'm intrigued by NatureRaised Foods and their commitment to animal welfare. Get this—their chickens are raised in modern, open barns and provided "barn enrichments" such as elements to perch and climb on to ensure a comfortable and interactive environment.
Though I'd given thought to what chickens were fed and a general idea of how they were raised, I never thought much about the details of their living conditions.
If elements for perching make for a happier, healthier (and therefore tastier) chicken, I'm all for it.
Need another reason NatureRaised Farms® Brand chicken is a well-balanced choice for families? NatureRaised Foods farmers and producers never add hormones, steroids or antibiotics to their chickens. Those little cluckers enjoy a 100% vegetarian diet (i.e., no animal, protein or bakery by-products; just vegetables, grains, vitamins and minerals).
I'm pretty sure NatureRaised Farms® brand chicken needs to be in all my future chicken recipes like my mom's famous chicken divan* and our favorite Cajun chicken pasta.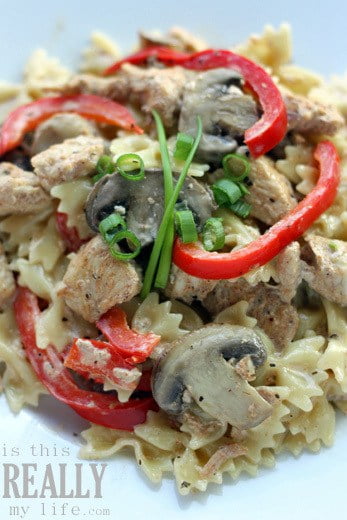 * Please excuse the chicken divan recipe photo. It was pre-DSLR and pre-photography classes. The dish tastes a bazillion times better than it looks.
As jazzed as I am about NatureRaised Foods and their humanely raised chicken, it's time to get back to my ever favorite chicken pasta salad.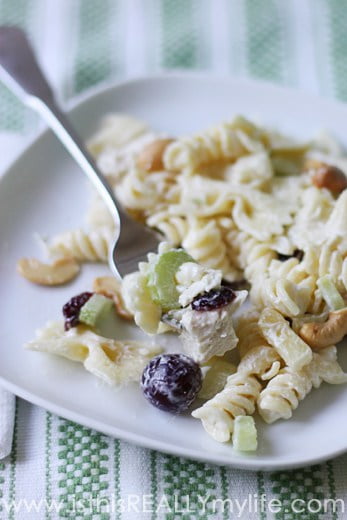 When I made the salad this time around, I mixed it up by using half rotini and half farfalle pasta. And as usual, I omitted the mandarin oranges because the texture makes me want to gag. But feel free to add them if they're your thing. (We can still be friends, promise.) I also tend to use slightly less dressing than it calls for, but again, that's totally up to you.
Printable recipe for chicken pasta salad below.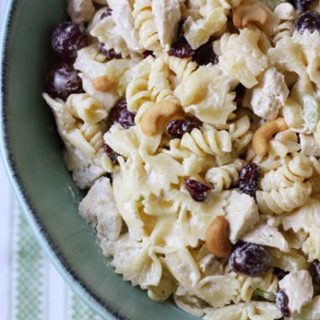 Summertime Chicken Pasta Salad
Great pasta salad perfect for summer. Doubles (and quadruples) easily. Add the cashews just before serving so they stay crunchy. Feel free to adjust the other ingredients to suit your tastes.
Ingredients
1 (16-oz) package farfalle (bow tie) pasta*
2 cups cooked, diced chicken
1 cup diced celery
1 large can pineapple tidbits, drained
2 cups red grapes
3 green onions, chopped
1 (6-oz) package Craisins cranberries
1 cup cashews (halves & bits)
1 large can mandarin oranges (optional)
1 (16-oz) bottle coleslaw dressing
1 cup low-fat mayonnaise
Instructions
Cook pasta according to package directions. Drain and rinse with cold water to chill.
In a large bowl combine pasta with chicken, celery, pineapple, grapes, green onions, Craisins and mandarin oranges.
In a small bowl whisk together dressing and mayonnaise. Add to pasta and toss to coat evenly.
Chill at least an hour. Add cashews immediately before serving. Garnish with more cashews.
Notes
* If doubling, use one box farfalle and one box rotini pasta to change things up a bit.
* Cooking the pasta and chicken the day before cuts down on prep work. Simply toss the pasta with a bit of olive oil to prevent sticking. Refrigerate overnight.
Nutrition Information:
Yield:

8
Serving Size:

1
Amount Per Serving:
Calories:

322
Total Fat:

20g
Saturated Fat:

4g
Trans Fat:

0g
Unsaturated Fat:

15g
Cholesterol:

37mg
Sodium:

409mg
Carbohydrates:

27g
Fiber:

3g
Sugar:

16g
Protein:

12g
I love serving this chicken pasta salad with a side of crusty French bread and a Caesar salad.
Yes, that's two salads but who wants to cook when the temperature hits 100+ degrees?!
Don't forget the caprese bites appetizer and peach cobbler cupcakes for dessert!