Disclosure: This chicken marsala panini recipe was created for the 3rd Annual Colombo Marsala & Toscana Saporita Recipe Challenge. Colombo Wine provided me with the Marsala wine and ingredients.
So somehow I was invited to apply for the Colombo 12 Days of Marsala Recipe Challenge, and then after applying, I was somehow chosen to be one of the 12 contestants. The challenge? Create a unique recipe featuring Colombo Marsala wine.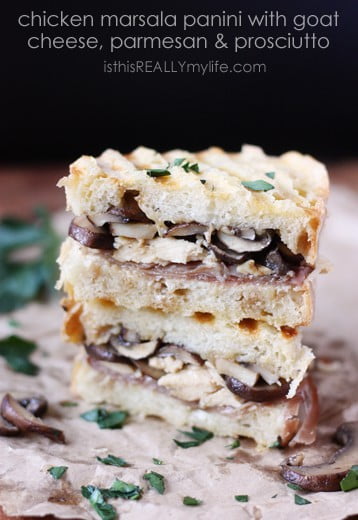 For me the real challenge wasn't so much the Marsala but the "unique recipe" part. Just ask my friend Steph—I have a really hard time creating recipes from start to finish. I prefer to be told exactly what ingredients I need, exactly how much of each to use and how to season, sauté, simmer, whatever said ingredients.
I consider it a personal best if I alter an ingredient or deviate from the directions in any way. Over the past year I've become a bit more comfortable changing things up, but I truly and honestly prefer to start with something tried and true.
If I ask you for a recipe and you tell me you don't really use a recipe, I may question our friendship. Or become slightly jealous. Or both.
For this Colombo recipe challenge, I knew I didn't want to simply tweak your typical chicken Marsala recipe. I wanted to turn the dang thing on its head.
After a bit of brainstorming, second guessing (just ask the friends I pestered with a bazillion questions) and lots of taste testing (thanks, honey!), I created this chicken Marsala panini with goat cheese, prosciutto and Parmesan.
Or chicken Marsala panini if you want to be all efficient.
Anything that resembles a grilled sandwich and features Marsala-infused mushrooms, cheese, prosciutto and more cheese has to be pretty dang good. And it is.
But wait. What really puts it over the top is the side of Marsala au jus.
Oh my, it's delightful.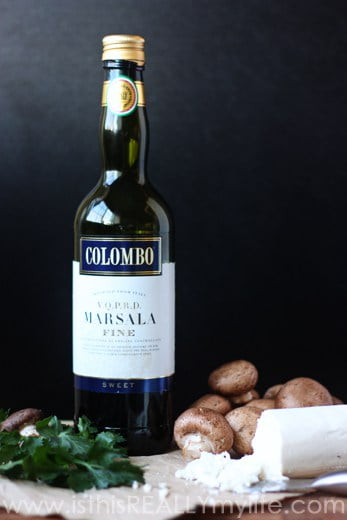 This panini version of a chicken Marsala recipe is actually quite easy, especially if you use leftover grilled chicken or a rotisserie chicken. In fact, you could easily use a leftover dish of chicken Marsala.
Just drain the liquid and reserve it as your au jus instead of creating one from scratch. (You'll want to warm it, of course.)
If you're not a fan of goat cheese, you could substitute Gruyère, Manchego...even mozzarella would work. We tried Gorgonzola and although it was good (if you're a fan of the strong cheese), it overpowered the flavor of the mushrooms sauteed in the Marsala wine.
Did I mention the sweet Marsala au jus totally makes this recipe?
But back to the Colombo 12 Days of Marsala Recipe Challenge...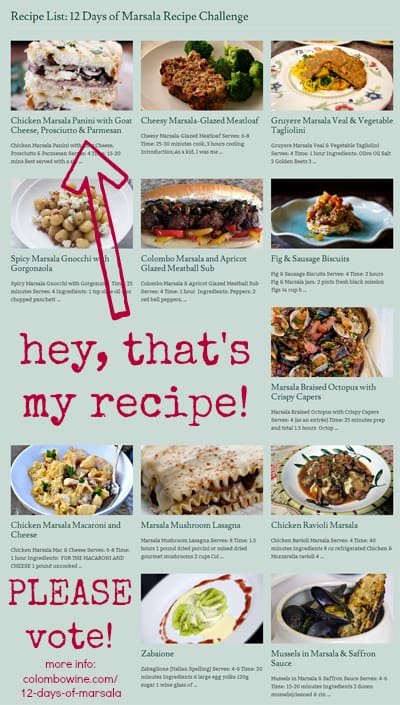 The winner of the challenge receives a trip for two to Italy to attend a one-week cooking course at Toscana Saporita, taught by celebrity Chef and Author Sandra Lotti. A culinary tour of Italy has been on my bucket list since I first heard about bucket lists.For reals.
I would so appreciate it if you could please (PRETTY please) vote for my chicken Marsala panini recipe. It's position on the page changes depending on votes but I'm pretty sure you can still find it.
I have 11 very worthy competitors, some of whom have ginormous Facebook followings (85k to be exact), so every vote counts!
And guess what? Colombo will select a voter each of the 12 days to win a Colombo prize pack and a $50 gift card!
If you want extra brownie points, you could pin the graphic above to one of your Pinterest boards. It is pretty cute and is a roundup of delicious Marsala recipes...mine being the best and most delicious, of course.
Printable recipe for chicken Marsala panini below.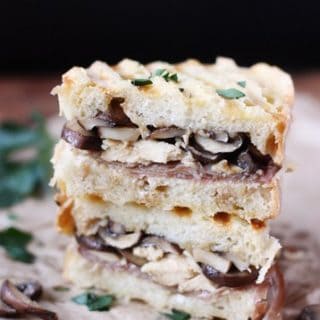 Chicken Marsala Panini with Goat Cheese, Prosciutto & Parmesan
A fun twist on the tradition chicken Marsala recipe. If you're not a fan of goat cheese, substitute another favorite cheese like mozzarella or Manchego. The Marsala au jus is a MUST!
Ingredients
1 cup Colombo Sweet Marsala Wine, divided
1 cup chicken broth, divided
2 T butter
8 ounces crimini mushrooms, sliced
2 boneless, skinless chicken breasts, grilled and sliced
8 slices prosciutto
½ cup goat cheese
½ cup freshly grated Parmesan cheese
¼ cup finely chopped Italian parsley
Salt and pepper to taste
Ciabatta or Pugliese artisan bread
Olive oil for brushing
Instructions
In a large skillet, melt butter over medium heat. Add the mushrooms and sauté for about 5 minutes until nicely browned and moisture has evaporated. Season with salt and pepper.
Pour ½ cup Marsala into the pan and heat to low boil. Add ½ cup chicken broth and simmer until sauce is reduced by at least half. Using a slotted spoon, remove mushrooms from skillet and set aside.
For Marsala au jus, add ½ cup Marsala wine to the remaining Marsala sauce in the skillet and bring to a boil for a few seconds. Add ½ cup chicken broth, reduce heat, and simmer until slightly thickened. Season with salt and pepper and set aside.
Heat Panini press to medium-high. Slice bread into ½-inch thick slices. Lightly brush one side of each slice of bread with olive oil.
To assemble Panini, turn one slice of bread oiled side down. Spread with 2 tablespoons goat cheese and top with 2 slices prosciutto, half a chicken breast, 2 tablespoons mushrooms, and 2 tablespoons Parmesan. Sprinkle with Italian parsley. Place a second bread slice, oiled side up, on top.
Place sandwiches on bottom grill plate of Panini press. Lower cover and apply light pressure for about 30 seconds. Grill 3 to 5 minutes until golden brown and heated through. Serve with a side of Marsala au jus.
Nutrition Information:
Yield:

4
Serving Size:

1
Amount Per Serving:
Calories:

504
Total Fat:

26g
Saturated Fat:

12g
Trans Fat:

0g
Unsaturated Fat:

11g
Cholesterol:

131mg
Sodium:

2722mg
Carbohydrates:

16g
Fiber:

1g
Sugar:

3g
Protein:

47g