After being gone four days for SNAP! Conference and then spending all day Sunday recovering (I felt like I ran a marathon, people), I knew my family needed a home-cooked meal. But Mondays are super busy so it also had to be fairly quick and easy. This recipe for healthy chicken fingers with honey mustard sauce, though taking a couple extra steps, made for the perfect Monday night meal especially when paired with spicy sweet potato fries and steamed veggies.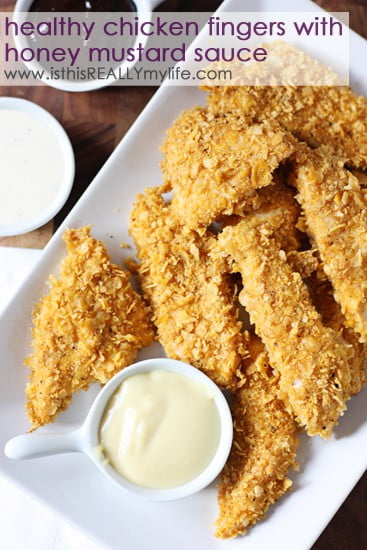 This chicken fingers recipe is super versatile. Feel free to double up on the seasoning or add/remove a seasoning or two. If you want to kick it up a notch, try adding some cayenne pepper and maybe even a bit of cumin. I made them fairly low key this time around but I'm definitely spicing them up next time!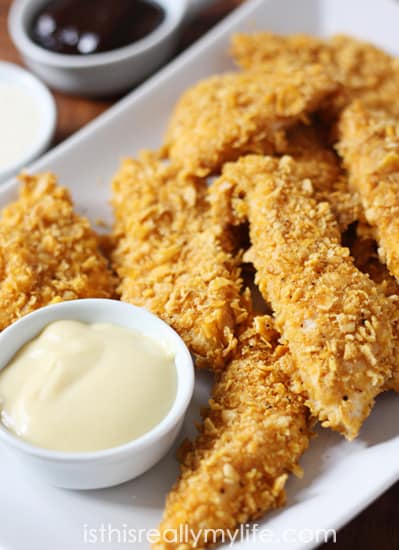 Don't forget the honey mustard dipping sauce. I'm a huge fan of Chick-fil-A sauce and although this isn't a true copycat Chick-fil-A recipe, it does come close.
Printable recipe for healthy chicken fingers with honey mustard sauce below.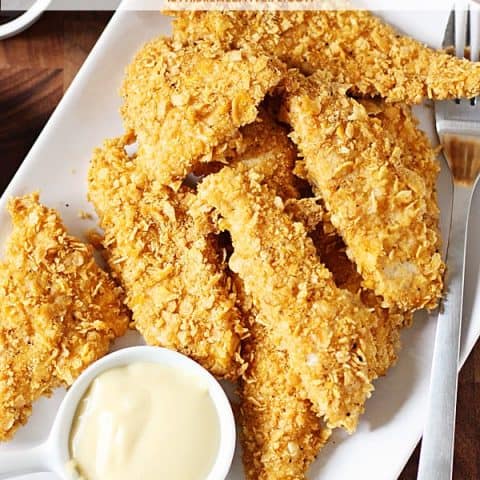 Healthy Chicken Fingers with Honey Mustard Sauce
A healthy take on the classic chicken fingers recipe. This one features cornflakes and leaves out the deep frying. Change up the spices until you have the right amount of seasoning and kick!
Ingredients
Chicken fingers
5 cups cornflakes
1 tsp poultry seasoning
½ tsp ground black pepper
½ to 1 tsp garlic powder
¼ tsp seasoning salt
2 large egg whites
3 T skim milk
1 lb boneless, skinless chicken breasts
Honey mustard sauce
½ cup plus 2 T low-fat mayonnaise
3 T Dijon mustard
4 T honey
1 T lemon juice
Instructions
Chicken fingers
Preheat oven to 400 degrees. Coat two large baking sheets with cooking spray.
Place cornflakes in a blender or food processor and process until mixture resembles coarse bread crumbs.
In a shallow dish, combine cornflakes, poultry seasoning, pepper, garlic powder and salt. Set aside.
In another shallow dish, whisk together egg whites and milk. Set aside.
Cut chicken into strips or large pieces. Dip each strip into egg mixture, then in crumb mixture, turning to coat all sides. Place on baking sheet.
Spray tops of chicken fingers with cooking spray. Bake for 15 to 18 minutes or until chicken is thoroughly cooked and coating is golden brown. Serve hot.
Honey Mustard Sauce
Combine all ingredients in a medium bowl and stir until thoroughly combined.
You might also like this

copycat Chick-fil-A chicken nuggets recipe with Chick-fil-A sauce

.