Today was the first day of school for two of my four kids. The kindergartener doesn't start until next Monday, and the preschooler the Wednesday after Labor Day. (I'd like to know who came up with that plan.)
Last year our neighborhood kicked off the first day of school with a back-to-school party complete with bounce house, water slide and snacks. This year, we did it again so I think it's safe to say it's tradition. And I like traditions, especially when they include an earlier party for the little kids and a salad potluck for the moms!
Not having many salad ingredients on hand, an old recipe popped into my head. Unfortunately I wasn't sure of the exact ingredients. Fortunately there's this thing called Facebook where you can message your friends to ask about things like recipes and ingredients.
Can I tell you how grateful I am I have girlfriends who are online as much as I am? It makes the whole Facebook messaging thing really effective. In no time I had her reply and discovered I had all the ingredients...except for the slivered almonds. Stepping out of my comfort zone of following recipes to a "T," I thought I'd try sugared pecans instead. And they were yummy.Very yummy.
This just might become your new favorite version of the classic Caesar salad. I know it's mine!
Note: Feel free to scale the ingredients depending on how large a salad you need or your personal preferences. I love spinach so I throw in quite a bit!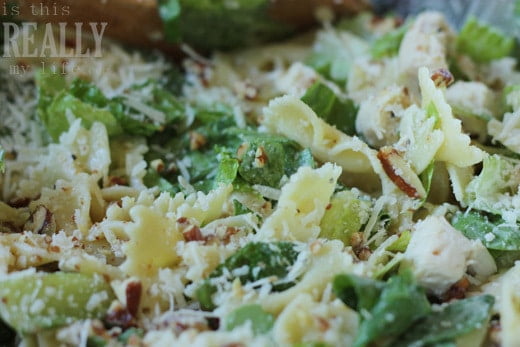 I didn't have time to plate it before taking a photo, so you get a closeup of the salad.
(The closeup hides the not-so-fancy steel bowl in which I tossed it.)
Chicken & Bowtie Caesar Salad with Sugared Pecans
1 head Romaine lettuce, chopped
1 small package baby spinach
1 box farfalle (bowtie) pasta, cooked and cooled
2 to 3 cooked chicken breasts, diced
1 cup shredded Parmigiano-Reggiano
½ to 1 cup glazed pecans, roughly chopped*
½ to 1 bottle Caesar salad dressing**
Croutons (optional; I leave them out)
In a large salad bowl, combine lettuce, spinach, pasta, chicken, cheese, pecans and croutons. Add the desired amount of salad dressing and toss. (I would start with about half a bottle; you can always add more.) Serve immediately or combine everything but the salad dressing and chill until ready to serve. Add the dressing, toss and serve!
* I used B.LLoyd's glazed pecans, which I found at Wal-Mart. (Paula Deen's on the front dishing out a "y'all," so they must be good.)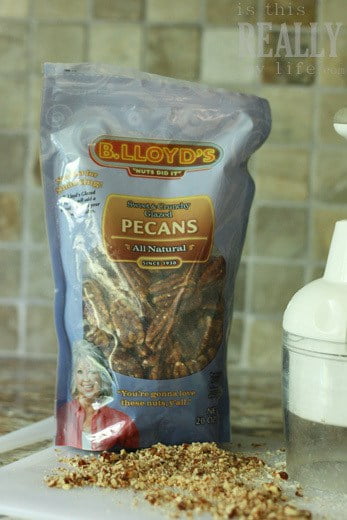 ** I love both Cardini's Original Caesar and Ken's Creamy Caesar dressings and use them interchangeably depending on which one is on sale.

Are you a fan of the classic Caesar salad or do you toss in fun extras like grilled chicken, diced tomatoes or bacon? I love adding random ingredients from time to time to mix things up a bit!