Disclosure: The following post is sponsored by FitFluential LLC on behalf of the Cherry Marketing Institute. All thoughts, opinions and recipes featuring tart cherries are 100 percent honest and all mine.
I admit it. I'd never heard of tart cherries or tart cherry juice before participating in the 7-Day Tart Cherry Juice Challenge. I thought cherries were cherries. Boy, was I wrong. But before I go into the goodness that is tart cherries, I simply must share the recipe for my new favorite protein bites: cherry chocolate chip protein bites. Who knew adding some coarsely chopped tart cherries to my previous recipe for peanut butter oatmeal protein bites would make these babies even better?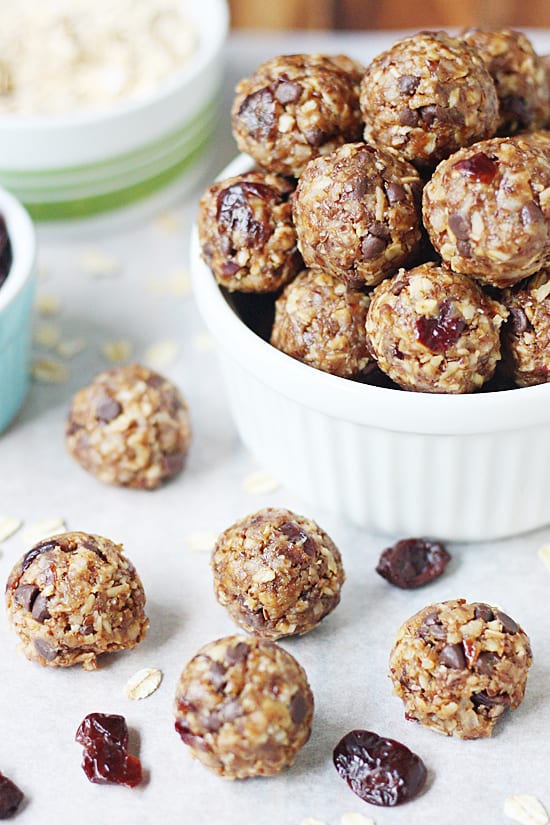 I wasn't sure if the tart cherries would work with chocolate chips, at least for this girl who isn't a fan of mixing fruit and chocolate. But the hint of tart cherry was the perfect compliment to the peanut butter and chocolate. These may be even more addictive than the last batch!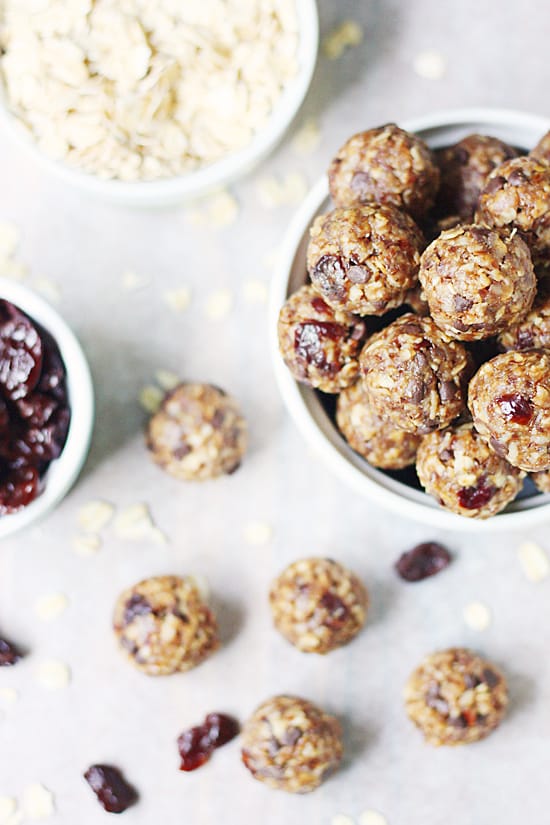 You'll find the recipe for these cherry chocolate chip protein bites at the end of the post because now I want to dive into the awesomeness found in tart cherries and their liquid counterpart, tart cherry juice.
I was super intrigued by research suggesting tart cherry juice may help ease muscle pain associated with intense exercise. I had recently added some treadmill work into my training—which already includes an intense spin class—and my knees and hips were beginning to talk back. Wanting an alternative to ibuprofen, I was all over the 7-day challenge. I drank 8 ounces of tart cherry juice twice a day for 7 days. According to the research, the result should have been less inflammation and muscle soreness post workout.
Did it work?
Believe it or not, YES! Usually HIIT workouts on the treadmill leave me with sore hips and slightly achy knees. But a few days into the challenge and the aches and pains were hardly noticeable. NO LIE.
Being the skeptic I am, I wondered if I it really did help or if my body was adjusting to the workouts, so after those seven days I decided to go off the tart cherry juice for a full week. Want to know what happened? I'd love to tell you but you'll have to wait for the next installment in this two-part series.
The next installment includes a recipe for a super delicious tropical tart cherry smoothie. Don't miss it!
In the meantime, you should try the 7-Day Tart Cherry Juice Challenge. I have seen tart cherry juice at Whole Foods and Trader Joe's but you should be able to find it in your local grocery store.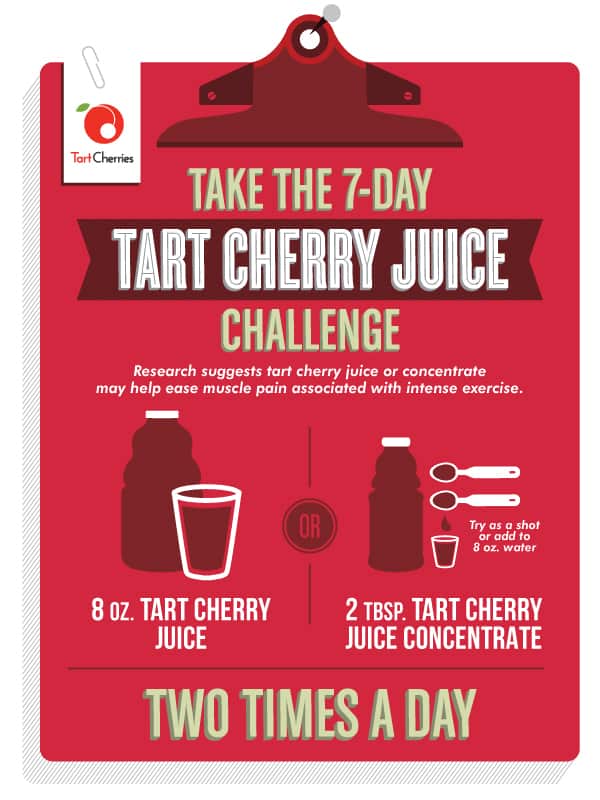 In between infusions of tart cherry juice, pop a few of these cherry chocolate chip protein bites. Your body will thank you.
Cherry Chocolate Chip Protein Bites
Super easy and healthy snack packed with protein. The chopped tart cherries are the perfect compliment to the semi-sweet chocolate chips.
Author:
Emily ~ isthisREALLYmylife.com
Ingredients
1 cup old-fashioned rolled oats
1 cup shredded coconut
½ cup all-natural peanut butter
½ cup ground flaxseed
¼ to ½ cup coarsely chopped tart cherries
½ cup mini chocolate chips
⅓ cup honey
1 tsp vanilla extract
Instructions
Stir all ingredients together in a medium bowl until thoroughly mixed.
Let chill in the refrigerator for half an hour.
Once chilled, roll into balls of whatever size you would like. (I used the smallest scoop from Pampered Chef.)
Store in an airtight container and keep refrigerated for up to 1 week.
To learn more about tart cherries and the benefits of tart cherry juice, visit ChooseCherries.com. You can find more tart cherry goodness on Facebook, Twitter, Pinterest and YouTube.