These cheesy double potato baked potatoes are ready in less than 15 minutes & make an easy, hearty weeknight meal!
.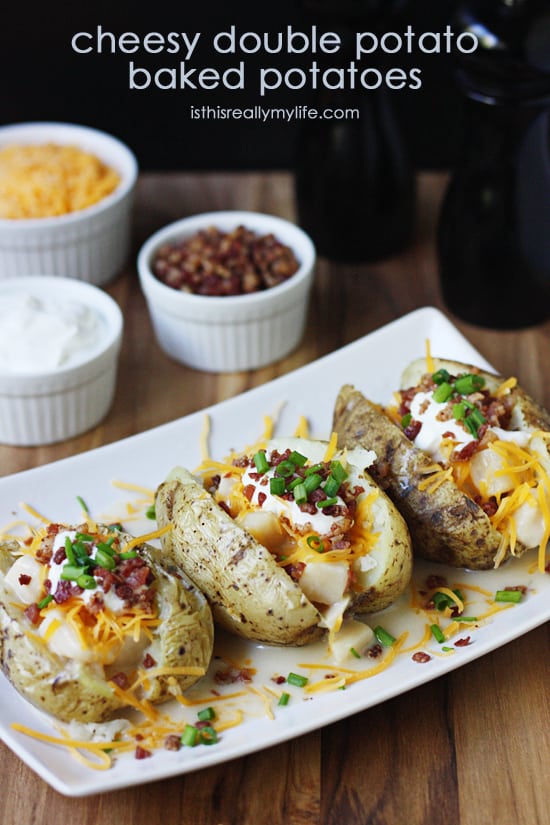 .
This is a sponsored post written by me on behalf of Campbell's Soup Company . All opinions are 100% mine.
.
Do you remember those quick & easy mini bread bowls? Not only are the a fantastic game night meal but they also make for a pretty fantastic—and fast—lunch. Well, I have another almost-from-scratch lunch idea you're gonna love especially when the weather gets chilly: cheesy double potato baked potatoes…and you can make them in less than 15 minutes.
Have you ever microwaved your baked potatoes? I swear it's the greatest trick since I heard about microwaving corn on the cob, husk and all. A little bit of olive oil, a little salt and pepper and a few minutes in the microwave and you have a hot, ready-for-toppings baked potato.
For these cheesy double potato baked potatoes, I used good ol' russet potatoes, a can of Campbell's new Homestyle Light Baked Potato with Bacon & Cheddar soup, sharp cheddar cheese, real bacon pieces, light sour cream and a sprinkling of chives. Forget about lunch—this would make a quick and easy midweek dinner!
.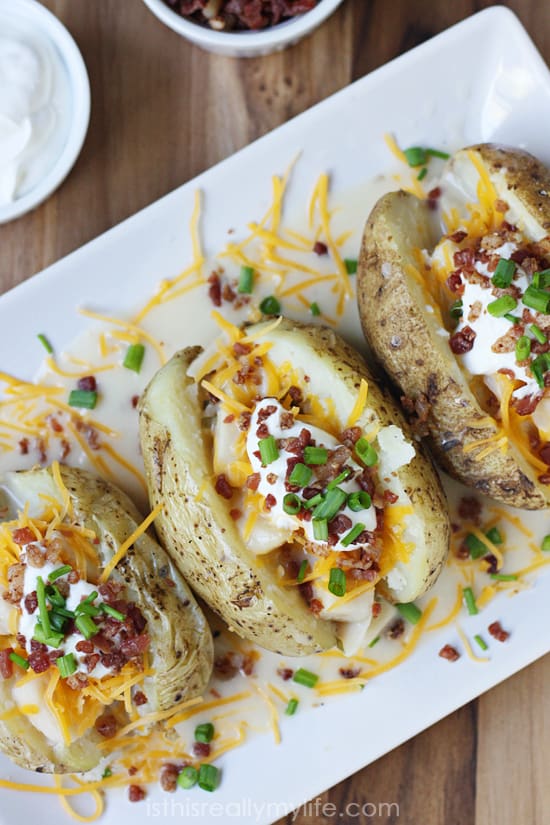 .
I don't always have yummy homemade soup leftovers for lunch, so it's good to know there's a delicious standby that takes only a couple minutes to heat and serve (or use atop a baked potato). Campbell's Homestyle soups do a pretty great job of putting everything you love about homemade soup in a can like farm-grown vegetables without added preservatives. Plus their Homestyle soups are available in 29 varieties, which means you can top your potato with all kinds of good stuff!
Though I used the Light Baked Potato, you could also try topping your potato with Light Southwestern-Style Vegetable or Creamy Gouda Bisque with Chicken. Heck, I'd even go for some Healthy Request Spicy Vegetable Chili. A handful of shredded cheese and a dollop of sour cream and lunch is served!
.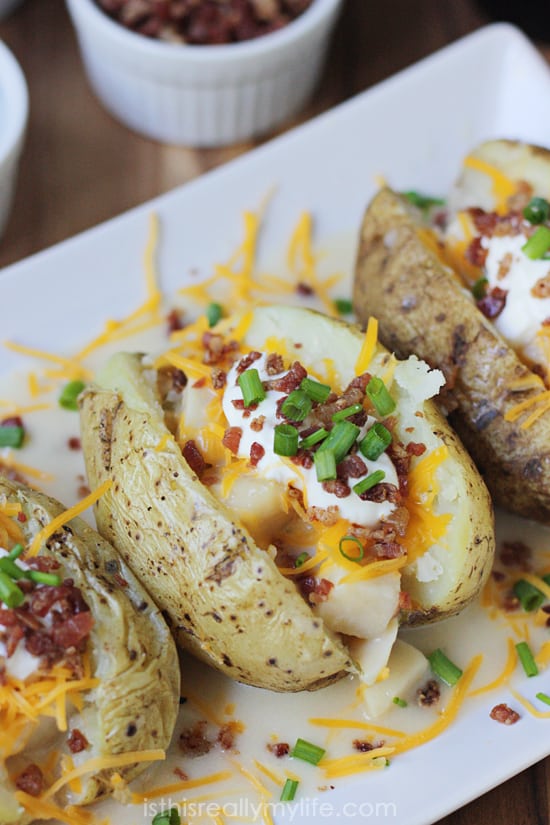 .
For more soup inspiration check out Campbell's new products or any of the delicious Campbell's recipes on the Campbell's site. You can also follow @Campbells on Twitter. They're sharing all kinds of deliciousness like these hot dogs with a spicy cheesy chorizo sauce.
Printable recipe for cheesy double potato baked potatoes below. Enjoy!
.

Cheesy Double Potato Baked Potatoes
These cheesy double potato baked potatoes are ready in less than 15 minutes! Serves 2 to 4 depending on if you're using it as a main or side dish.
Author:
Emily ~ isthisREALLYmylife.com
Recipe type:
Side Dish or Lunch
Ingredients
4 medium russet potatoes, rinsed and patted dry
1 to 2 tsp olive oil
Salt & pepper
½ to 1 can Homestyle Light Baked Potato soup
Shredded sharp cheddar cheese
Real bacon pieces
Sour cream
Chives
Instructions
Rub potatoes with olive oil; sprinkle with salt and pepper.
Pierce potatoes with a fork and microwave on high 5 minutes. Turn over potatoes and microwave on high an additional 3 to 5 minutes or until fork inserts easily into potatoes. Cover with foil and set aside.
Place soup in microwave-safe bowl and microwave on high 2½ to 3½ minutes or until heated through. Carefully remove from microwave; stir to ensure even temperature.
Remove foil from potatoes and cut each potato in half. Top with soup, cheese, bacon, sour cream and chives. Serve immediately.
.
If you're looking for more comfort food recipes, you should browse my comfort food Pinterest board.
.
.

Feel free to "like" is this REALLY my life? on Facebook. It won't always earn you an extra entry in a giveaway but it will give you warm fuzzies.
Don't forget to sign up for free is this REALLY my life? updates via RSS or email so you don't miss a single awesome post.
.