Before I go any further, let me clarify: by easy I mean more of the "free from formality, constraint or embarrassment" and "providing or conducive to ease or comfort; comfortable" definitions rather than the one that first popped into your mind. But let's start with cheap dinners before we get into my easy friends.
Vanessa, one of my "easy" friends, just started a new feature on her blog. Have you noticed the "Crazy Cheap & Easy" button under EAT on the right-hand side of this site? That would be Vanessa. About once a month she's going to highlight affordable, easily doable recipes from guest bloggers so you can add some variety to your current go-to quick-and-easy recipe collection. She hasn't asked me to guest post for her new feature but I'm determined not to take it personally…yet. Anyway, I thought I'd share with you a couple things I made over the past couple weeks. Yes, it took me a couple weeks to make two "real" meals. I don't like to throw my family off from their routine of quesadillas, pancakes, breakfast burritos, tacos and Dino Nuggest (not necessarily in that order) too often.
Speaking of Dino Nuggets, just today I shared with Shannon (Seagull Fountain) and Stephanie (The Daily Blarg) a rather embarrassing ingenious way to eat Dino Nuggets I affectionately call Dino Nugget Parmagiana. Bake a handful of Dino Nuggets per person. While they're baking, boil your favorite pasta noodles until they're al dente (or until they stick to the wall) and warm your favorite spaghetti sauce. When the nuggets are done cut them into bite-size pieces. Toss the nuggets and sauce with the drained pasta. Serve topped with a handful of shredded mozzarella cheese. If that's not a gourmet meal, I don't know what is!
Anyway, here's affordable though not lightning quick dinner number one: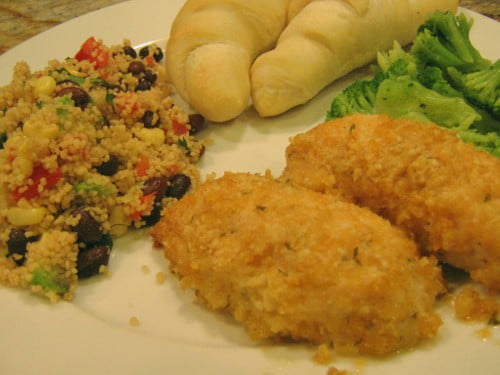 Parmesan Chicken

4-8 chicken breast halves (I used whole chicken breasts and cut them into smaller pieces)
1 pkg. ranch dressing mix (dry)
1 cup crushed cornflake crumbs
1 cup Parmesan cheese, grated
1 cup butter, melted
Rinse chicken and pat dry. Mix all dry ingredients together. Melt butter in separate bowl. Dip chicken in butter and then in dry ingredients. Place in greased baking dish. Sprinkle remaining dry mixture on top. Bake at 350° for 30-35 minutes or until done. NOTE: If you do cut up your chicken into smaller pieces be sure to adjust the baking time.
Black Bean and Couscous Salad
1 cup uncooked couscous
1 1/4 cups chicken broth
3 tablespoons extra virgin olive oil
2 tablespoons fresh lime juice
1 teaspoon red wine vinegar
1/2 teaspoon ground cumin
8 green onions, chopped
1 red bell pepper, seeded and chopped
1/4 cup chopped fresh cilantro
1 cup frozen corn kernels, thawed
2 (15 ounce) cans black beans, drained
salt and pepper to taste
(I also added 1 diced avocado and 2 diced Roma tomatoes)
Bring chicken broth to a boil in a 2 quart or larger sauce pan and stir in the couscous. Cover the pot and remove from heat. Let stand for 5 minutes. In a large bowl, whisk together the olive oil, lime juice, vinegar and cumin. Add green onions, red pepper, cilantro, corn and beans and toss to coat. Fluff the couscous well, breaking up any chunks. Add to the bowl with the vegetables and mix well. Season with salt and pepper to taste and serve at once or refrigerate until ready to serve. (Original recipe found on AllRecipes.com.)
Homemade Rolls
Sorry! Though the recipe is not original and can be found online, I guard it with my life. It's the only reason my parents still allow my family to visit–and it's what brings them out here to see the grandkids. (Totally kidding…sort of.)
…
Anyway, here's affordable and super quick dinner number two, which we just had last night: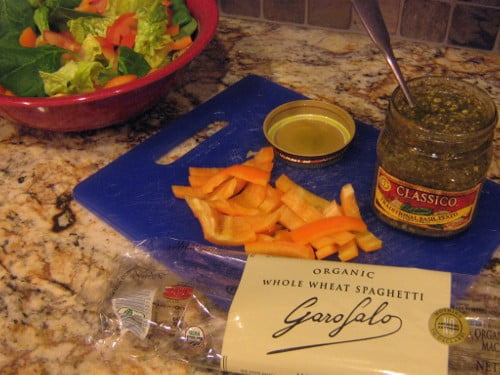 Whole Wheat Spaghetti with Pesto Sauce
1 pkg Garofalo organic whole wheat pasta (this is super delish whole wheat pasta; you can find it at Costco)
1 jar Classico Traditional Basil Pesto
(You can also throw in cooked chicken if you'd like)
Cook pasta according to package directions and drain. Open pesto sauce and stir until combined. Toss with cooked pasta. Serve topped with Parmesan–or my favorite, Asiago–cheese. Pairs beautifully with a side salad, also affordable and quick!
…
For fun, here's George's version of a cheap and easy breakfast:
No, we're not in the habit of pouring syrup right on the counter, though it does cut down on dishes. This is simply what happens when you let your preschooler pour syrup from a wide-mouth bottle into a tiny condiment dish.
Now for the easy friends part of this post, which I'll make short and sweet since I spent way too much time chatting about Dino Nuggets.
There's something to be said for easy friends, the kind of friends who are free from formality and constraint. They are the same friends who bring out the best in you, who you look forward to seeing and don't see often enough. Though freshly baked (my previous site) didn't bring me a lot of traffic, it did bring me a lot of new friends. While I love them all, a few have found a special place in my heart. With them I can be myself, faults, foibles and all. (Yes, "faults" and "foibles" are synonyms and repetitive but it flows so nicely I couldn't resist.)
I also have a handful of dear, "old" friends who are extremely easy on the soul. They love me whether or not I work out, wear makeup, feed my kids Dino Nuggets on a regular basis, eat Big Macs (I ask a lot of my friend Kim), get ornery during that time of the month or laugh when they're kids vomit over all over the top and bottom bunks (it was sympathetic laughter, promise)…heck, a few of them even go as far as sympathetically gaining weight to make me feel better. How awesome is that?
What made me wax philosophical today was a play date with some new friends I've made—and they're definitely easy. (Their husbands may beg to differ but that's TMI for this post.) Though I haven't divulged all my secrets to them (Chick-fil-a is definitely not the place and not all of them were there), I'd like to think even if I did they'd still show up for the next scheduled play date. And they better since these women—both "old" and "new"—and their friendship and talents and brains and humor and stories and secrets and life experiences serve the sole purpose of enriching my life.*
* Okay, their sole purpose isn't to enrich my life but I'm not above laying on a little pressure if it means more play dates.