Disclosure: This is a sponsored post for Cardstore. Even though I was compensated for making these fabulous Mother's Day cards, all thoughts, opinions and propensity for humorous greetings cards are my own.
Thanks to Cardstore, I designed THE BEST card for my sister this Mother's Day. Mother's Day 2013 will be Megan's first—she's finally knocked up after a year or two of trying. I have four kids ages 15 1/2 to 5 1/2 so this card was perfect.
…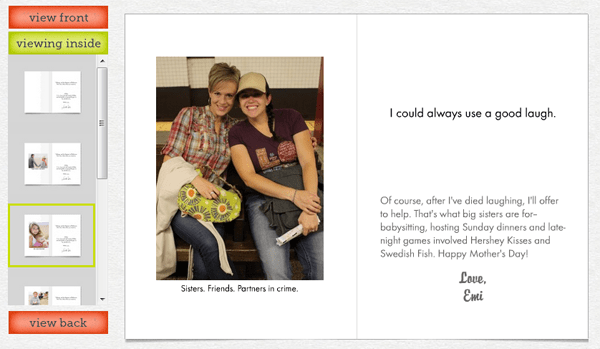 …
I told my mom about the card and we both had a good laugh.
I'm pretty sure I'll have a few more over the course of the next few years. It's what big sisters do.
I didn't stop at just one Cardstore card. Oh no. I designed one for my mom:
…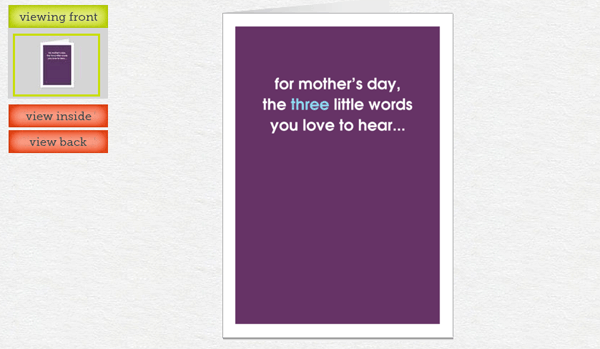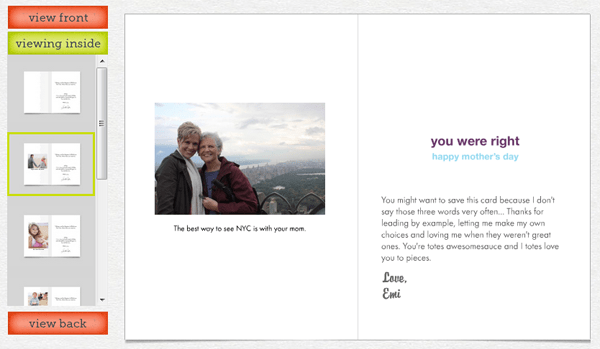 …
And one for my BFF LeShan who lives in Florida and is one of the hottest moms around:
…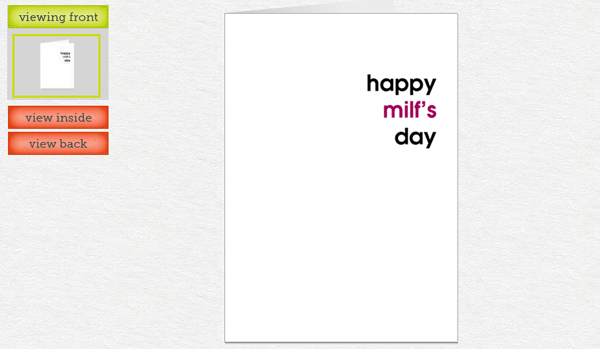 …
She is also a fabulous cook and is the same person who gave me the recipe for that decadent glazed lemon poppy seed bundt cake I posted last week.
Mmmmm…bundt cake…
Cardstore offers more than humorous Mother's Day cards. You'll find sentimental ones as well (not my thing but go for it!). You can also create custom cards for birthdays, weddings, anniversaries—just about any occasion. Add photos, personalized messages and your signature for that personal touch. Cardstore will print, stamp and send your card via US Postal Service for you. (Or you can have the cards sent directly to you if you'd prefer to hand-address and stamp them.)
To get you started, I have a super awesome and EXCLUSIVE Cardstore coupon code for you. This baby is not available anywhere on the site!


…
Use code CSF3199 to create any Cardstore Mother's Day card for only $1.99 each!
That's less than half of what they cost in store. I know because I'm a card scrooge.
Fine print: Create any Mother's Day card for $1.99 when code CSF3199 is applied at checkout. No minimum purchase necessary. Offer valid through 5/6/13. Coupon code CSF3199 must be entered during online checkout. Coupon does not apply to shipping & handling charges and cannot be combined with other offers. Coupon code is not valid on previous purchases and excludes all plush and greeting card bundles as well as non-card items. Coupon code may be used to purchase more than one Mother's Day greeting card but is not valid on orders of 150 cards or more. Discount applied at checkout. To prevent abuse, we reserve the right to discontinue or modify this offer at any time without notice. Offer is subject to change and expires at 11:59 pm PST on 5/6/13. Offer intended for use in the United States, US territories, and Canada.
…
Whew!
…


Feel free to "like" is this REALLY my life? on Facebook. It won't always earn you an extra entry in a giveaway but it will give you warm fuzzies.
Don't forget to sign up for free is this REALLY my life? updates via RSS or email so you don't miss a single awesome post.
…