Caramel snickerdoodles may change the way you bake snickerdoodles forever. These cinnamon sugar cookies are soft, chewy, and all kinds of gooey.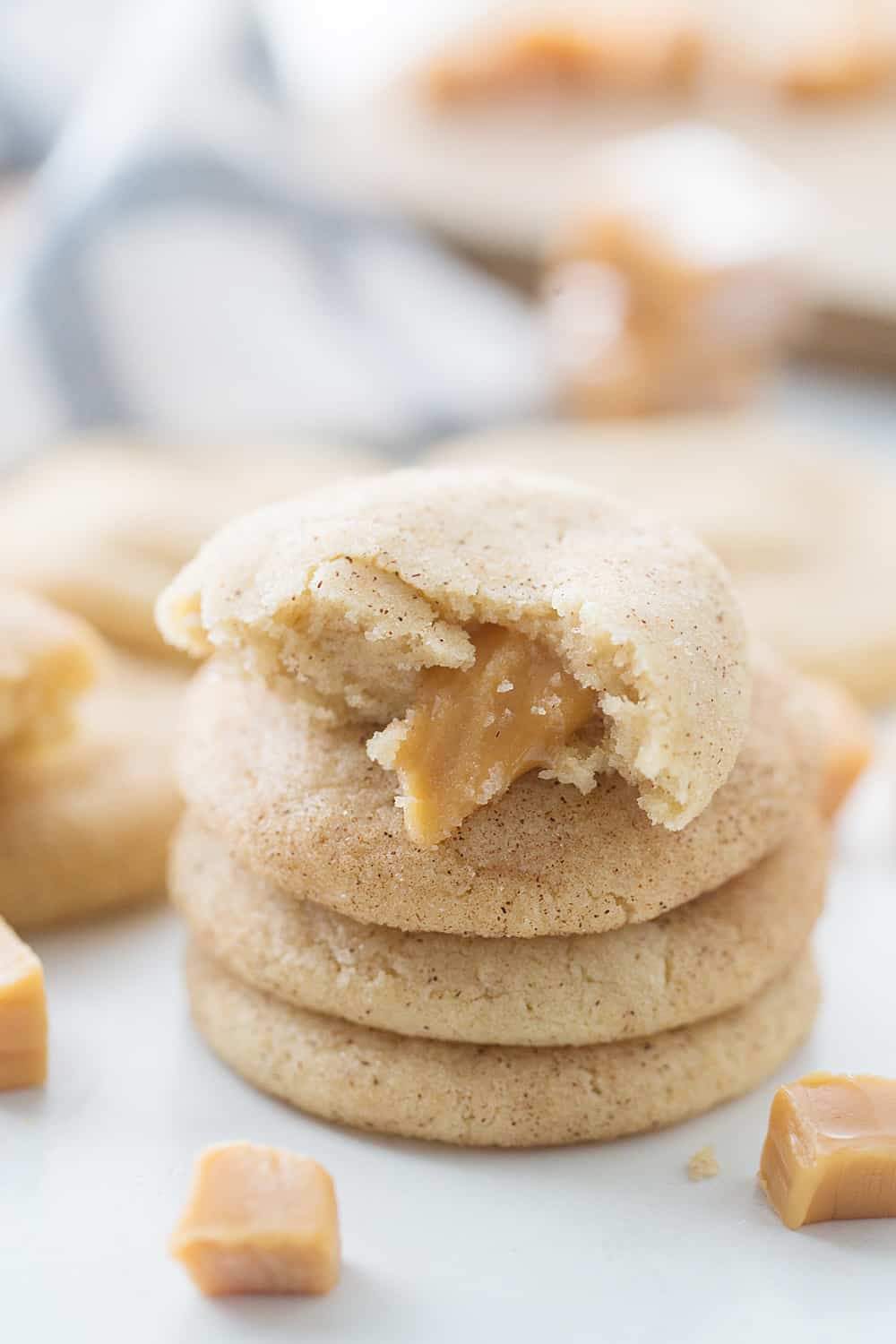 Man, I love snickerdoodles. I could eat the entire batch in one sitting, no lie.
And while this is my favorite snickerdoodles recipe, those cinnamon sugar cookies take a backseat to a recipe that calls for caramel.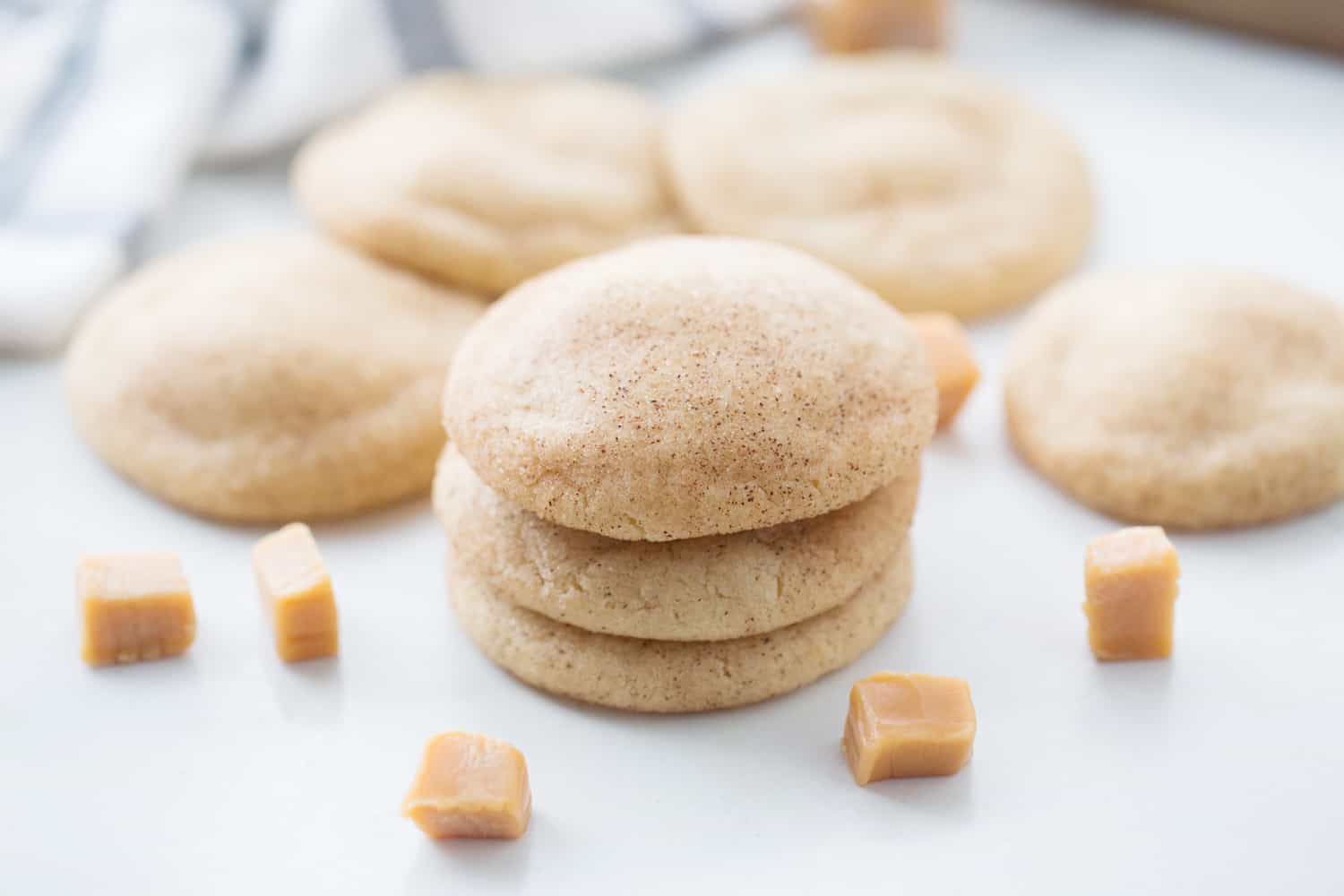 These caramel snickerdoodles need to be pinned, prepped, and then prepped again because you'll eat the entire batch in record time.
Promise.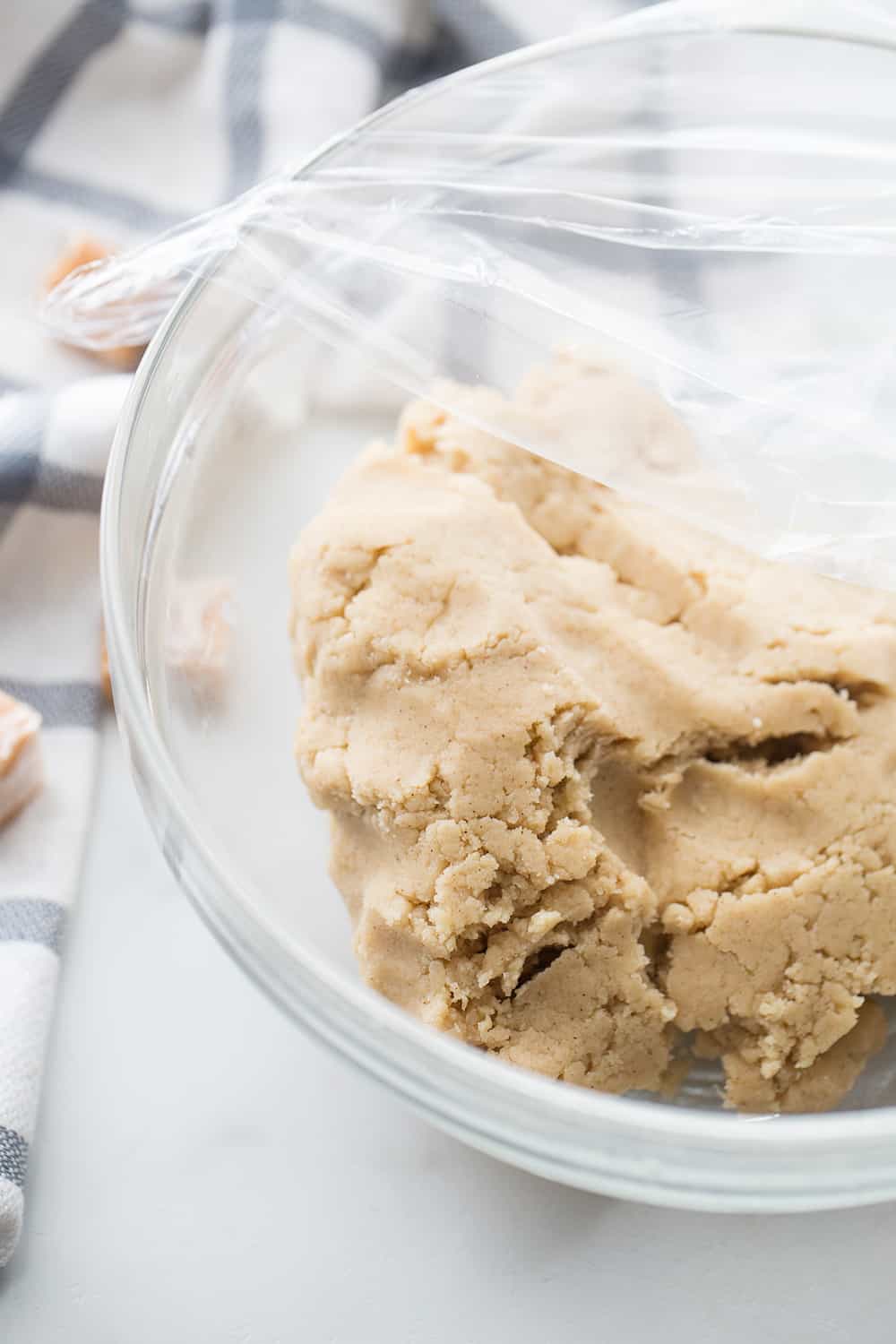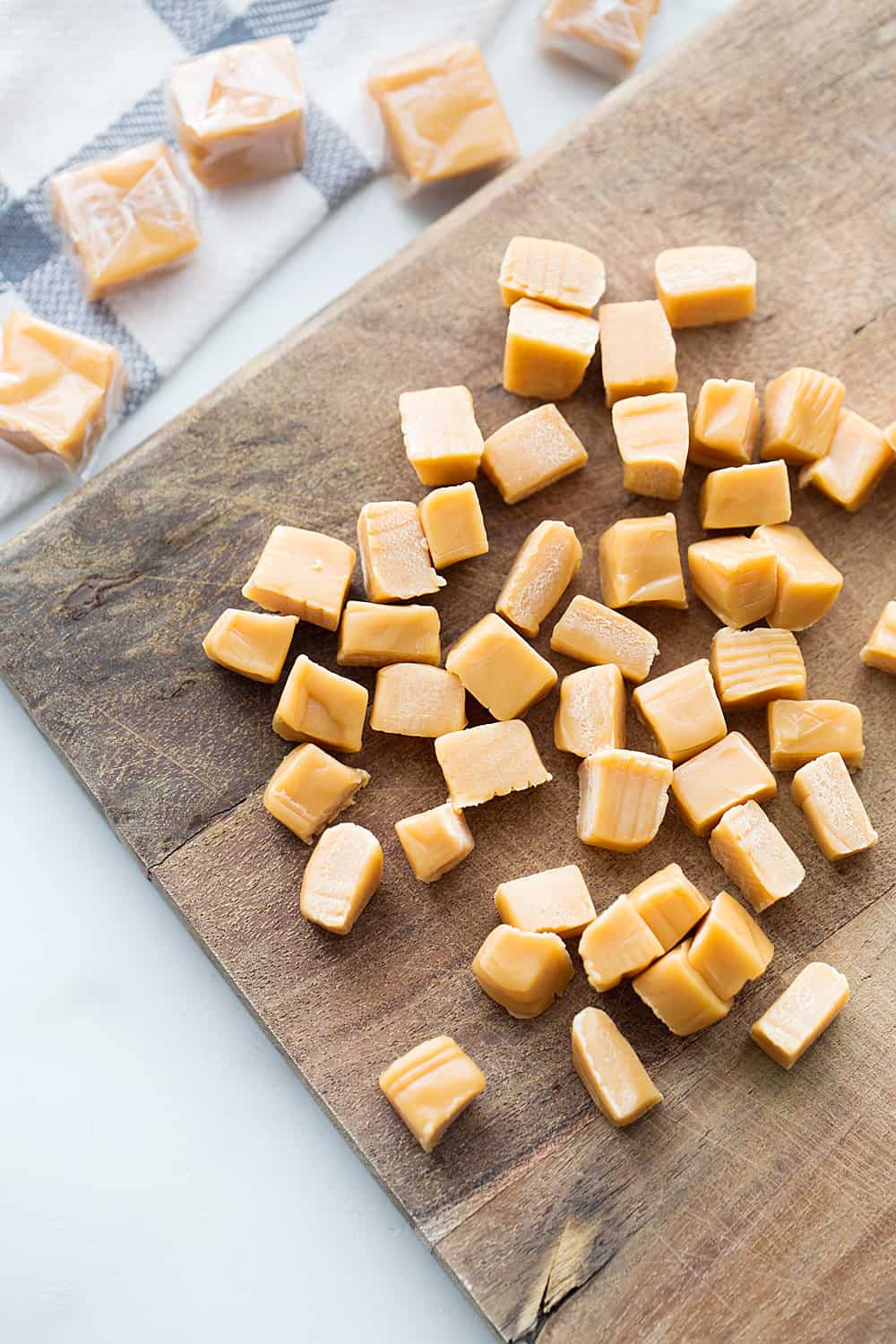 Trust me when I make bold statements like that. It comes from lots and lots and LOTS of personal (tasting) experience.
One of the things I love most about this recipe for caramel snickerdoodles is they don't require anything fancy—no extra steps to make browned butter, no making caramel from scratch.
I consider that a win.
That's not to say I'd turn down a batch of browned butter salted caramel snickerdoodles, but when you're craving something sweet, sometimes those patience panties are nowhere to be found.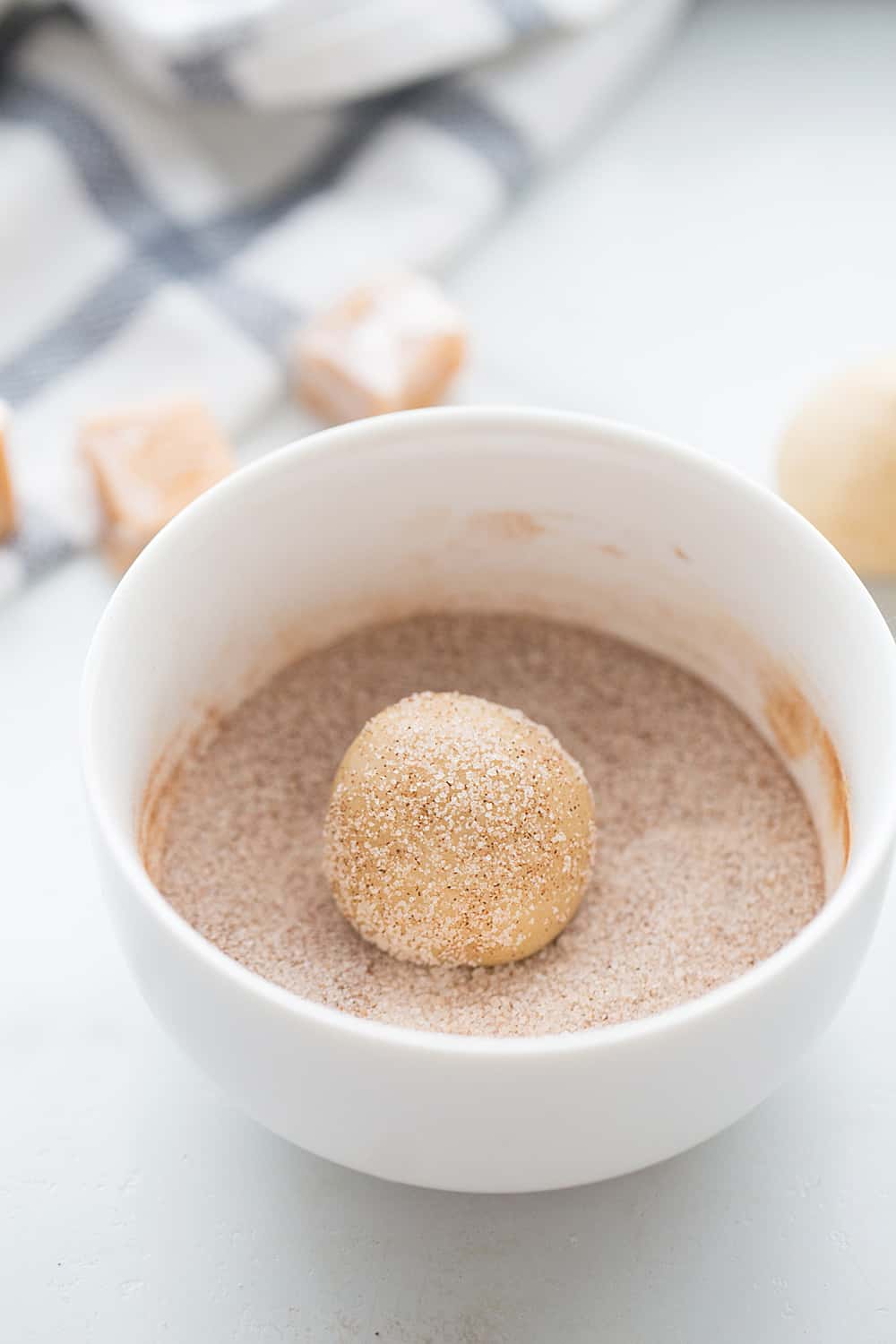 Speaking of caramel (shouldn't we always speak of caramel?), my other favoriet gooey cookies are these chocolate chip Rolo cookies. Oh, and let's not forget salted caramel rolo cookies, cake mix Oreo cookies, and caramel peanut butter kiss cookies.
I'm pretty sure every cookie should have some sort of gooey filling. Am I right?
When caramel snickerdoodles have come out of the oven and cooled for a few minutes, they're basically heaven in a batch of cookies.
Let's just agree now that snickerdoodles should be caramel filled at least every other batch.
Want to see how easy it is to make these babies?
How to Make Caramel Snickerdoodles
Step 1: Cream butter and sugars together. Add the eggs and vanilla.
Step 2: Whisk dry ingredients together and add to the creamed mixture. Chill dough.
Step 3: Cut caramels into pieces and stuff into cookie dough balls.
Step 4: Roll in cinnamon sugar mixture and bake.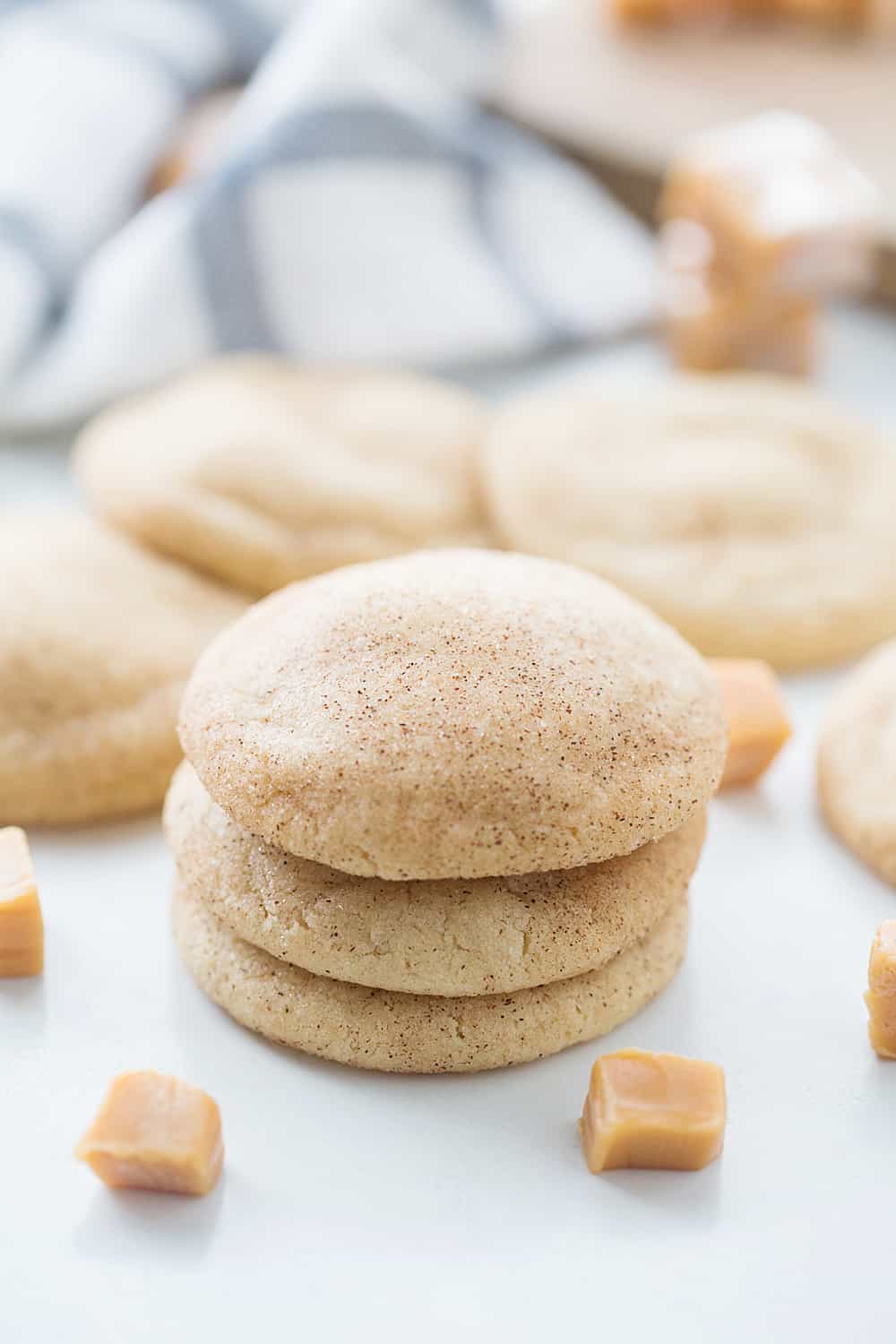 I mean, it's a little extra work than your standard recipe for snickerdoodles, but it's so totally worth it.
Want to make it even easier? Use pre-cut parchment paper. It's the best thing since sliced bread (but not since this peasant bread.)
Next time I may try these with Rolos in the center. The added hint of chocolate can only make this snickerdoodles recipe even better ... if that's even possible!
Printable recipe for caramel snickerdoodles below. Enjoy!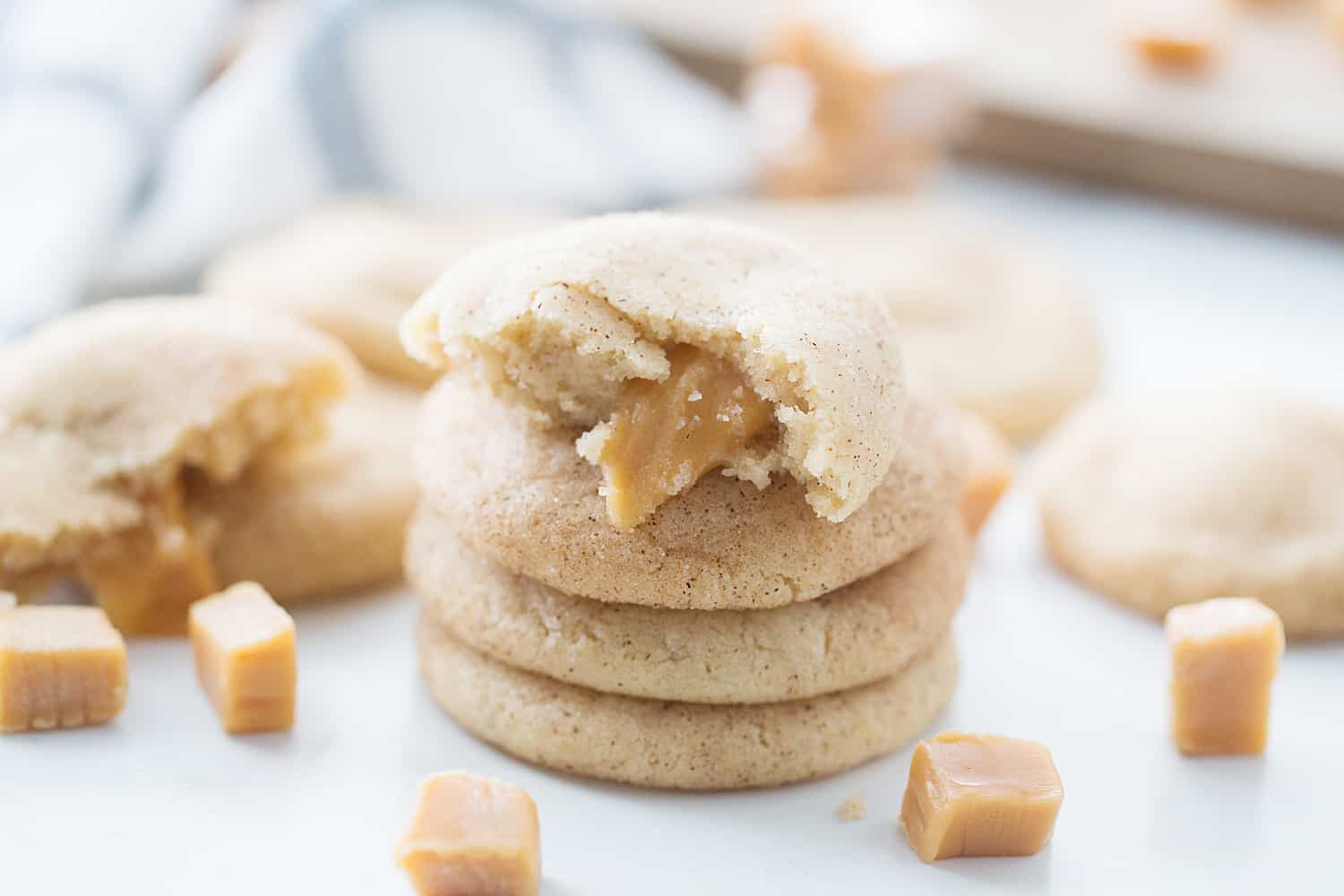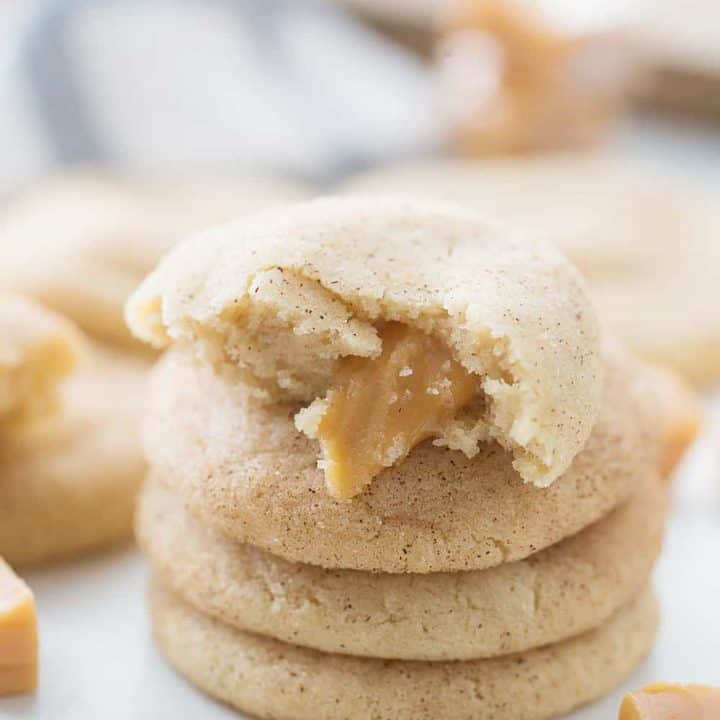 Caramel Snickerdoodles
Caramel snickerdoodles may change the way you bake snickerdoodles forever. These cinnamon sugar cookies are soft, chewy, and all kinds of gooey.
Ingredients
Cookies
1 cup unsalted butter, softened
1 cup sugar
⅓ cup light brown sugar, packed
1 egg
2 tsp vanilla
2 ¾ cups flour
2 tsp cream of tartar
1 tsp baking soda
1 tsp ground cinnamon
½ teaspoon salt
12 Kraft caramel candies
Cinnamon sugar
¼ cup sugar
1 tsp cinnamon
Instructions
Cream butter, sugar, and brown sugar in a medium bowl until light and fluffy. Add the eggs and vanilla and beat until thoroughly combined.
Whisk together the flour, cream of tartar, baking soda, cinnamon, and salt in a separate bowl. Add to the creamed mixture and mix thoroughly.
Tightly cover dough and chill for at least 1 hour.
Preheat oven to 350 degrees. Line two large cookie sheets with parchment paper or silicone baking mats. Set aside.
Unwrap the caramels and cut each into 4 pieces. Remove the dough from the refrigerator and roll about 1 ½ tablespoons of dough into a ball.
Break each dough ball in half. Make a thumbprint into the bottom of one half and press two pieces of caramel inside. Cover with remaining half and roll filled dough into a ball. Make sure caramels are completely covered.
Mix the ¼ cup sugar and cinnamon together in a small bowl. Roll each filled dough ball into the mixture to coat evenly. Place on cookie sheet about 2 inches apart.
Bake cookies for 10-11 minutes. Cookies may look underbaked, which is okay.
Remove from oven and cool on cookie sheet for 10 minutes before transferring to a wire rack to cool completely.
Store in an airtight container for up to 1 week at room temperature or freeze for up to two months.
NOTE: For an extra yummy treat, warm room-temperature cookies in the microwave for 5 to 8 seconds for an ooey, gooey center.
Notes
OLLOW HALF-SCRATCHED ON INSTAGRAM (@half_scratched) and share the recipes you're whipping up in the kitchen. Don't forget the #halfscratched hashtag so we can see what you've made!
Nutrition Information:
Yield:

24
Serving Size:

1
Amount Per Serving:
Calories:

220
Total Fat:

8g
Saturated Fat:

5g
Trans Fat:

0g
Unsaturated Fat:

3g
Cholesterol:

28mg
Sodium:

172mg
Carbohydrates:

36g
Fiber:

1g
Sugar:

25g
Protein:

2g