Caramel peanut butter kisses cookies are simply heavenly thanks to the combination of gooey caramel and chocolate with the softest, chewiest peanut butter cookie.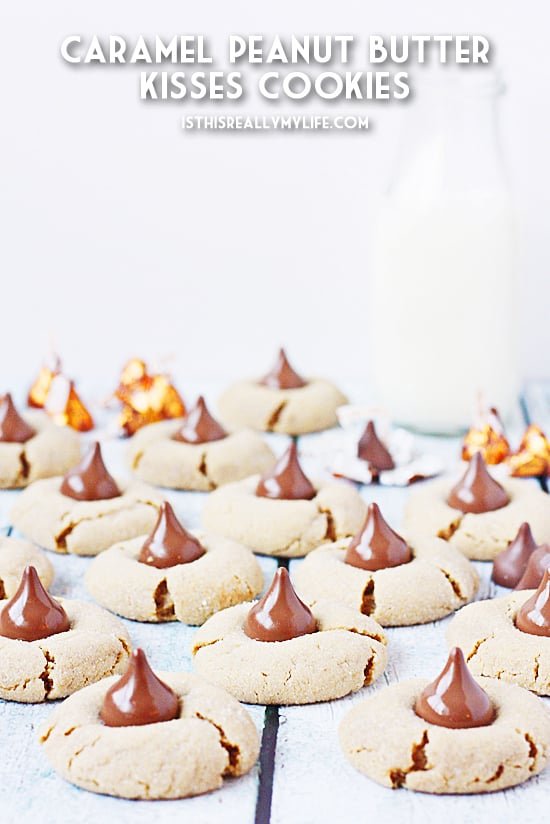 DUDE.
These caramel peanut butter kisses cookies might be the most delicious, most addictive, most "please hide the rest because I will EAT THEM ALL" cookies I've ever made.
For reals.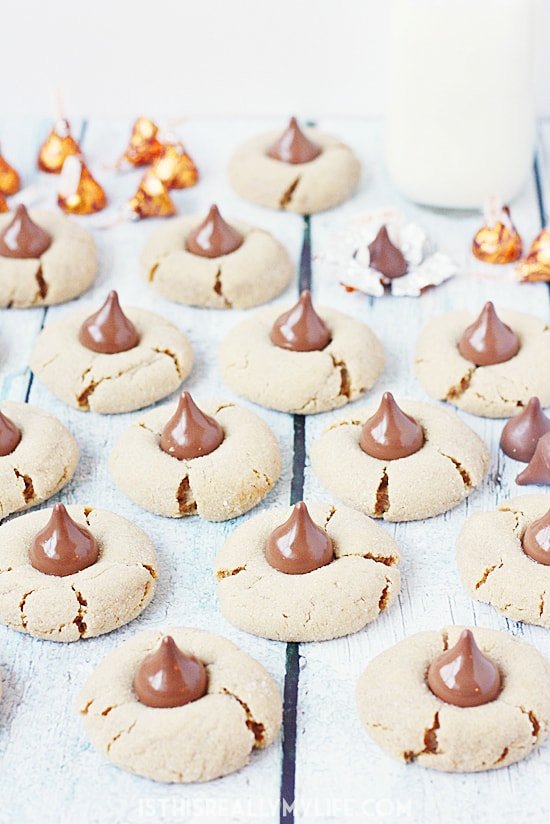 I know I've said that about my M&Ms pudding cookies, Butterfinger cookies and glazed lemon coconut cookies, but I'm not lying when I say I'll be requesting these cookies on my death bed.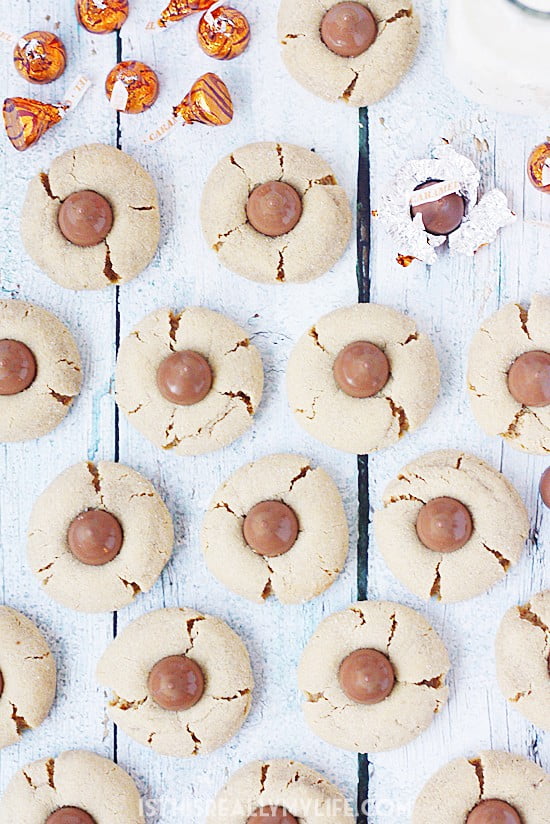 I refuse to make peanut butter kisses cookies (aka peanut butter blossom cookies) any other way. Hershey's Kisses with caramel take this classic cookie to an entirely new—and entirely heavenly—level. Don't believe me? Ask every member of my family; no one can resist them. It's a good thing I took a few to the neighbors or it would be holiday weight gain all over again.
And guess what? If you accidentally forget to set the timer and over bake a batch of the peanut butter cookies, they're still totally edible. Just don't waist those precious caramel Hershey's kisses on them. Instead eat them as soon as they cool down enough to not burn your taste buds. It's a solid plan, trust me.
I wish I could show you the gooey goodness of these cookies when they're still warm but the photos didn't do those caramel kisses justice. Perhaps I should have taken one of the strings of caramel stuck to my chin after taking a bite...
Though the original recipe suggest 1-inch balls of dough, I found my trusty medium cookie scoop to be the perfect size for these caramel peanut butter kisses cookies. I prefer my cookie-to-Kiss ratio to favor the cookie, and that scoop was spot on.
Printable recipe for caramel peanut butter kisses cookies below. Enjoy!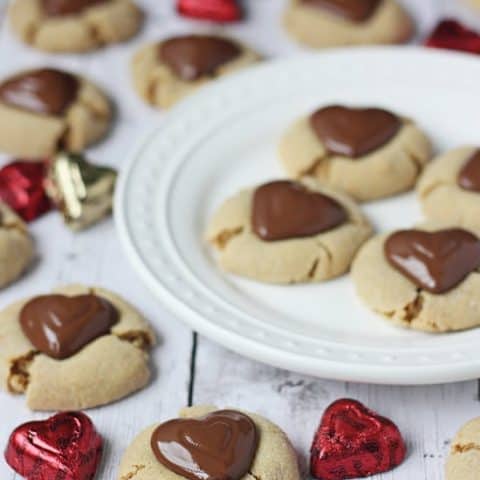 Caramel Peanut Butter Kisses Cookies
I'm pretty sure this is the only way to make peanut butter kisses cookies. The gooey caramel and chocolate combined with soft, chewy peanut butter cookie are simply heavenly. Makes approx. 4 dozen.
Ingredients
1 cup unsalted butter, softened
1 ½ cup sugar, divided
1 cup brown sugar
1 cup peanut butter
2 eggs
2 tsp vanilla
1 T milk
1 tsp salt
2 tsp baking soda
3 ½ cups flour
48 Reese's peanut butter hearts, unwrapped
Instructions
Preheat oven to 375 degrees.
Combine butter, 1 cup sugar, brown sugar and peanut butter in a medium bowl. Beat at medium speed until light and fluffy. Add egg, vanilla and milk; continue beating until thoroughly combined.
Add salt, baking soda and flour. Beat at low speed, scraping bowl at least once, until well mixed.
Use a medium scoop (or estimate a large tablespoonful of dough) to shape dough into balls. If dough is too soft, refrigerate for 30 minutes.) Roll balls in ½ cup sugar and place 2 inches apart on ungreased cookie sheets.
Baked 8 to 10 minutes or until very light golden brown. Remove from oven and immediately press 1 Reese's peanut butter heart in the center of each cookie. Let cool 2 minutes on cookie sheet before removing to wire rack to cool completely.
Here are those other three cookies I mentioned earlier. They're all worth baking...and in the same day if you're PMSing like me.