This is a sponsored post written by me on behalf of Campbell's Soup Company . All opinions are 100% mine.
Yes, I cook from scratch but I also cook from the can on occasion. Many a weeknight meal wouldn't happen if it weren't for shortcuts, condensed soup being one of my favorites. Take this poblano mac & cheese or this crock pot mac & cheese for example. Neither one would be nearly as delicious without that can of condensed soup.
And yes, Campbell's is our soup of choice.
With football season underway and Nathan often home late from work, there's going to nights when I'll need a quick and easy dinner for BYU's biggest fan. I think of it as a simplified single serving of what might have been a hearty family meal. In this case, we're not messing with condensed soup and a half dozen ingredients. All you need is a can of Campbell's Chunky soup and a Bolillo roll (or any large, crusty roll). Combine the two and you have mini bread bowls and one happy football fan.
.

.
I know they appear to be as big as their larger counterpart, but look closely. Those are very petite carrots. And that Bolillo roll holds only half a can of soup. That means the BYU fan can eat two if he's feeling especially hungry.
.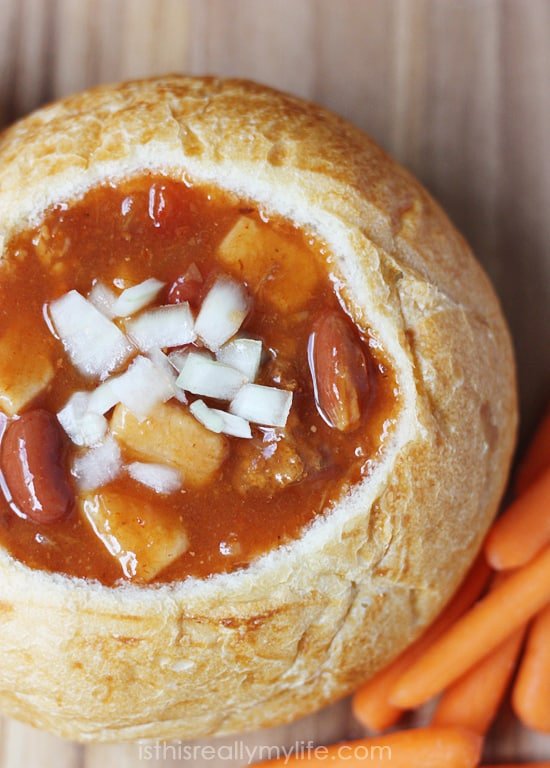 .
The MVP of this meal is the new Campbell's Chunky BBQ Seasoned Pork soup.
It has seasoned pork, garlic, onions, potatoes, tomatoes, kidney beans and other yummy seasonings and spices. And it's definitely chunky, hence the name. All Campbell's Chunky soups are loaded with big pieces of meat & vegetables in flavors everyone—even the pickiest of players—loves, and they're hearty enough to satisfy football-sized cravings.
You can enjoy Chunky soup in a bowl or bread bowl, but you could also pour it over rice, mashed potatoes or a baked potato for a filling dinner. I've even seen it top fries! For more soup inspiration, check out any of the delicious Campbell's recipes on the Campbell's site. You can also follow @CampbellsChunky on Twitter. They're sharing all kinds of deliciousness like this hearty pizza dip recipe.
Printable recipe (although you don't really need one!) for mini bread bowls below. Enjoy!
.

Quick & Easy Game Night Meal: Mini Bread Bowls
Half a can of Campbell's Chunky soup plus one Bolillo roll (or any large crusty roll) equals a super quick and hearty meal.
Author:
Emily ~ isthisREALLYmylife.com
Ingredients
1 can Campbell's Chunky BBQ Seasoned Pork soup (or your favorite Chunky flavor)
2 Bolillo rolls or other large crusty roll (about 6" across)
Assorted toppings like diced onion, shredded cheese, sour cream (optional)
Instructions
Heat soup according to directions on can.
Cut out center of rolls carefully and remove bread. Set center and bread pieces aside. Leave the bottom thick enough so soup doesn't leak through.
Fill one roll with half a can of soup; repeat with second roll.
Top with diced onion or your favorite soup toppings. Serve with top of roll and any bread removed from the center.
.
If you're looking for more yummy soup recipes, you should browse my soup recipes Pinterest board.
.
Follow Emily Hill's board soup recipes on Pinterest.
.
.


Feel free to "like" is this REALLY my life? on Facebook. It won't always earn you an extra entry in a giveaway but it will give you warm fuzzies.
Don't forget to sign up for free is this REALLY my life? updates via RSS or email so you don't miss a single awesome post.
.