Disclosure: This sponsored post was written while participating in my partnership with Oscar Mayer and One2One Network but as always, all opinions are my own. I received Deli Fresh BOLD coupons and other related items from Oscar Mayer/Kraft Foods.
I'm a sandwich girl. I love all kinds of sandwiches, from your basic PB&J (toasted, of course) to a decked-out Philly cheese steak and everything in between. This Cajun turkey BLT with chipotle mayo was as much fun to eat as it was to photograph.
Okay, maybe even more fun.
…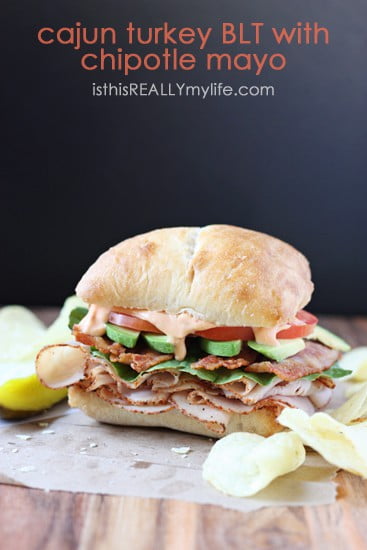 …
I kicked this Cajun turkey BLT up a notch (do people still say that?) by adding some sliced avocado and a generous dollop of homemade chipotle mayo. That and the soft ciabatta roll in place of our standard wheat bread had me savoring every bite. Oh my. It was good.
…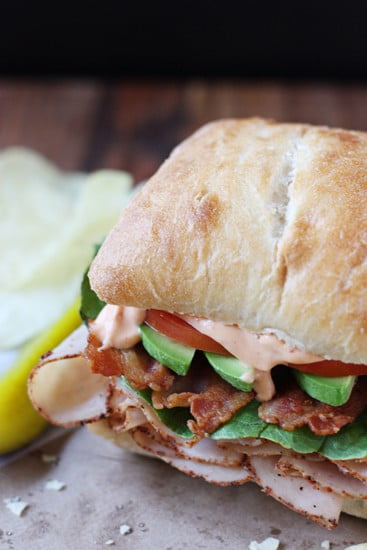 …
Printable recipe for Cajun turkey BLT with avocado and chipotle mayo below. (You really need to print it if only for that addictive chipotle mayo recipe.)
…

Cajun Turkey BLT with Chipotle Mayo
A turkey BLT with the addition of avocado and chipotle mayo. You can thank me later.
Author:
Emily ~ isthisREALLYmylife.com
Ingredients
Sandwich
Oscar Mayer Cajun Style Turkey Breast*
1 leaf Romaine lettuce, rinsed and patted dry
2 slices bacon, cooked and cut in half
¼ avocado, sliced
1 to 2 slices tomato
Chipotle mayo
Ciabatta roll (or your favorite sandwich bread)
Chipotle mayo
1 to 1½ cups low-fat mayo (depending on how spicy you want it)
2 chipotle peppers in adobo sauce
1 T adobo sauce (or more to taste)
Salt and pepper to taste
Instructions
Chipotle mayo
Combine all ingredients in a food processor and process until smooth. Use immediately; refrigerate leftovers.
Sandwich
Layer turkey followed by lettuce, bacon, avocado and tomato. Top with chipotle mayo.
Notes
You could also substitute the new Oscar Mayer Deli Fresh BOLD Chipotle Seasoned Chicken Breast or Italian Style Herb Turkey Breast and still have a scrumptious sandwich!
This sandwich features the Oscar Mayer Cajun Style Turkey Breast, one of their new Deli Fresh BOLD flavors. I know every one of their new Deli Fresh BOLD lunch meats is yummy. Why? Because I bought—and ate—their original Mesquite Turkey Breast the minute it hit shelves who knows how many years ago. It's by far one of my favorite packaged lunch meats, no lie.

But this sandwich would be just as tasty with any of the new Oscar Mayer Deli Fresh BOLD lunch meats. I'm all about trying the Chipotle Season Chicken Breast or Italian Style Herb Turkey Breast (or both) next time I make this BLT. Just look at the seasoning on those slices of turkey!
I probably won't share, but you may be able to talk me into giving you a bite.
Maybe. If you're lucky. And I'm not hangry.
…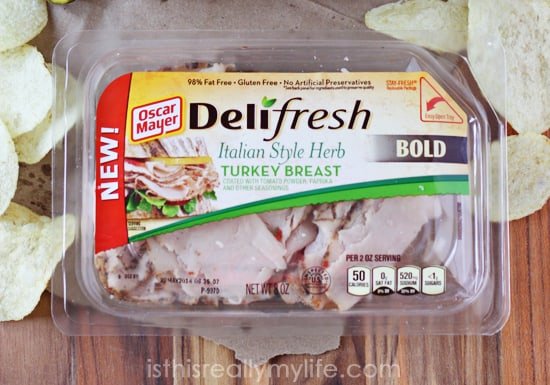 …
As far as the new Maple Honey Ham, I'm thinking slices of maple honey ham paired with a sharp cheddar, lettuce, tomato and deli mustard on a soft country bread would be simply amazing. Or a grilled ham and Havarti with smashed avocado. Mmm…
Other than the fantastic flavor, I love how Oscar Mayer Deli Fresh BOLD lunch meats are free from artificial preservatives and flavors. Even better, they're at least 97 percent fat free.
That last part means you can pile on extra chipotle mayo.
You can check out all the Deli Fresh BOLD options online at OscarMayer.com. You can also find Oscar Mayer on Twitter and Facebook.
And now to get a nice little ditty stuck in your head…
My Cajun turkey has a first name; it's O-S-C-A-R.
My Cajun turkey has a second namel it's M-A-Y-E-R.
I love to eat it every day,
And if you ask me why I'll saaaaaay…
'Cause Oscar Mayer has a way with C-A-J-U-N-T-U-R-K-E-Y.
Hey, it almost works.
…


Feel free to "like" is this REALLY my life? on Facebook. It won't always earn you an extra entry in a giveaway but it will give you warm fuzzies.
Don't forget to sign up for free is this REALLY my life? updates via RSS or email so you don't miss a single awesome post.
…