I'm not exaggerating when I say this Cajun chicken pasta recipe is in the top five of my family's most requested recipes. It's right up there with my homemade dinner rolls, coconut oatmeal chocolate chip cookies and bran muffins. (That makes four, right? Whew!)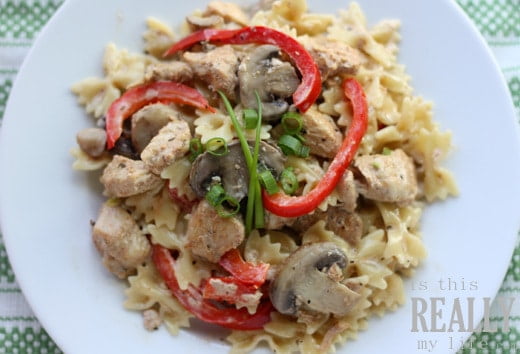 I made a batch of Cajun chicken pasta last night (thanks, sis, for requesting it!) and finally snapped some photos so I could post the recipe.
I could have posted the recipe without photos, but how fun is that?
This dish is extra special because I pretty much came up with it myself—a rarity around these parts. It is based very loosely on this recipe from Allrecipes.com, and when I say "loosely," I mean the ingredients are sort of similar and that's about it.
Those who know me well know I don't improvise when it comes to recipes. The thought of it makes me get all twitchy and slightly hyperventilate. But with the success of this one, I'm rethinking my lack of ingenuity in the kitchen.
I've had a good handful of friends try this Cajun chicken pasta and they've all said it was a huge hit. One even added sundried tomatoes—an addition I can totally get behind. Here's to hoping this Cajun chicken pasta becomes a new family favorite for you too!
P.S. You can easily double this recipe and make a batch big enough for a large gathering of guests. It's a great dish for entertaining!
Printable recipe for Cajun chicken pasta below.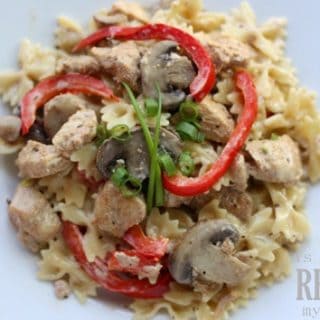 Cajun Chicken Pasta
This is in the top five of my family's most requested recipes. You can add as little or as much Cajun seasoning as you'd like. A smokey Cajun is good too! Feel free to substitute your favorite pasta noodles or change the colors of the bell peppers (orange and yellow are fun too!).
Ingredients
1 box farfalle (bow-tie) pasta
3 to 4 boneless, skinless chicken breasts cut into bite-size pieces
2 to 3 T Cajun seasoning
2 T olive oil
2 red bell peppers, sliced
2 packages sliced mushrooms
4 green onions, chopped
2 cups heavy whipping cream
2 tsp minced garlic
½ tsp dried basil
½ tsp Cajun seasoning
½ tsp salt
½ tsp lemon pepper
¼ tsp white pepper
Dash of black pepper
Freshly shredded Parmigiano-Reggiano
Instructions
Place chicken and 2 to 3 T Cajun seasoning in a large Ziploc bag and shake to coat. Let marinate in the refrigerator for at least a ½ hour.
Bring a large pot of lightly salted water to a boil. Add pasta and cook according to package directions until al dente. Drain.
While water is coming to a boil, heat olive oil in a large skillet over medium heat. Saute the chicken in the oil until cooked through.
Add red bell pepper, mushrooms and green onion. Saute for 4 to 5 minutes or until peppers are crisp tender. Reduce heat.
Add cream, garlic, basil, Cajun seasoning, salt and peppers. Bring just to a simmer and let simmer for 3 to 5 minutes until thoroughly heated and slightly thickened.
Add chicken and cream mixture to pasta and toss until evenly coated. Serve immediately topped with Parmigiano-Reggiano.
Nutrition Information:
Yield:

8
Serving Size:

1
Amount Per Serving:
Calories:

266
Total Fat:

26g
Saturated Fat:

14g
Trans Fat:

1g
Unsaturated Fat:

10g
Cholesterol:

72mg
Sodium:

2762mg
Carbohydrates:

7g
Fiber:

1g
Sugar:

3g
Protein:

4g