I am a sucker for a good muffin recipe. I'm talking homemade, hot-from-the-oven, paper-wrapped bundles of muffin-y goodness.
I recently posted one of our family favorites, banana crumb muffins, but I'm also a fan of cinnamon & sugar pumpkin mini muffins. As yummy as those are, I think my all-time favorite homemade muffins are bran muffins. You make the batter ahead and refrigerate it, which makes for tasty homemade muffins multiple mornings in a row!
Oh, and my kids beg me to make those bran muffins, so you know they're good.
I'm always happy to try a new muffin recipe, especially if it uses up nearly expired buttermilk. I found this buttermilk oatmeal muffin recipe on Allrecipes.com but tweaked it a bit according to the reviews.
It is definitely a keeper, especially if you have picky eaters. It's a very good, basic muffin recipe. And that's what I love about it. You could easily mix it up by adding fun stuff like chopped nuts, mini chocolate chips, crumb topping...oh, the possibilities!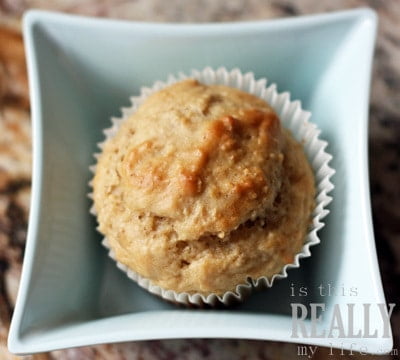 You may be wondering why that muffin looks so sad. Well, we ate the other 23 before I could snap a good photo. I hoped setting it in a cute little dish would make it feel better.
I'm not sure it worked but it sure tasted good!
Printable recipe for buttermilk oatmeal muffins below.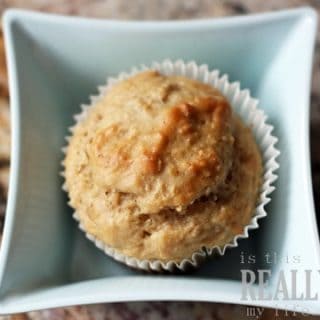 Buttermilk Oatmeal Muffins
This is a really easy, basic muffin recipe. It tastes yummy as is, but feel free to mix it up a bit by throwing in your favorite muffin add-ons like crumb topping, mini chocolate chips, etc.
Ingredients
1 cup quick-cooking oats
2 cup buttermilk
2 eggs, beaten
1 cup packed brown sugar
½ cup canola oil
2 tsp vanilla
2 cups flour
2 tsp baking powder
1 tsp baking soda
1 tsp salt
½ tsp cinnamon
Instructions
In a bowl, soak oats in buttermilk for 15 minutes.
Stir in egg, sugar, oil and vanilla.
Combine flour, baking powder, baking soda, salt and cinnamon; stir into oat mixture just until moistened.
Fill greased or paper-lined muffin cups ⅔ full.
Bake at 400 degrees for 16-18 minutes or until muffins test done.
Cool in pan 5 minutes before removing to a wire rack. Makes 18 to 24 muffins.
Nutrition Information:
Yield:

8
Serving Size:

1
Amount Per Serving:
Calories:

406
Total Fat:

16g
Saturated Fat:

2g
Trans Fat:

0g
Unsaturated Fat:

14g
Cholesterol:

49mg
Sodium:

712mg
Carbohydrates:

57g
Fiber:

2g
Sugar:

25g
Protein:

8g