This carrot cake is famous thanks to a decadent buttermilk glaze and the most divine cream cheese frosting.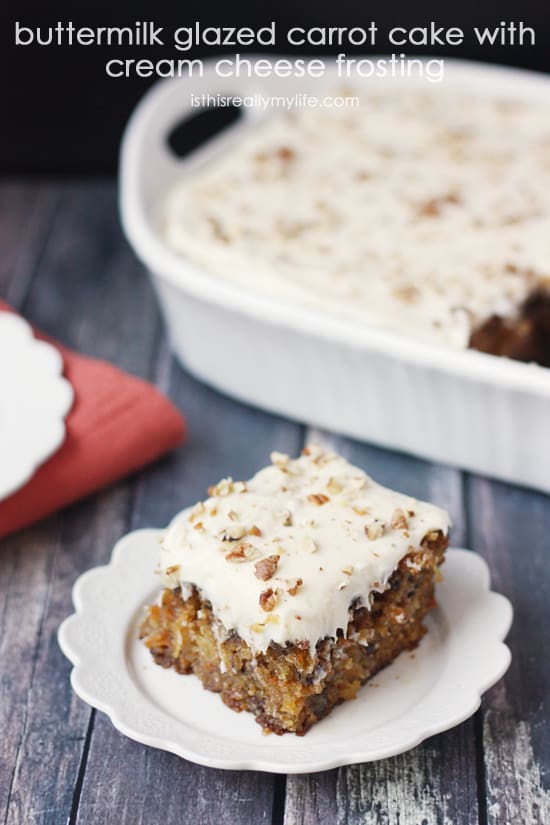 No, really. This buttermilk glazed carrot cake with cream cheese frosting is famous…as it should be. The thing weighs more than my 18-pound dog and you can easily gain 5 pounds just looking at it. No wonder my friend Molly, who's famous for this recipe, told me to make it only if I had plans to share it. And share it I did. Plates left the house left and right because there was no way I could have all those decadent calories in my kitchen without eating every. single. one.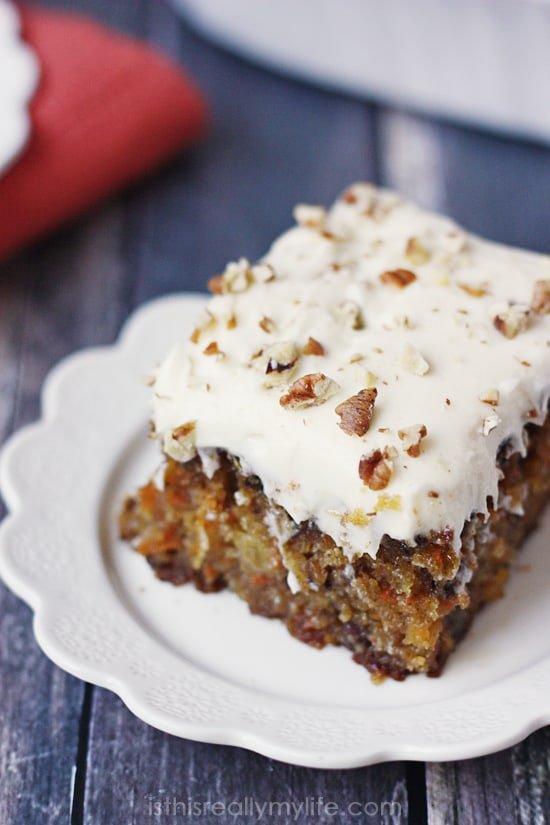 There are lots of secret to this carrot cake. The first is the perfect carrot cake base sans raisins. You could probably add raisins—and I do love raisins—but it might be too much in a cake that has so many flavors going on.
The second is a buttery, sugary buttermilk glaze you pour over the cake while it's still hot. That glaze is so good I'm pretty sure it should be poured over everything in sight. I kind of wanted to bathe in the stuff.
The third is a cream cheese frosting that is my new favorite cream cheese frosting. It's thick and creamy and the right combination of cream cheese and powdered sugar. Plus you can easily adjust the consistency with a tablespoon or two of milk.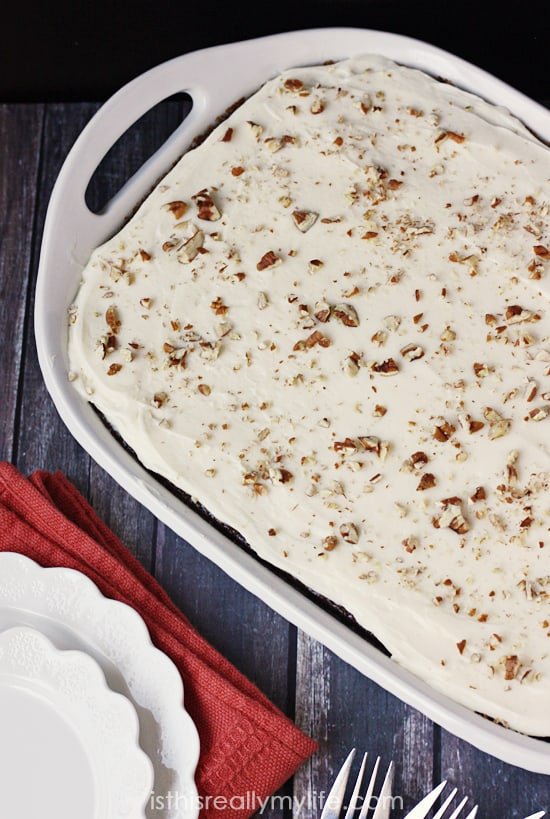 You may think there's no way a 9×13-inch cake could serve 16 people but I'm telling you all you need is a very small serving of Molly's famous buttermilk glazed carrot cake with cream cheese frosting. Anything more and you'll go into a sugar coma from which you may never recover. I almost went into one; it wasn't pretty.
Though carrot cake is super popular around Easter—and you MUST serve this for Easter dessert—I have a feeling friends and family will request this carrot cake year round. You may want double your gym attendance starting today…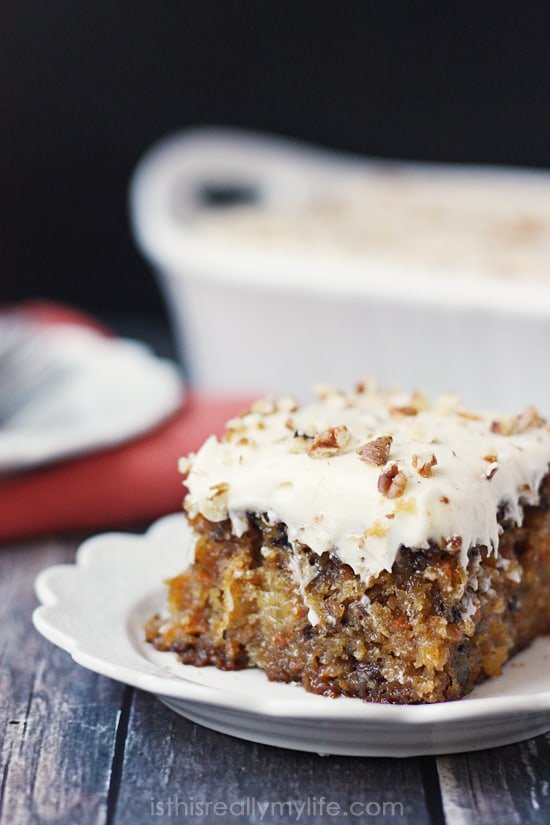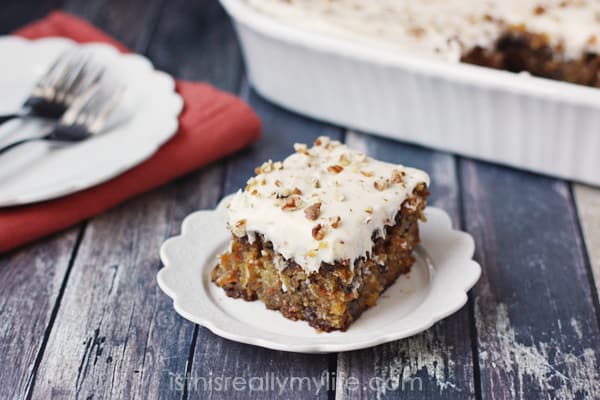 Printable recipe for buttermilk glazed carrot cake with cream cheese frosting below. Enjoy!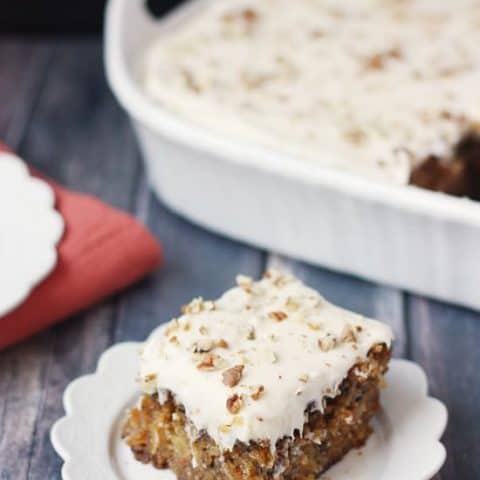 Buttermilk Glazed Carrot Cake with Cream Cheese Frosting
Total Time:
1 hour
15 minutes
This carrot cake is famous thanks to a buttermilk glaze poured over the perfect cake and topped with the most divine cream cheese frosting. Serves approx. 16.
Ingredients
Cake
2 cups flour
2 cups sugar
1 teaspoon baking powder
1 ½ teaspoon baking soda
1 teaspoon salt
2 teaspoon cinnamon
1 cup oil
4 eggs
1 (15.25-oz) can crushed pineapple
1 ½ teaspoon vanilla
2 cups shredded carrots
1 cup chopped pecans or walnuts
Glaze
½ cup salted butter
1 cup sugar
1 ½ teaspoon vanilla
½ teaspoon baking soda
1 T corn syrup
½ cup buttermilk
Frosting
1 cup salted butter, softened
1 (8-oz) package low-fat cream cheese, softened
2 teaspoon vanilla
4 cups powdered sugar
2 T milk (or enough to desired consistency)
Instructions
Cake
Preheat oven to 350 degrees. Sift together first six ingredients in a large bowl. Set aside.
Combine oil and eggs in a large mixing bowl; beat until combined. Add ½ flour mixture and mix.
Drain some of the juice from the pineapple; add to batter. Mix in remaining flour mixture. Add vanilla, carrots and nuts. Stir until well combined.
Pour into a 9x13-inch baking dish and bake 35 to 45 minutes or until center is set. Cake will be very dark but should not burn. Remove from oven and prepare glaze.
Glaze
Place ingredients in a medium saucepan. Cook, stirring constantly until sugar is dissolved and mixture is lightly simmering. It will foam like caramel popcorn coating.
Poke holes all over cake with a fork. Pour glaze over cake spreading with a spatula so entire cake is covered. Let cake cool completely before frosting.
Frosting
Beat butter, cream cheese and vanilla in medium bowl until creamy. Add powdered sugar and beat until smooth. Add milk until desired consistency. Frost cake when cooled.
Serve cake within 24 hours for best flavor. Store, covered, at room temperature for up to 48 hours.
Nutrition Information:
Yield:

16
Serving Size:

1
Amount Per Serving:
Calories:

682
Total Fat:

38g
Saturated Fat:

13g
Trans Fat:

1g
Unsaturated Fat:

23g
Cholesterol:

94mg
Sodium:

522mg
Carbohydrates:

84g
Fiber:

2g
Sugar:

69g
Protein:

5g