I may occasionally (constantly) proclaim my love for Diet Coke and Twix, but I'm also a huge fan of Butterfinger candy bars. There's something about that buttery, flaky center coated in creamy milk chocolate that makes me want to steal every single size of Butterfinger candy bar from my kids' Halloween stash. And steal them I do—not enough so they suspect me but just enough so they suspect their siblings.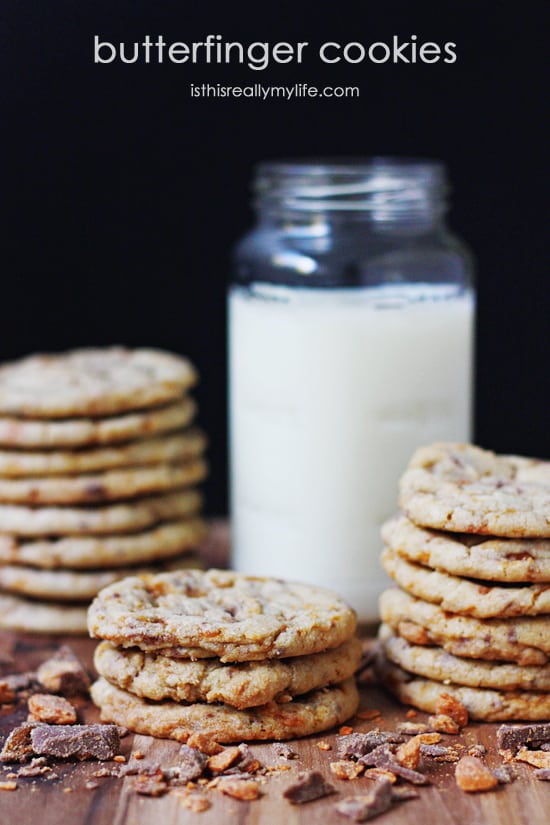 When I happened upon Butterfinger Baking Bits in the grocery store aisle, I nearly ran my cart into the sweetened condensed milk. Once I regained my composure (and my cart), I promptly grabbed a couple bags knowing at least one bag would make into a batch of cookies. And make it they did.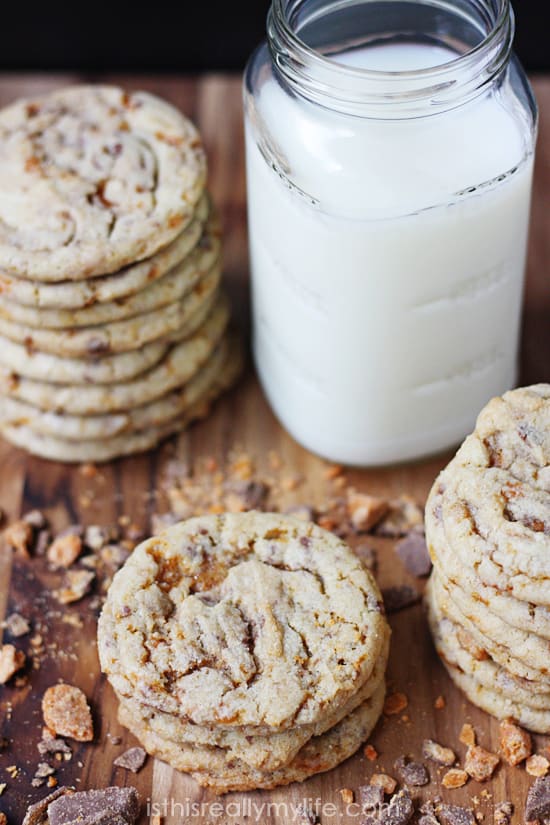 These Butterfinger cookies may not look like much but that's way okay because it increases the likelihood they'll get passed over by friends and family. Unfortunately the chance of that happening is as slim as the chance of me drinking Diet Pepsi. I guarantee word is going to spread about these surprisingly delicious Butterfinger cookies and they will fly off the plate.
Or cookie sheet. It depends on how hot they are.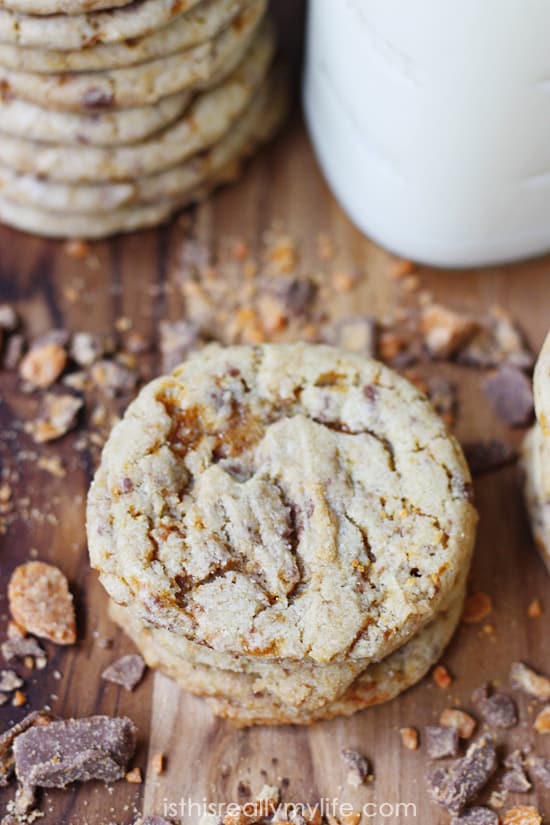 I've already purchased another bag of Butterfinger Baking Bits and am planning to try them in rich chocolate cookies. I may even have to throw them into my favorite brownie recipe just for kicks. And more Butterfinger goodness.
If you plan to use these in a bake sale like we did (another reason to make more!), I suggest using a medium cookie scoop so they're more uniform in appearance. Plus, the medium scoop makes for the perfect bake sale size!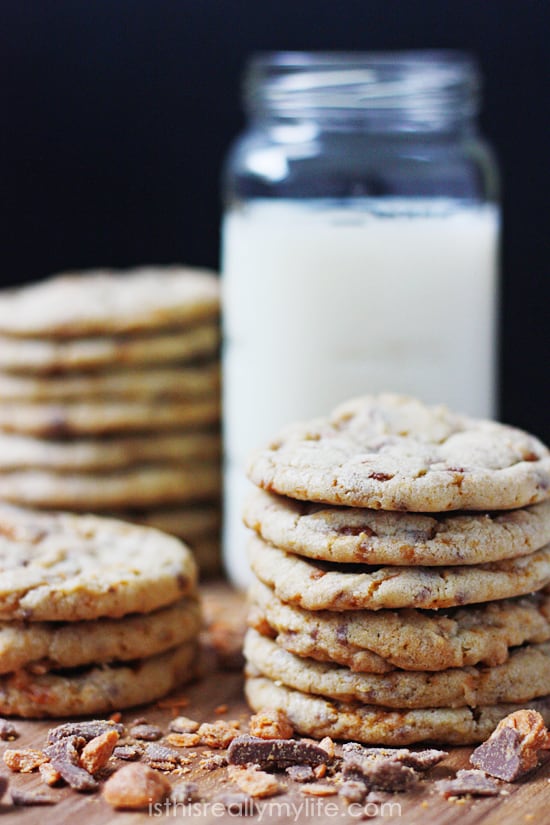 Printable recipe for Butterfinger cookies below. Enjoy!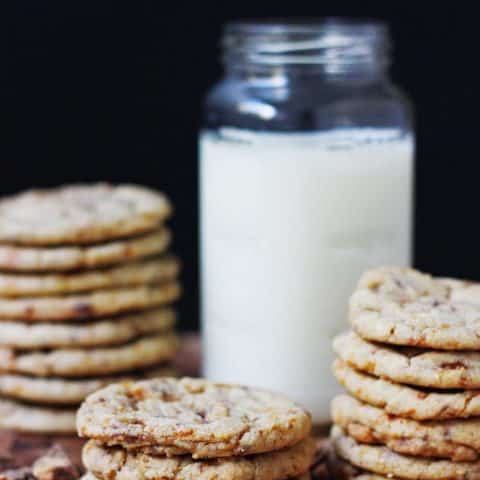 Butterfinger Cookies
Don't make these unless you love Butterfinger candy bars. They are PACKED with delicious Butterfinger flavor! Makes approx. 3 dozen.
Ingredients
1 cup unsalted butter, softened
1 ½ cups sugar
2 eggs, room temperature
1 ½ tsp baking soda
½ tsp salt
3 ½ cups flour
1 (10-oz) package Butterfinger Baking Bits
Instructions
Preheat oven to 350 degrees.
Cream butter and sugar until creamy. Add eggs one at a time, beating after each addition.
Add baking soda and salt; mix well. Add flour and mix until thoroughly combined. Fold in Butterfinger Baking Bits.
Drop dough by rounded tablespoon onto ungreased baking sheet. Bake 8 to 12 minutes or until edges are golden brown. Remove from oven; allow to cool 2 minutes before removing to a wire rack to cool completely. Store in an airtight container.
Nutrition Information:
Yield:

36
Serving Size:

1
Amount Per Serving:
Calories:

133
Total Fat:

6g
Saturated Fat:

3g
Trans Fat:

0g
Unsaturated Fat:

2g
Cholesterol:

24mg
Sodium:

94mg
Carbohydrates:

19g
Fiber:

0g
Sugar:

9g
Protein:

2g
Here are a few more cookies with fun mix-ins you might want to try...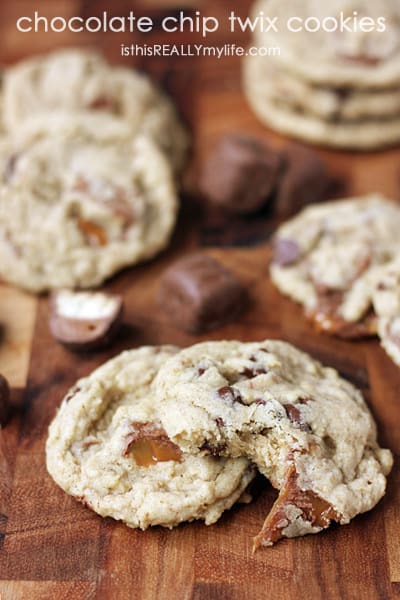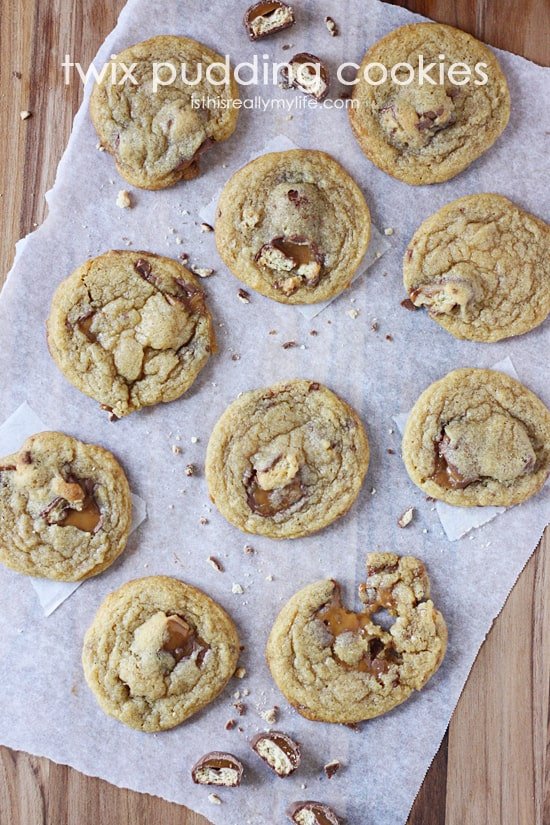 Twix pudding cookies (Can you tell I love Twix candy bars?)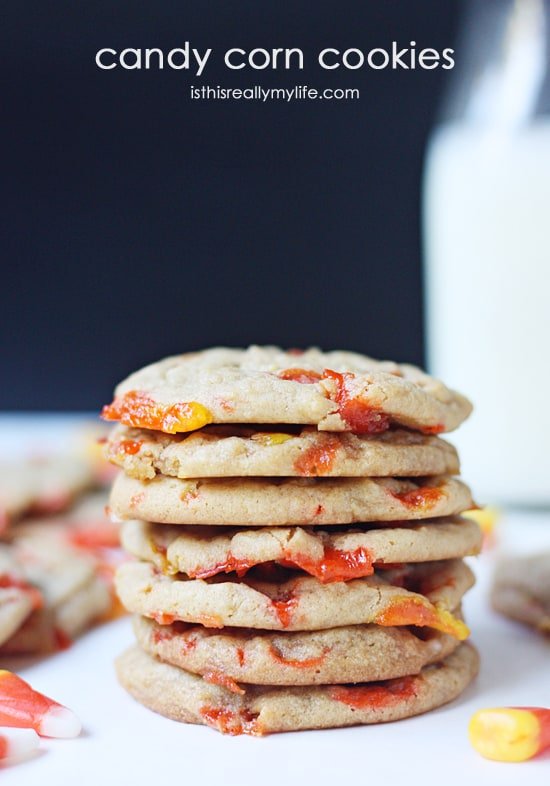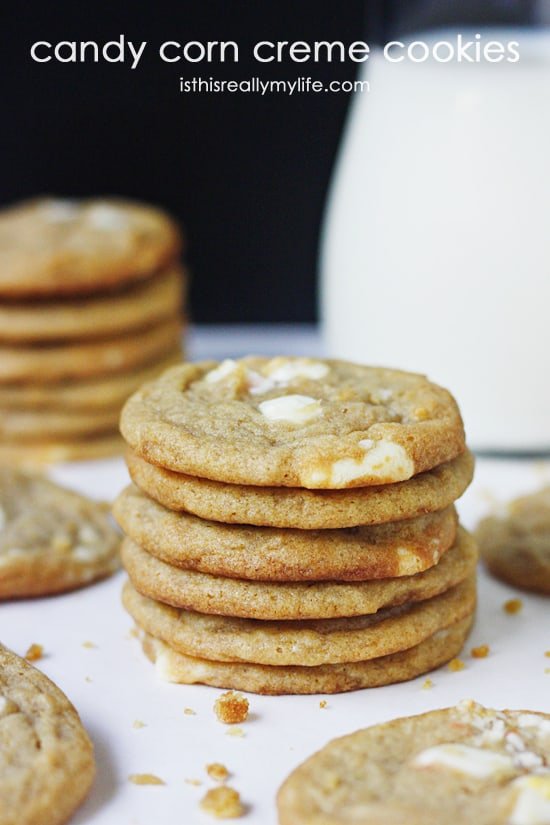 Candy corn creme pudding cookies