Butterbeer sandwich cookies are the perfect dessert for Butterbeer lovers. They combine buttery butterscotch & toffee cookies with a rich, creamy butterscotch frosting and are simply magical.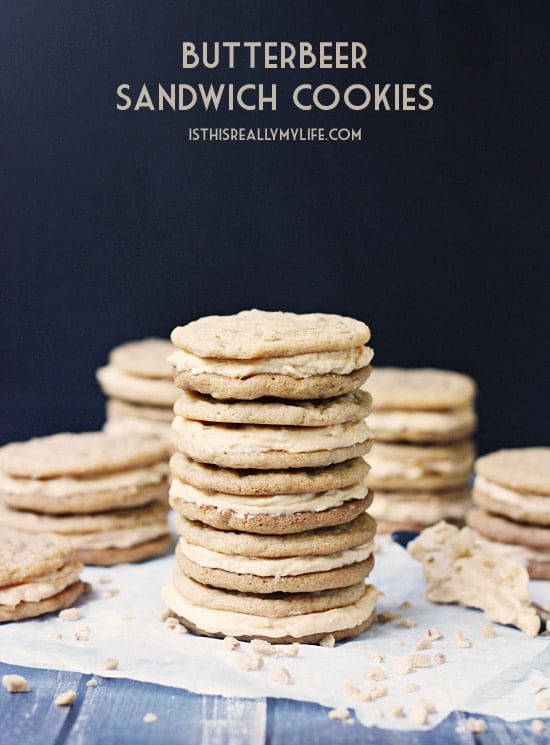 One of my unwritten rules is "never drink your calories."
It's up there with "never bring in your Nordstrom Rack bags while the husband is home."
This whole avoid liquid calories is how I try (sometimes unsuccessfully) to keep my daily calories within respectable limits because I love all the baked things. One of the few times I've made an exception to this rule was when I visited Harry Potter World—because Butterbeer.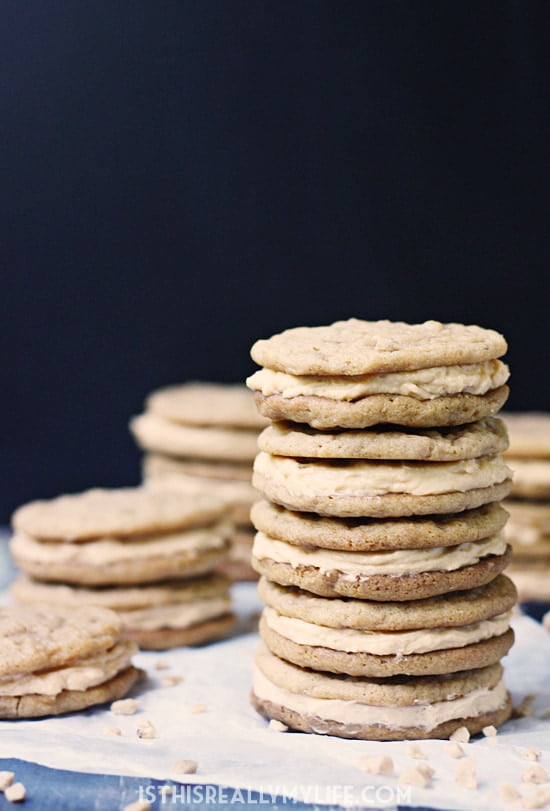 While I tout Diet Coke as the nectar of the gods, Butterbeer runs a close second. It would probably tie if there were a diet version that tasted just as delicious.
I mean, the drink is cream soda on crack—a really yummy, buttery, butterscotch-y crack. And while you can find Butterbeer recipes all over the web, I knew turning this delightful flavor into some sort of baked good would be like catching the Golden Snitch.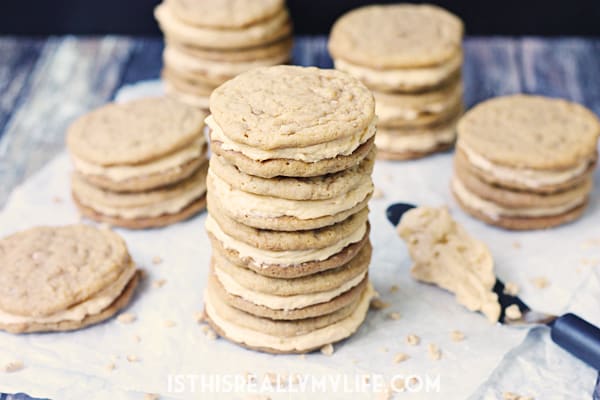 I was worried these Butterbeer sandwich cookies would be too sweet, and perhaps they are if you're strictly into chocolate, but for this family they were perfect.
I found if you slightly over-baked the cookies so they were a bit crisper on the bottom, that added bit of crunch with the chewy cookie and creamy frosting made for a sandwich cookie worthy of Rageun Rambling's Happy Harry Potter series (more on that below).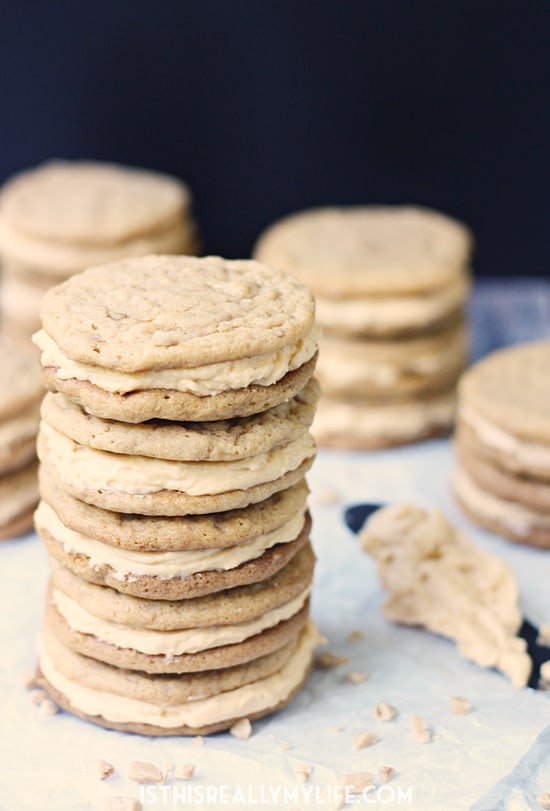 Make sure when you bake these cookies you use Heath Bits o' Brickle Toffee Bits (NOT covered in chocolate).
I had to go to Walmart to find them because Smith's only carried the Heath Milk Chocolate Toffee Bits. If you're desparate you could always buy a handful of Heath candy bars, suck off the chocolate and break 'em into tiny pieces.
Kidding. That would be gross.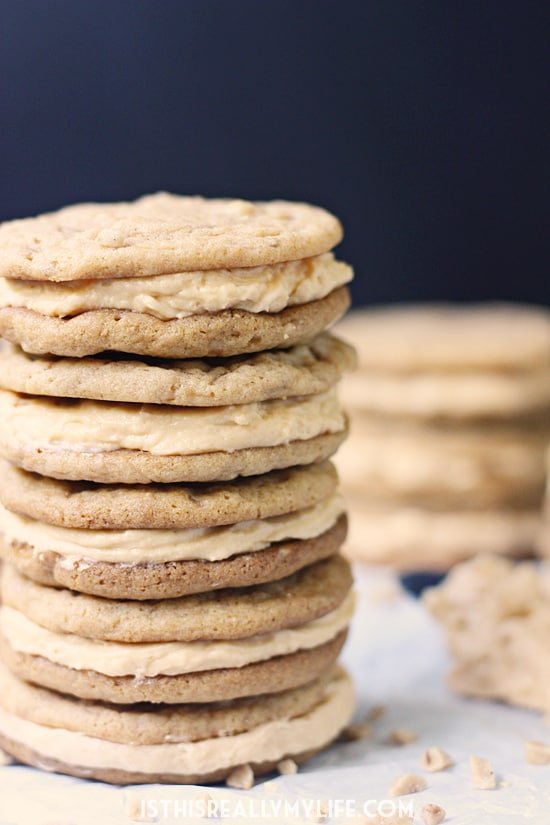 Also, these Butterbeer sandwich cookies are best eaten the same day. You can eat them on day two but the frosting will slightly soften the cookies making them more the texture of those Little Debbie Oatmeal Creme Pies.
Don't get me wrong, I love those things but fresh Butterbeer cookies are better.
Another option would be to bake the cookies and simply frost the tops. It's not as much fun as sandwich cookies but it's quick and easy!
Printable recipe for Butterbeer sandwich cookies below. Enjoy!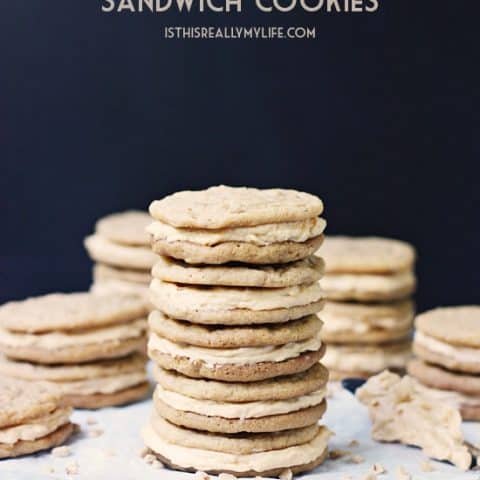 Butterbeer Sandwich Cookies
Butterbeer sandwich cookies are the perfect dessert for Butterbeer lovers. They're combine buttery butterscotch & toffee cookies with a rich, creamy butterscotch frosting and are simply magical. Makes approximately 18 sandwich cookies (3 dozen regular cookies).
Ingredients
Cookies
2 1/2 cups flour
1 tsp baking soda
1 cup salted butter, softened
3/4 cup packed light brown sugar
1/4 cup granulated sugar
1 (3.4-oz) package butterscotch pudding mix
2 eggs
1 tsp vanilla extract
1 tsp imitation butter extract
1 (8-oz) package Heath Bits o' Brickle Bits (toffee bits without milk chocolate)
Frosting
2 cups heavy cream
1/3 cup butterscotch instant pudding mix
1/2 to 3/4 cup powdered sugar
3 tsp imitation butter extract
Instructions
Cookies
Preheat oven to 350 degrees.
Combine flour and baking soda in a medium bowl; set aside.
Cream together butter and sugars in a large bowl. Beat in instant pudding mix until blended. Add vanilla, butter extract and eggs and mix well.
Add flour mixture and mix until thoroughly combined. Fold in toffee baking bits.
Place rounded tablespoonfuls of dough on ungreased cookie sheet or silicone baking mat. Bake for 10 to 12 minutes or until edges are set. Let cool 2 minutes before removing to a wire rack to cool completely.
Frosting
Combine all ingredients in a large bowl or stand mixer fitted with a whisk attachment. Beat on medium-high for 3 to 4 minutes until light and fluffy. Adjust powdered sugar until frosting reaches desired consistency. (I like my frosting a little thicker for sandwich cookies.)
Spread desired amount of frosting onto bottom of one cookie; top with second cookie. Serve same day if possible. Store, covered, up to 1 to 2 days.
Notes
OLLOW HALF-SCRATCHED ON INSTAGRAM (@half_scratched) and share the recipes you're whipping up in the kitchen. Don't forget the #HALFSCRATCHED hashtag so we can see what you've made!
Nutrition Information:
Yield:

18
Serving Size:

1
Amount Per Serving:
Calories:

376
Total Fat:

26g
Saturated Fat:

11g
Trans Fat:

0g
Unsaturated Fat:

3g
Cholesterol:

87mg
Sodium:

416mg
Carbohydrates:

36g
Fiber:

0g
Sugar:

33g
Protein:

1g
See more about each sponsor at this post and be sure to enter the other equally awesome prize pack while you're there! Winner must have a US address or be willing to pay for international shipping.
Attention, Harry Potter fans!
Every July counting down to Harry's birthday, Raegun Ramblings hosts her Happy Harry Potter series. If you're a Harry Potter fan (if you're not, we may not be able to remain friends), you won't want to miss it all the posts and roundups. It's more fun than a room full of Fizzing Whisbees!