No, I'm not talking about that kind of Brazilian, though swimsuit season is around the corner. (Well, it's around the corner if you don't live in Utah where it's below 40 degrees and snowing.)
I'm referring to a much less painful, heck-of-a-lot more fun Brazilian. You'll find it in downtown Salt Lake City serving authentic Brazilian fare made using family recipes from Brazil. Yes, I'm talking about that Brazilian…Rodizio Grill, the America's First Brazilian Steakhouse.

…
Rodizio Grill offers a plethora (i.e., over a dozen) of rotisserie-grilled meats, "perfectly seasoned" and carved tableside by these guys (aka Brazilian Gauchos):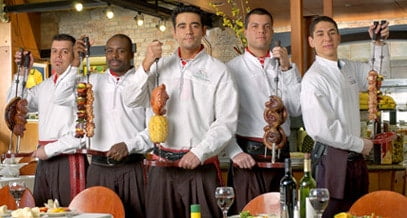 I've already called dibs on the guy in the middle, so sorry.
…
Those family recipes make for some delicious authentic Brazilian appetizers, salads and desserts. I haven't been to Rodizio Grill in forever, but I can still remember the glazed and grilled pineapple…holy crap, it was SO good! You wouldn't believe the variety on Rodizio Grill's menu: turkey breast wrapped in bacon, top sirloin, lamb, Brazilian sausage, black bean stew, grilled vegetables, fresh mozzerella salad, grilled pork salad, marinated quail eggs (okay, I do remember those…not my favorite). And the desserts? Triple-layer chocolate cake, caramel flan and Brazilian cremes to name a few.
Hold on. I need to wipe the drool off my keyboard…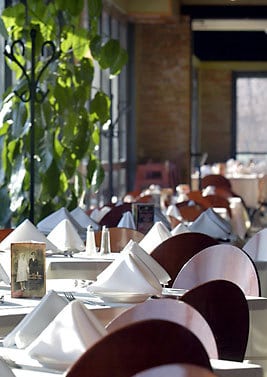 This coming Monday, May 23rd, you'll find me at Rodizio Grill in Salt Lake City for a blogger tweet-up. (I will be wearing pants with an elastic waistband, don't you worry!)
To celebrate the tweet-up, Rodizio Grill is offering guests at the Salt Lake City location the Brazilian Steakhouse's four-course meal plus dessert for only $19.99 IF you mention you read about it on ITRML!
That's one penny less than $20 for a seriously good meal and seriously fun dining experience. Not a meat lover? Choose the salad-only option for a few bucks less. Please come! I'd love to see you in your stretchy pants there!
Just don't sneak your quail eggs on my plate or I'll have to send my Gaucho after you.
I just gave you a great option for family night. Think of it as a cultural learning experience: sampling authentic family recipes from Brazil. Rodizio Grill offers special pricing for kids ages 3 to 6 ($4.99) and 7 to 12 ($7.99). Kids under age 3 eat free with a paying adult.

Rodizio Grill
600 South 700 East, 2nd Floor
Salt Lake City
801.220.0500
Click here for driving directions, hours and more info.
P.S. If you join us Monday evening—and I really hope you do, remember to mention you heard about this one-night-only Rodizio Grill deal on ITRML, will you? Not only is the only way to get the discount, it also might earn me an extra slice of that glazed, grilled pineapple…and I will love you forever.