If you add these brown sugar pecan cookies to the roasted cinnamon almonds and chocolate brownie trifle, that makes three features this week.
It's like Christmas came early this year. And I'm way okay with that.
…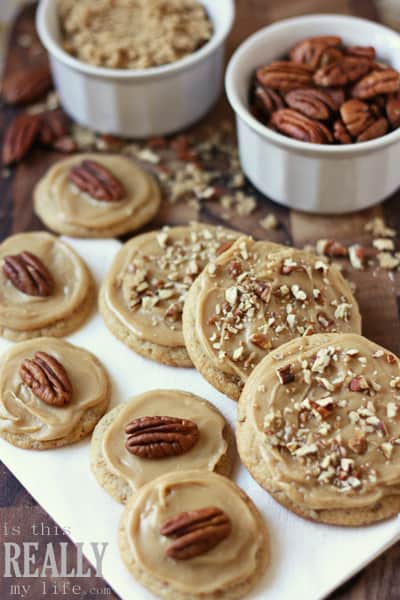 …
Today I'm guest posting on Tatertots & Jello and sharing my recipe for these delicious brown sugar pecan cookies.
It's pretty much a dream come true.
You are going to LOVE these pecan cookies. Combine the light, nutty flavor of the cookie with the maple-y (I like making up words) taste of the brown sugar frosting and it's a holiday party in your mouth.
If you're looking for a tasty addition to your neighbor goody plates this year, these brown sugar pecan cookies are the answer. Oh, and you'll want to make a double batch so you can indulge during late-night Christmas present wrapping while catching up on Downton Abbey.
I usually make a double batch of everything because indulging is awesome.
…


Feel free to "like" is this REALLY my life? on Facebook. It won't always earn you an extra entry in a giveaway but it will give you warm fuzzies.
Don't forget to sign up for free is this REALLY my life? updates via RSS or email so you don't miss a single awesome post.
…