Picking up pork roasts from Costco is about as local as I get when it comes to buying meat for a main dish. Throw in some Foster Farms ground turkey and chicken breasts and I'm all over the local movement.
Except I'm totally not.
Honestly, I've wanted to do the local thing when it comes to beef, but it always seemed a bit cost prohibitive. That's why when Brady's Beef contacted me about a review of their 100% grass-feed beef, I was totally on board.
…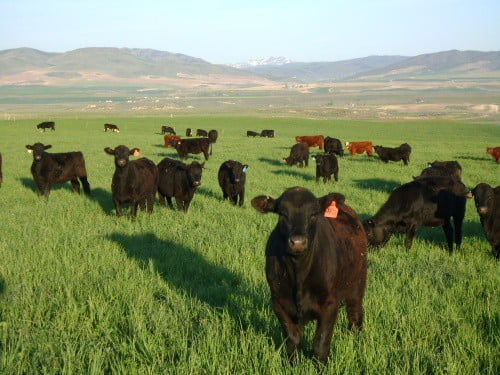 Those cows look super happy, don't they?
…
I wanted to know if it really tasted all that different from that tube of ground beef I've bought in the past. (I know, the answer is obvious when I put it that way, but still. I wanted to taste the difference for myself.)
First, a bit about Brady's Beef:
Brady's Idaho beef is raised in a small mountain valley in the Southeastern corner of Idaho. The farm has seen four generations of Brady's produce everything from sugar beets & sheep to a small dairy operation to bedding plants, vegetables & now, grass-fed, Idaho beef.
And why pay a little bit more for local, grass-fed beef? Well, Brady's has a few answers to that question:
Flavor. Rich, full-beef flavor representative of the Marsh Valley area due to our unique climate, soils and plants.
Finish. Animals are allowed to grow and mature naturally, allowing for full marbling and excellent taste.
Health benefits. Higher CLA content, high in Omega-3 and low in Omega-6 fatty acids make grass-fed beef more "heart healthy" (similar to health benefits from fish).
Cleanliness. Pasture-raised beef has a far better record for NO e-coli or salmonella bacteria contamination. Plus, our beef has NO added hormones or antibiotics. Processing is done locally.
Local product. The cattle are not hauled to the Midwest to be fattened on government subsidized corn, butchered in a (Brazilian-owned) factory, and then trucked back through a chain of brokers and giant supermarkets.
Gentle and humane treatment of animals. Pasture raised. Open spaces.
Actually, you should be convinced already without my showing you the gorgeous beef our family sampled. (By the way, when you're talking about all-natural, 100% grass-fed beef, you can call it gorgeous.)
But back to the beef. Brady's gave me a couple pounds of their lean ground beef and a chuck roast to test out on the family.
…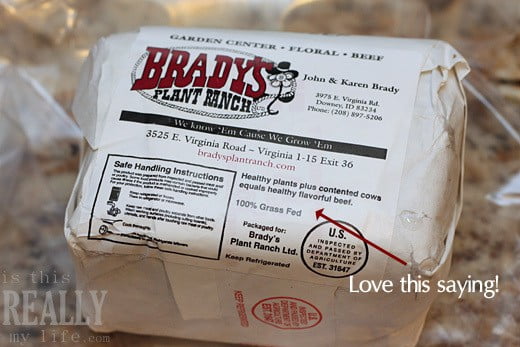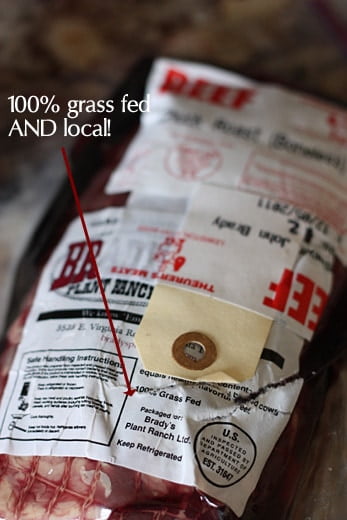 …
Check out the beautiful coloring of this lean ground beef:
We started out using one pound of the ground beef for tacos on Taco Tuesday and then used the second pound for sliders about a week later. I fear the taco seasoning made it a bit difficult to truly enjoy the flavor of the ground beef, but I would have had a mutiny on my hands if we did something other than tacos on Tuesday night.
Fortunately the sliders more than made up for my oversight. They were SO dang good! And I didn't mess with that grass-fed beef very much—just a dash of this and that. (I'll be posting the recipe tomorrow and you won't want to miss it!)
…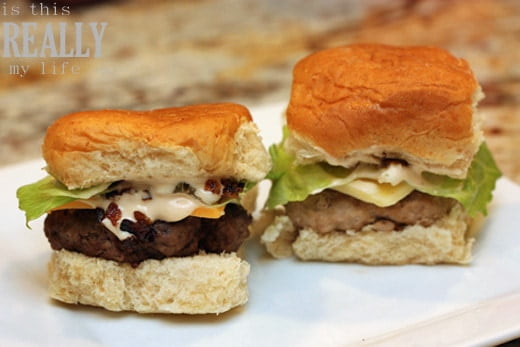 The other slider was made using ground turkey. We had guests and one pound of lean ground beef wasn't going to cut it!
…
Last but definitely not least was the Brady's Beef chuck roast. I went right to John Brady, one of the owners, to find out the best way to cook this cut of meat and here's what he told me:
1 chuck roast + 1 slow cooker + 1 cup of water + Montreal steak seasoning
That's it.
And it was delicious. I found McCormick Grill Mates Montreal steak seasoning at my local grocery store (there I go supporting local again!) and water from my local tap. I put the chuck roast in the slow cooker, added the water and generously seasoned the roast. I cranked the slow cooker to high and slow cooked the roast for nearly six hours. Or five. Or something. So glad slow cookers are forgiving.
Um, delicious! That roast was perfectly cooked, super tender and well seasoned. It was in a class all its own—a grass-fed class, of course.
I didn't snap a photo of the roast because my food photography skills are not up to the challenge. But trust me, it was really, really good, and I can only imagine the fabulous French dip sandwiches you could make with a roast from Brady's.
You can check their website for pricing on the various cuts (they even have bulk pricing for larger families), plus you get a helpful little guide to understanding the different cuts of beef.
Brady's even shows you their cows via their Idaho beef YouTube video. Want a few more testimonials? They have those too.
If you have a slightly geeky side like I do, you'll love the Brady's Beef blog. Did you know there was a difference between grass finished and grass fed?
As far as delivery, Brady's Idaho Beef delivers regularly along the I-15 corridor from Rexburg/Idaho Falls all the way down to Spanish Fork/Payson and as far West as Boise. They also deliver to Cache Valley/Logan (basically southern Idaho and northern Utah). If you're near the farm, you can pick up your orders on site in Downey, Idaho. (Seriously? Downey? That name makes me want to buy their beef even more!)
And now for the giveaway! YAY!
…
Brady's Beef is giving away one (1) $50 gift certificate to one (1) lucky ITRML reader!
Winner must be within delivery area (see info in the delivery paragraph above).
…
Now you get to try the tastiness that is local, grass-fed beef!
To enter, leave a comment telling us your favorite beef-based recipe (required). Is it grilled New York steak or hamburgers off the grill? Or perhaps you prefer a plate of spare ribs slathered in your secret sauce?
For extra entries, you can do any/all of the following. Please leave a separate comment for each one you do (each one earns you an extra entry).
Comment on the Brady's Beef blog (you should see a post about this review over there) and leave a comment telling me you did.
"Like" Brady's Beef on Facebook.
Follow Brady's Beef on Twitter.
Tweet about this giveaway using the hashtag #BradysBeef and leave the URL of your tweet.
Update your Facebook status with a link to this giveaway.
"Like" ITRML on Facebook (or tell me you already have).
Subscribe to ITRML (or tell me you're already a subscriber).
This giveaway will end at midnight on March 6th.
Note: Winner will be notified via email. If no reply is received, a new winner will be drawn.
Disclosure: A big thank-you to Brady's Idaho Beef who provided me with samples of their grass-fed beef and converted me to a "buy local" gal when it comes to red meat…and probably poultry too. Brady's also provided the $50 gift certificate for the giveaway. Yep, they're awesome.