Blingy is a word. Or at least it should be.
My "baby" turned four while we were in California.
...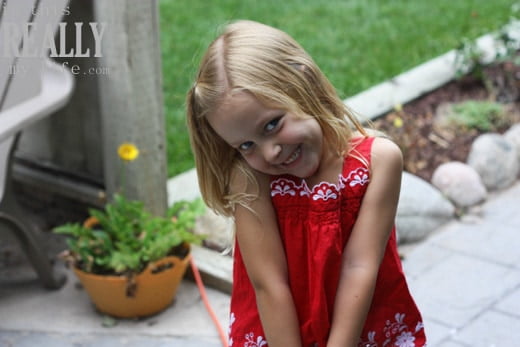 ...
Um, yes. She's that adorable in person.
We had a little family party at "Far Away Grandma's" complete with butterfly cupcakes (look for the how-to next week!) and presents. But thanks to a LivingSocial deal from Utah Event Rentals, we returned to Utah and put on a bounce house party in our backyard for Livi's girlfriends. The double castle slide bounce house and snow cone machine were the perfect party plan for the group, which consisted of nearly a dozen girls ages 3 to 5.
...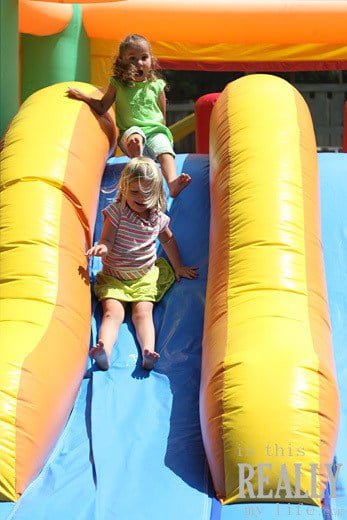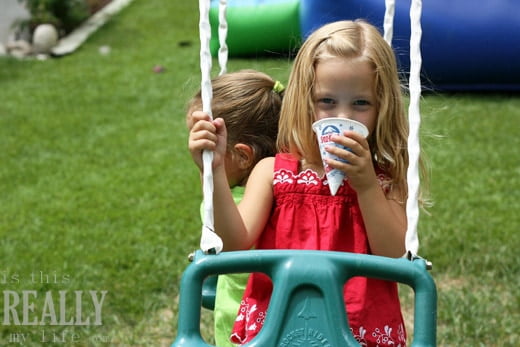 ...
Yes, I said a dozen. This is why I don't do birthday parties very often; I can't handle hurting anyone's feelings and invite the entire neighborhood...and then some.
I threw in a table full of snacks, a swing set and a large sandbox for good measure.
...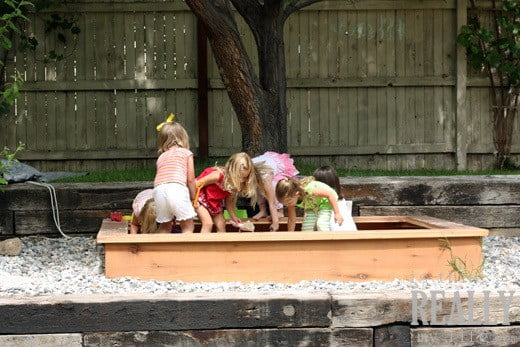 ...
I also had the girls do a couple super easy crafts because I'm super easy. Wait...I mean I like super easy crafts. (I'm not super easy; just ask my husband.)
The first utilized a pink foam bookmark complete with pink ribbon and foam stickers in all sorts of princess shapes. We threw in some swirly princess letters and the result was the best darn princess bookmark you've ever seen.
The second craft was creating a blinged-out flower hair clip, a project I originally thought was out of my league. But thanks to my mom's guidance (as usual) and a lot of hot glue (the one crafting tool I'm an expert with after creating an entire mission out of sugar cubes in the 4th grade), I discovered these were super easy and fun. Go figure.
Because there's a chance one of you may not know how to make these, I thought I'd share the little "how to" with you.
...
How to Make Flower Hair Clips*
* So easy even an idiot I can do it!
What you'll need:
Craft store flowers (make sure you can pull apart the stem or center of the flower; see photo below)
Metal hair clips
Ribbon the same width as the clips
Plastic jewels or buttons or whatever you'd like to place in the center
Hot glue
Wire cutters (easier than scissors for cutting off the flower heads)
...
I wish I had photos of this first step but I wasn't thinking straight. Crafts kinda do that to me.
Snip the flower from the stem and pop off any plastic parts. You might even find some between the petals.
...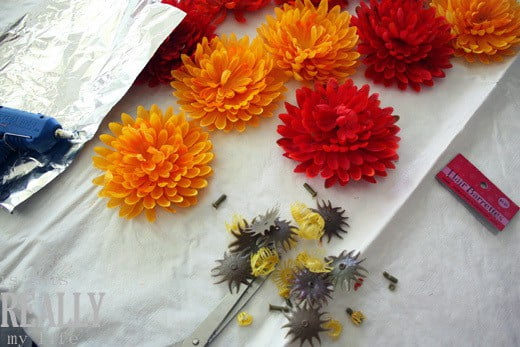 ...
As you pull apart the petals, keep them stacked in the same order—or close to it—to make hot gluing them together a bit easier.
...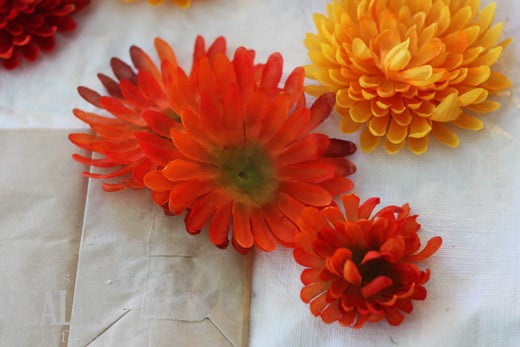 ...
To "build" your flower, take the bottom (largest) set of petals and place a titch of hot glue around the center.
...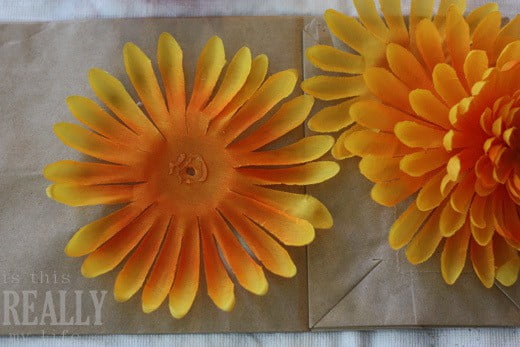 ...
Gently press the next layer on top and continue this process...
...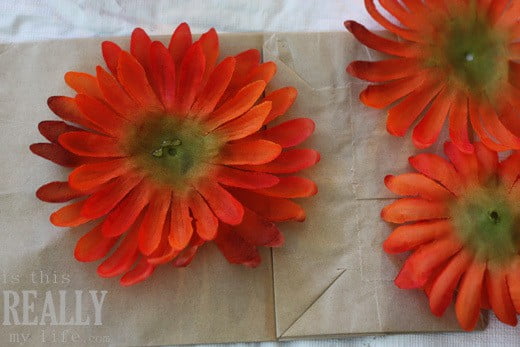 ...
...until you've placed the final petal layer on top. (And no, the petals won't magically change color while gluing. Sorry.) I found trying to line up the pinhole in the center was the best way to keep the flowers as symmetrical as possible. (Yep, I'm a Type A.)
I couldn't resist throwing in a photo of my super cute mom figuratively holding my hand through this project:
...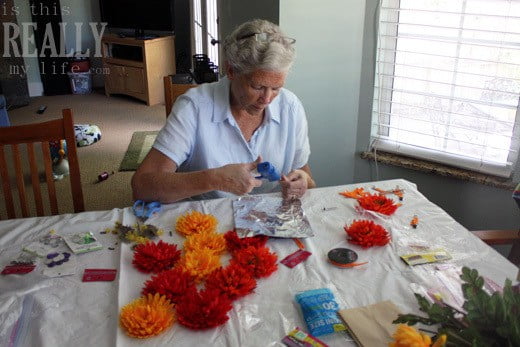 ...
For the clips, you can either just cover the top prong (the total technical term for it) like we did, or you can wrap ribbon around the part you pinch (another technical term) as well. Up to you! For ours we just did the top prong.
Figure out how long you need the ribbon to be and then cut enough lengths for all your hair clips. To attach the ribbon to the clip, line the bottom of the top prong with hot glue and attach one end of the ribbon.
...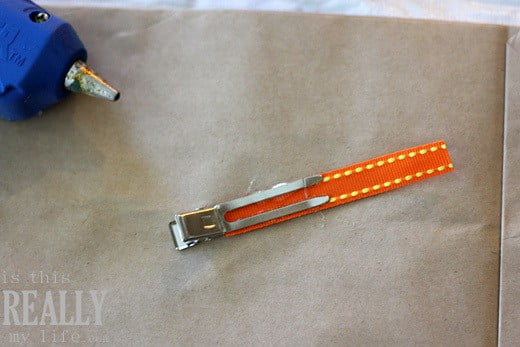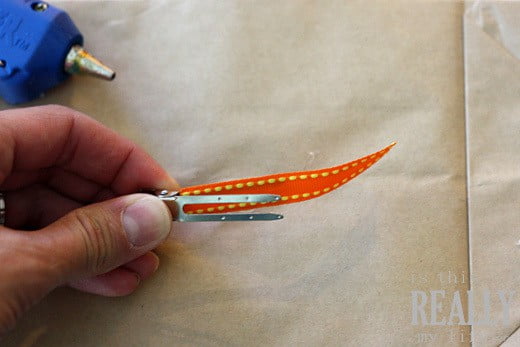 ...
Next, line the top part of the prong with hot glue and attach the remaining ribbon. (Here's where you could wrap it around that part you pinch. This tutorial has some great photos showing how to do this. But don't get distracted and forget to come back here!)
...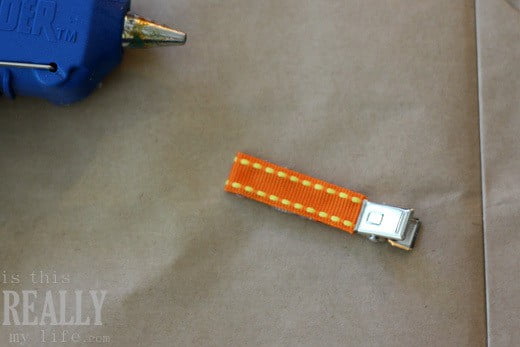 ...
Now you're ready to finish off the hair clips!
...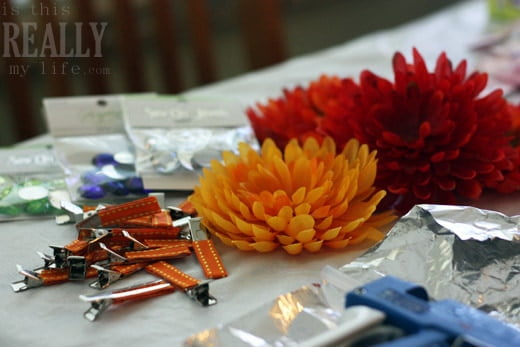 ...
This is where we let the girls "help."
I had them pick their favorite color flower and jewel (purple was the clear winner). Then they helped me attach the jewel to the flower after I'd placed a little hot glue in the center. Next I added hot glue to the top prong of the clip and had them help me hold it to the back of the flower. (Be careful with this step—the clip can get a little toasty!)
When you're done you'll have some princess-worthy hair clips and some really happy birthday party goers! (Or a really happy teenager who's happy to model aforementioned flower hair clips.)
...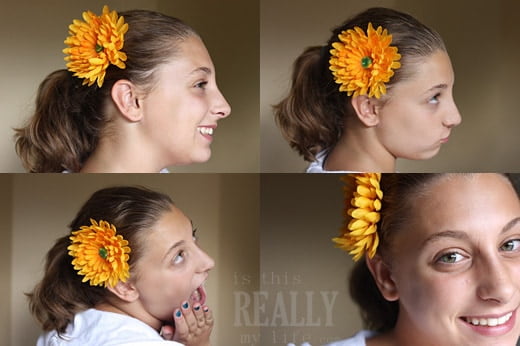 ...

Feel free to "like" is this REALLY my life? on Facebook. It won't always earn you an extra entry in a giveaway but it will give you warm fuzzies.
Don't forget to sign up for free is this REALLY my life? updates via RSS or email so you don't miss a single awesome post.
...