Remember my post all about hosting a fab girls' night in (aka kids' night out)? I promised recipes for the goodies I had on hand from our November book club and I'm making good on that promise. Yes, it was November so you'd think soup would've been a more logical choice, but I really wanted to make fancy sandwiches, so I went for it even in 50-degree weather.
First up, the artichoke dip.
…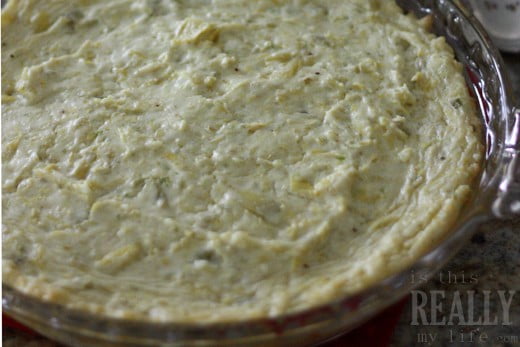 …
It's actually the Pioneer Woman's recipe and I love it! I tend to make it a bit on the spicy side, but you can add as little or as much heat as you'd like.
Hot Artichoke Dip
2 (14-oz) cans artichoke hearts, drained
1 (8-oz) block cream cheese
1 c mayonnaise
2 green onions, chopped
1/4 tsp Cayenne pepper
1 c grated Parmesan cheese
Dash of salt
Freshly ground black pepper
Preheat oven to 350 degrees. Add one can of the artichokes, cream cheese, mayonnaise and green onions to the bowl of a food processor. Add cayenne pepper to taste.
Pulse the mixture 6 or 7 times. Mix in the Parmesan and salt and pepper to taste and set aside. Roughly chop the artichokes from the remaining can until their bite size. Add the artichoke pieces to the dip and gently stir.
Pour the mixture into an oven-safe dish and bake for 15 to 20 minutes until heated through and bubbly. Serve with tortilla chips, baguette slices or crackers.
…
Next, the finger sandwiches…or tea sandwiches if you're fancy like that.
…

…
I served two kinds of sandwiches: chicken salad and cucumber. The chicken salad was from the deli counter at Smith's. While I prefer Costco's chicken salad, I never go to Costco for just one item. Somehow I end up with $300 worth of groceries in my cart.
For the cucumber sandwiches, I combined one package of reduced-fat cream cheese and one package dry Italian dressing mix. I let that come to room temperature to make it easier to spread. I put a light layer of the cream cheese mix on both sides of the bread and a single layer of thinly sliced cucumbers in between.
And of course, don't forget to cut off the crusts. We grownups don't get crust-free sandwiches very often and it feels so good to indulge.
Last, the cupcakes. Oh, the cupcakes. They were pretty darn good even if I seriously lack piping skills. I used the salted caramel frosting recipe from those delectable pumpkin cupcakes I recently posted, but this time the frosting sat atop a chocolaty pumpkin cupcake. Mmmm…
…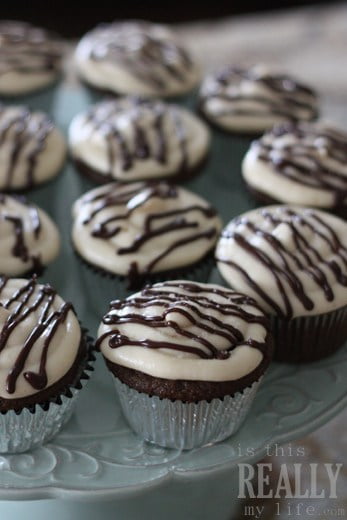 …
Recipe for chocolate pumpkin cupcakes with salted caramel frosting below. (Recipe for the optional chocolate glaze follows the printable recipe.)

Chocolate Pumpkin Cupcakes with Salted Caramel Cream Cheese Frosting
Another take on a pumpkin cupcake with salted caramel frosting. This one is for those who love a bit of chocolaty goodness in their pumpkin cupcake!
Author:
Emily Hill ~ isthisREALLYmylife.com
Ingredients
Cupcake
2 cups flour
3 tsp baking powder
2 tsp baking soda
¼ tsp salt
2 tsp cinnamon
¼ tsp allspice
¼ cup unsweetened cocoa
2 cups sugar
¾ cup oil
½ cup applesauce
1 (15-oz) can pumpkin
1 tsp vanilla
4 eggs
Frosting
½ cup granulated sugar
½ cup heavy cream
Pinch of salt
2 (8-oz) packages of cream cheese, room temperature
½ cup butter, softened
4-5 cups powdered sugar
1 T vanilla extract
Chocolate glaze
¾ cup semisweet chocolate chips
3 T butter
1 T light corn syrup
¼ tsp vanilla extract
Instructions
Cupcakes
Preheat oven to 350 degrees. Line muffin pan with cupcake liners.
In a medium bowl, whisk together flour, baking powder, baking soda, salt, cinnamon, allspice and cocoa. Set aside.
In a large mixing bowl, combine sugar, oil and applesauce on low speed until combined. Add vanilla and pumpkin. Increase speed to medium and add eggs one at a time, beating well after each addition. Gradually beat in flour mixture until just combined. Scrape sides and bottom of bowl to combine any dry ingredients.
Fill cupcake liners ⅔ full. Bake 18 to 22 minutes or until set and toothpick inserted in center comes out clean. Cool in pan a few minutes before removing to a wire rack. Cool completely before frosting.
Frosting
For the homemade caramel sauce, cook the granulated sugar in a heavy-bottomed saucepan over medium high heat until it begins to melt, stirring frequently. You want the melted sugar to turn a dark golden brown but you don't want it to burn.
Once the sugar has dissolved, very carefully add the cream and salt. The mixture will bubble furiously; continue to stir until completely smooth. Set aside to cool while you make the cream cheese frosting.
In a large bowl (preferably a stand mixer with paddle attachment), beat together the cream cheese and butter on medium speed until light and fluffy, about 3 minutes. Turn the speed to low and slowly add 2 cups of the powdered sugar and vanilla and beat gently until combined, then turn the speed to medium.
Carefully add the salted caramel sauce in a slow stream to the mixture and beat thoroughly. Once added, increase the speed to medium-high and beat for at least 1 minute. Turn the mixer to its lowest setting and slowly add the remaining powdered sugar until you have a thick, spreadable frosting. Beat another 3 to 5 minutes until light and fluffy.
Chill the salted caramel cream cheese frosting for at least 30 minutes before using, especially if you plan to pipe it on cupcakes. When ready to frost, beat the frosting for a minute or two before using.
Chocolate glaze
In a microwave-safe bowl, combine chocolate chips, butter and corn syrup. Microwave 30 seconds. Stir. Continue to microwave in 15-second increments, stirring after each, until chocolate is completely melted and mixture is smooth. Add vanilla. Drizzle over the top of the frosted cupcakes.
…
Note: I also use this glaze on my

Better Than Pretty Much Everything Chocolate Cake

.
…