I don't normally do this much baking, but the peanut butter swirl brownies were gone and I had a pint of blueberries in the fridge originally purchased to make blueberry syrup (never happened). They were about to go bad; I had to use them because it's rare we have such an exotic fruit on hand.
I headed to Allrecipes.com and searched the breads section (of course) for a recipe…and, boy, did I find it. This recipe for blueberry zucchini bread might possibly be the motherload of sweet breads involving blueberries, plus it's a great way to use up any frozen shredded zucchini hiding at the bottom of your freezer.
I did not have enough white flour on hand, so I did half whole wheat and half white with a teaspoon of dough enhancer for good measure. It didn't turn out as pretty as the photo on Allrecips.com, but it was still just as PMS-friendly and still hit the spot! (Hmmm…maybe that's why I've been doing so much baking and eating peanut butter M&M's late into the night?)
I polished off one loaf with little help; fortunately I froze the rest before I could polish off those as well. You'll only see a photo of the finished product because I made this bread late at night and the pictures would have been crappy. Plus this is pretty much a "throw everything into one mixing bowl" recipe—I have confidence you can do it!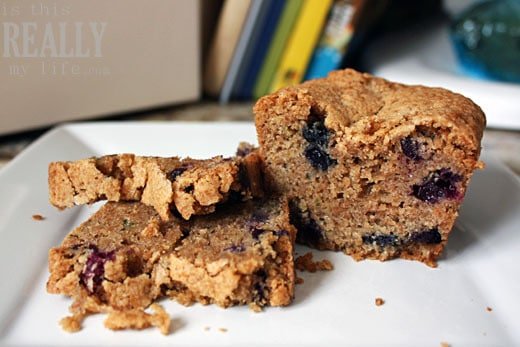 Blueberry Zucchini Bread
3 eggs, lightly beaten
1 cup vegetable oil
3 teaspoons vanilla extract
2 1/4 cups white sugar
2 cups shredded zucchini
3 cups all-purpose flour
1 teaspoon salt
1 teaspoon baking powder
1/4 teaspoon baking soda
1 tablespoon ground cinnamon
1 pint fresh blueberries
Preheat oven to 350 degrees. Lightly grease 4 mini-loaf pans. (I don't use a lot of stonewara, but I love my Pampered Chef stoneware mini loaf pan because it's four loaves in one!) In a large bowl, beat together eggs, oil, vanilla and sugar. Fold in zucchini. Beat in the flour, salt, baking powder, baking soda and cinnamon. Gently fold in the blueberries. Spread/pour evenly into prepared mini-loaf pans.
Bake 50 minutes in the preheated oven or until a knife inserted in the center of a loaf comes out clean. Cool 20 minutes in pans, then turn out onto wire racks and let cool completely.