McDonald's sponsored my trip to BlogHer '15 but all thoughts, opinions and photos of me standing so close to Nick Cannon I could smell his amazing cologne are mine.
Just when I thought June and July couldn't get any busier (LDS girls camp, pioneer trek, family vacation to Anaheim), an email popped into my inbox from one of my favorite McDonald's people (FYI, I have three favorite McD's peeps) asking if I wanted to attend BlogHer '15 as one of their sponsored bloggers.
Oh. My. Gosh. Heck to the yes!
The BlogHer '15 schedule was chock full of impressive keynotes and they didn't disappoint. Let me share some takeaways from my favorites.
During our breakfast keynote, Soledad O'Brien shared the story of the starfish ("it matters to this one") to introduce us to her Starfish Foundation.
The Starfish Foundation exists to provide hardworking young women with the resources necessary to succeed.

For reasons beyond their control, many young women of color from low-income families are less likely than their middle-class counterparts to attend and finish college. This makes it tough for them to get well-paying jobs, maintain healthy lifestyles and enjoy full societal and civic participation. What many of these young women do have, however, is intellect, resilience and spark.

We're here to get these young women out of the shadows and onto the road toward their dreams.
.
O'Brien talked with three Starfish scholars, each of whom had a story that would have left my heart broken had it not been for their triumph over challenges due mostly to hard work and perseverance, two areas in which today's generation could use a bit more practice.
From my notes:
"Obstacles are good and happen for a reason."
"It's not about money, being established or philanthropy. It's about helping someone or finding someone who can help her."
"Take your interactions seriously because they matter."
Then Girls Scouts CEO Anna Maria Chavez gave us some insight into all the innovative things the Girl Scouts are doing and shared the following stats:
Most female cabinet members are Girl Scouts.
All female governors are Girl Scouts
Most women who've flown in space are Girl Scouts.
.
It has me seriously considering putting Livi in Girl Scouts ASAP.
But the most important takeaway from that morning may have been this quote from a boy not much older than Livi as part of the #HatchKids #BeYou initiative:
.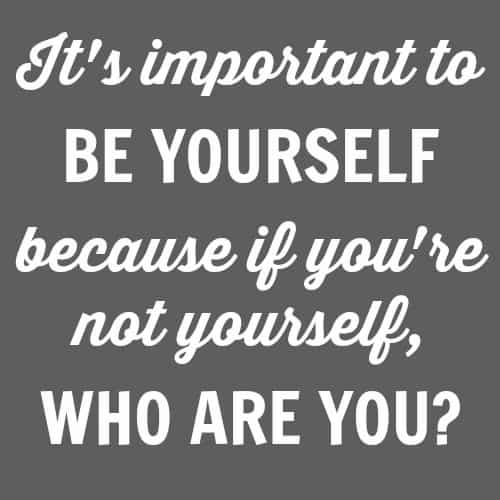 .
For our lunch keynote, BlogHer co-founder Elisa Page interviewed Gwyneth Paltrow, who shared her thoughts on everything from the ins and outs of running Goop to the ins and outs of balancing celebrity-hood and motherhood.
From my notes:
"If something stings or resonates, then I know I'm the one holding the judgement and need to work through that."
"I wanted you to see Paris with a man who loves you no matter what." (Gwyneth's dad to Gwyneth when he whisked her away to the City of Lights for the first time)
"Even though you hate me and never want to see me again, we're going to brunch because it's Sunday and that's what we do on Sunday." (Gwyneth to her children)
.
She kind of sounds like me when I'm parenting my not-always-angelic children.
"You'll have fun whether you like it or not."
Friday I listened as Elizabeth Blackney shared the #DefiningMoments that brought her to where she is today. Three words: gang rape survivor. This woman exudes strength and beauty and love.
From my notes:
"Survivors have zero obligation to star in your fundraising video and be treated like an object after."
"Be strong and endure, for this anguish will serve you someday." (P. Ovidius Naso, "Elegy XI," Amores)
.
After Lizzy, we heard from Christy Turlington, a woman I admire for her continuous work improving women's health worldwide through her Every Mother Counts foundation. But her focus at BlogHer '15 was not worldwide; it was on the home front. We were privileged to catch a glimpse of Christy's new series, Giving Birth in America.
Did you know that while 99% of maternal deaths occur in developing countries, we lose 3 women every day in the U.S.?
Neither did I.
From my notes:
"I became a global maternal health advocate the day I gave birth."
Amen.
.
Yes, I caught a few classes in between all the inspiration. My favorite was a Social Media Bootcamp class by Peg Fitzpatrick. Yes, I'm fairly versed in social media, and while I didn't take too many notes when it came to Facebook, Pinterest and Instagram, she changed my entire perspective on LinkedIn. I'll no longer treat it like a second cousin twice removed…
It should come as no surprise my favorite part of BlogHer '15 was the closing party sponsored by McDonald's—and I'm not saying that because they sponsored my conference experience. I'm a huge McDonald's fan. (Go ahead, judge me. I don't care.) Their Diet Coke is some of the tastiest around and their fries? I swear they sprinkle them with a mixture of salt and crack.
For me, the party got started the minute I took a selfie with Ronald McDonald.
He hasn't texted me since but whatevs.
McDonald's brought in a McDonald's Mobile Restaurant (MMR)—basically a semi trailer complete with working kitchen out of which they served Happy Meals and unlimited beverages like their new McCafe lemonades (classic lemonade and strawberry lemonade, over ice or frozen) and OREO Frappes. And lots and lots of fries.
.
It's basically the best meals on wheels EVER.
Like any good party, there was music. But McD's doesn't do lame background music. That's not their style.
Their style is Boyz II Men.
.
.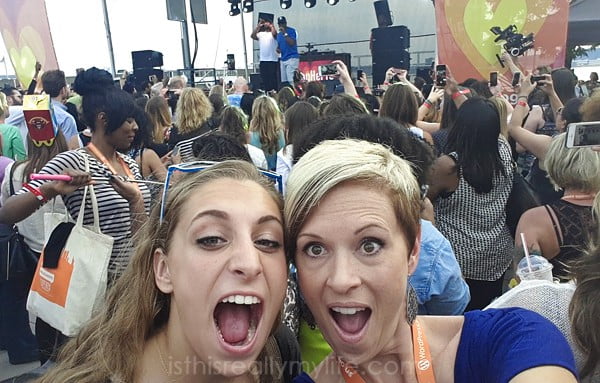 (Madison has no idea who these guys are.)
.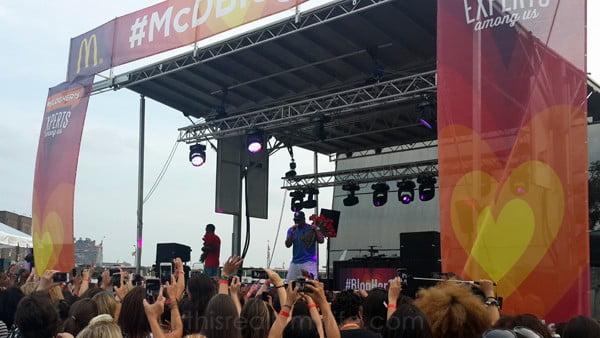 Yep. They brought long-stemmed roses. *sigh*
.
DJ Spyder followed Boyz II Men and I'm telling you, I adored every song he played. (No photo because Madison and I were downing our cheeseburgers, nuggets and fries.) When I'm a gazillionaire, I'm going to hire him to play at my 50th birthday celebration. That gives me about 10 years to earn a gazillion dollars. I better get on it!
After DJ Spyder, Nick Cannon took the stage. But not before a quick SnapChat for McD's and a photo opp with Madison and me.
.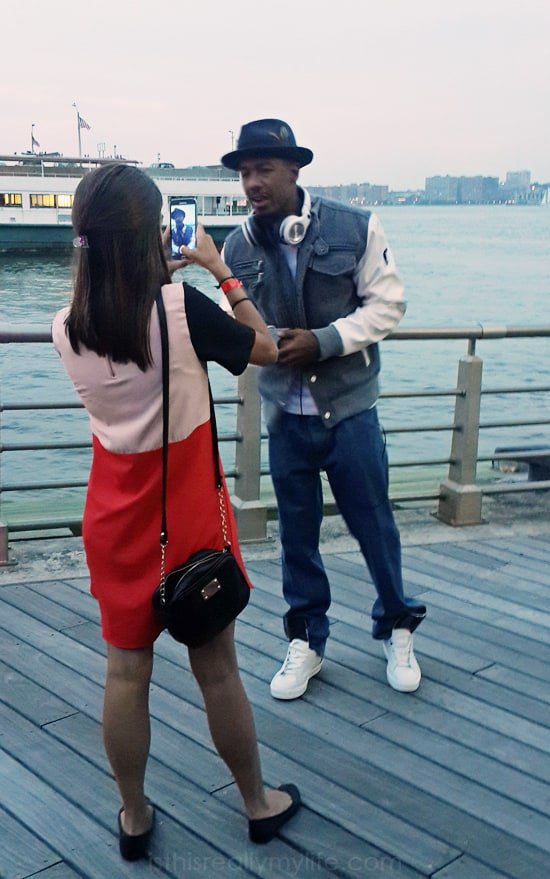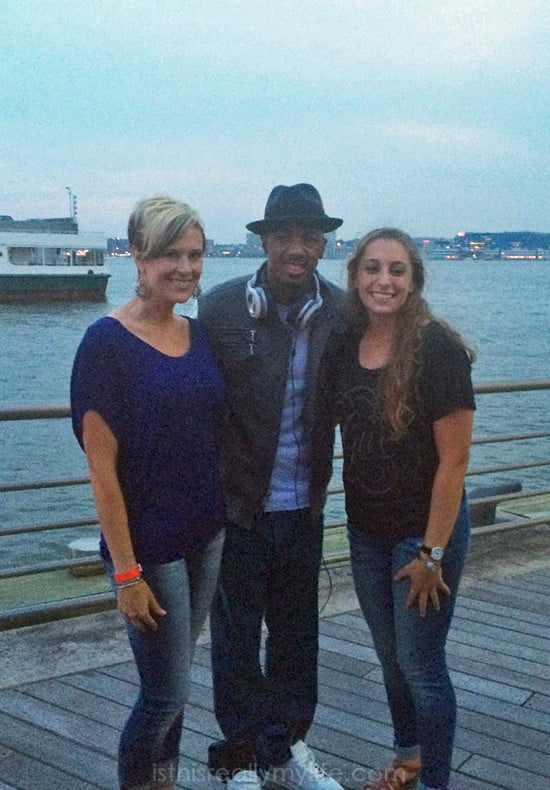 .
As soon as he took over for DJ Spyder, almost every woman—and a handful of men—started bustin' moves left and right and everywhere in between.
Sadly, no Electric Slide. *sigh*
As awesome as that all was, and believe you me, it's awesome when you have Minions doing the Nay Nay, the best part was sharing the fun with this crazy 17-year-old.
.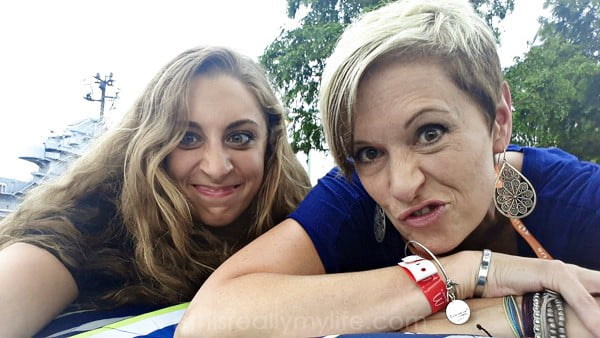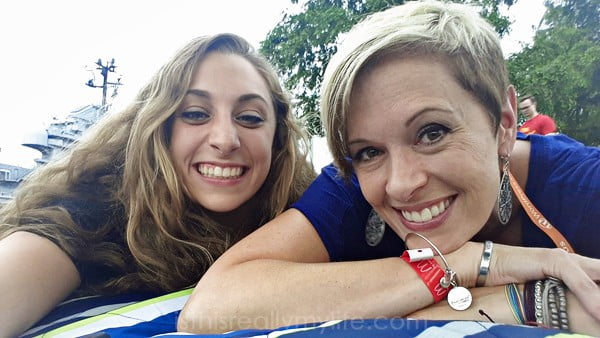 .
The closing party was the perfect way for the BlogHer community to wrap up its 2015 conference.
Speaking of community…
I love Family Arches, an online community that offers a glimpse behind the Golden Arches. Members get access to McDonald's leadership, focus groups, events, brand announcements and the occasional VIP opportunity.
I've had a lot of fun connecting with other McDonald's fans and joining in discussions on everything from why the fries are so irresistible to how we can spread encouragement in just four words. You might even learn more about Yoplait Go-GURT low-fat Strawberry Bananan Yogurt, the newest Go-GURT made exclusively for McDonald's with 25% less sugar than the leading kids' yogurt.
Visit FamilyArches.com to sign up and join the conversation!
.


Feel free to "like" is this REALLY my life? on Facebook. It won't always earn you an extra entry in a giveaway but it will give you warm fuzzies.
Don't forget to sign up for free is this REALLY my life? updates via RSS or email so you don't miss a single awesome post.
.