I've always wanted to see behind the scenes at a TV studio and last week I got the chance to do just that when a handful of bloggers visited KSL 5.
Okay, it was more than a handful. Or at least Megan and I were more than a handful.
…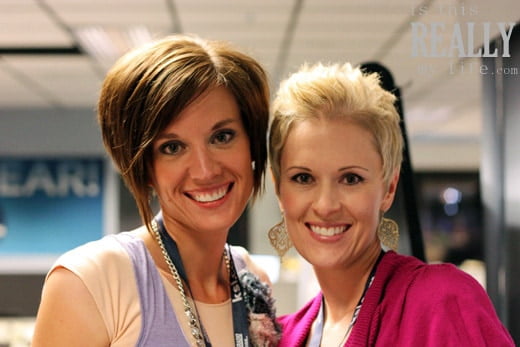 …
We look pretty innocent but there's a lot of sass behind those sweet smiles, trust me.
We were there for a meet-and-greet with the new KSL anchor team. You know, these guys (and gal):
I think I'm going to look into being a news anchor so I can wear a fab red outfit amidst a sea of dark suits. Then again, after seeing Megan's and my foray into the world of KSL news anchor, a fab red outfit may be a bit out of reach.
…
…
Yes, you totally heard me say "…and who doesn't love a good pat-down?" during the new piece.
They probably won't be asking me to guest anchor the evening news any time soon.
Thankfully we had a bit of coaching from Mike Headrick—and a couple great pairs of jazz hands—or our moment in the spotlight would've been much worse.
…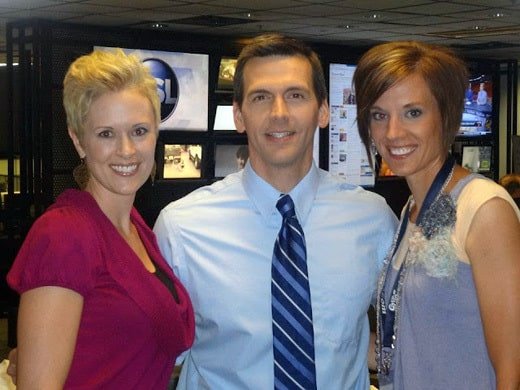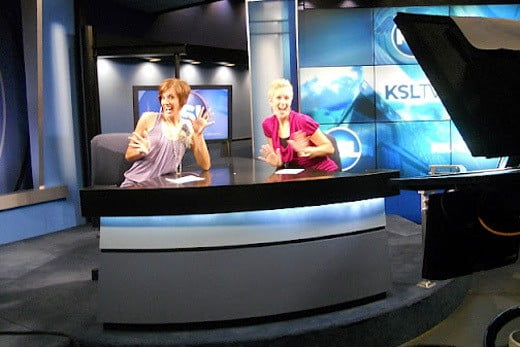 …
As a side note, I kind of want to shrink Nadine Wimmer in my pocket. That gal is as adorable in person as she is on screen.
After a turn on set, we did a bit more mingling with blogging friends and members of the KSL news team. Then it was our turn behind the mic for KSL's Nightside Project with Ethan and Alex.
Check out Megan rockin' her headphones in the Nightside studio!
Our group of bloggers, which included "old" friends like Ashlee and new friends like Natalie, had a great time being the voice of reason women during the show.
Well, they had a great time. I didn't say much more than my name and blog, though I did nod in agreement a few times. I guess radio talk show host isn't within reach either…unless Megan does it with me. Then I might stand a bit of a chance.
Though you can't tell from the pictures, Megan and I weren't the only ones there (lucky for KSL!). It was quite the group of local Utah bloggers and I loved being a part of the #KSLLive event. A big thank-you to Natalie from the KSL 5 team for putting it together and sharing the photos and videos.
Another thank you to Megan who let me play the role of sidekick and bask in her awesomeness that evening. My favorite moment was when she tried to explain refashioning to reporter Jed Boal. Priceless!
P.S. To read Megan's recap of the evening, check out "KSL 5 TV—behind the scenes."
P.P.S. Don't forget to sign up for free is this REALLY my life? updates via RSS or email.
…