Article first published as Triple-Layer Yellow Cake with Fudge Frosting on Blogcritics.
The Chocolate, a local dessert cafe, has a cake flavor named The Husband. It consists of a delicious yellow cake smothered with fudge frosting. It is the owner's husband's favorite, hence the name. Come to find out, the combo is also the favorite of quite a few men I know. Go figure.
When my brother-in-law requested a yellow cake with fudge frosting for his birthday, I knew I wanted to make something from scratch this time around. I searched online for the best recipes and found smitten kitchen's best birthday cake and Caroline's Chocolate Fudge Frosting.
…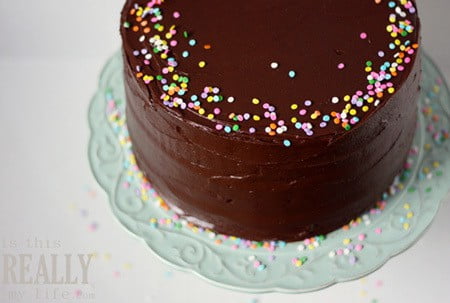 …
Triple-Layer Yellow Cake with Fudge Frosting
Cake:
4 cups plus 2 tablespoons cake flour (not self-rising)
2 teaspoons baking powder
1 1/2 teaspoons baking soda
1 teaspoon table salt
2 sticks unsalted butter, softened
2 cups sugar
2 teaspoons pure vanilla extract
4 large eggs, at room temperature
2 cups buttermilk, well-shaken
Preheat oven to 350°F. Butter two 9-inch round cake pans and line with circles of parchment paper, then butter parchment. (Alternately, you can use a cooking spray, either with just butter or butter and flour to speed this process up.)*
* I generously greased and floured the pans and this method worked great!
Sift together flour, baking powder, baking soda, and salt in a medium bowl. In a large mixing bowl, beat butter and sugar in a large bowl with an electric mixer at medium speed until pale and fluffy, then beat in vanilla. Add eggs 1 at a time, beating well and scraping down the bowl after each addition. At low speed, beat in buttermilk until just combined (mixture will look curdled). Add flour mixture in three batches, mixing until each addition is just incorporated.
Spread batter evenly in cake pan, then rap pan on counter several times to eliminate air bubbles. Bake until golden and a wooden pick inserted in center of cake comes out clean, 35 to 40 minutes. Cool in pan on a rack 10 minutes, then run a knife around edge of pan. Invert onto rack and discard parchment, then cool completely, about 1 hour.
Frosting*
1/2 cup butter
3 (1 ounce) squares unsweetened chocolate
1 pound confectioners' sugar
1/2 teaspoon vanilla extract
3/4 cup milk
* Due to the reviews on this recipe, I used 4 squares of chocolate, only 1/3 cup milk and 1 extra teaspoon vanilla. I then added more confectioner's sugar and milk until it was the desired sweetness and consistency. Also, double the recipe if you're icing a three-layer cake.
Melt chocolate and butter in the microwave or in the top of a double boiler. In a large bowl, combine confectioners' sugar, vanilla and 1/2 cup of the milk. Blend in the melted chocolate mixture. Add remaining milk, a little at a time, until desired consistency is achieved.
Let stand until spreadable (frosting will thicken as it cools).
…
The two recipes were the perfect combination for my brother-in-law's birthday cake. He was in heaven, especially when I topped his large slice of cake with a couple scoops of cookie dough ice cream—his favorite flavor, of course!
…