Article first published as Kid-Approved Whole Wheat French Bread on Blogcritics.
When it comes to whole wheat bread, the "kid-approved" label is a must in our home. We've discovered a healthy and delicious whole wheat bread from a local Utah company that's perfect for sandwiches and the essential breakfast toast. But when it comes to dinnertime, our side of choice has always been my closely guarded dinner roll recipe.
That is, until I found this whole wheat French bread recipe on Food.com. It was super easy, especially if you use a bread machine to do the mixing and initial rising, and it baked up perfectly! The crust was nice and crisp and the inside was soft and chewy…and the overall wheat taste wasn't overbearing.
My family devoured the entire loaf of whole wheat French bread; I have a feeling your family will too! You could even try it using 3 cups whole wheat flour and 1 cup white flour for an even healthier option. Enjoy!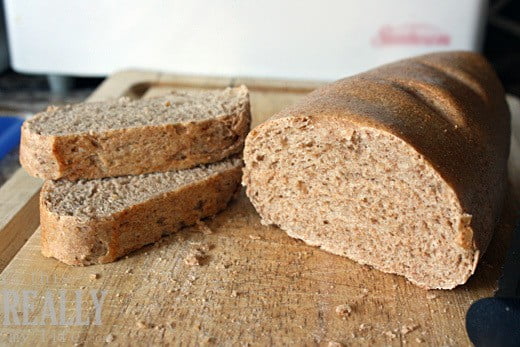 …
Whole Wheat French Bread
1 T yeast
1 1/2 cups warm water
1 1/2 tsp salt
3 T olive oil
2 cups whole wheat flour*
2 cups white flour
Dissolve yeast in water and add a pinch of sugar. Let rest about 5 minutes or until it begins to foam. Stir in salt, oil and half of the flour. Gradually add remaining flour, mixing well. Knead 8 to 10 minutes or until smooth and elastic.
Place in greased bowl and let rise until double in size (about 1/2 to 1 hour). Punch dough down and let rise again until double in size (about 1/2 to 1 hour). Punch down a third time. Using a rolling pin, roll out dough into an oblong shape and then roll up, starting on the longest side. Pinch to seal, forming a long, thin loaf.
Place on a greased cookie sheet and cut the top of the dough with a sharp knife diagonally 3 to 5 times. Brush with egg whites and let raise till double again (about 1 hour). Bake at 375°F for 30 minutes. Use within one day or double wrap and freeze.
* I prefer King Arthur Premium 100% Whole Wheat Flour; its texture is the best I've found for making whole wheat baked goods.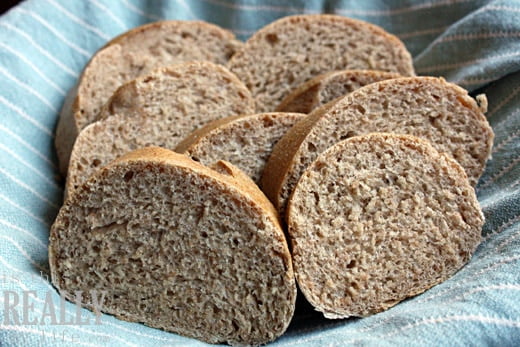 …
Note: You can also use this recipe in your bread machine. Simply add the ingredients in the order indicated by the manufacturer and set it on the dough cycle. After it was ready, all I did was punch down the dough and then follow the recipe starting with rolling it into an oblong shape.