Along with contributing to the Technorati Women's channel, I am also now a contributing writer for Blogcritics Tastes. Yay! This article was first published as Healthy and Delicious Fruit Smoothie on Blogcritics.
…
Healthy and Delicious Fruit Smoothie
I am slowly making my way into the world of fruit smoothies. It's not easy because I'm generally a chocolate shake kinda gal. (When I visit Jamba Juice, I always order the Chocolate Moo'd.) But I do want our family to eat a healthier diet, and fruit smoothies are one way to do so—if you do it right.
Oh, and I'm also one of those gals who doesn't generally do anything in the kitchen without a recipe, so the fact that I created this tasty yet healthy mixed fruit smoothie from scratch is pretty dang impressive. Trust me.
This smoothie was a hit with the family and definitely a keeper. You could easily mix it up by adding a ripened banana or frozen banana chunks. (I always cut nearly overripe bananas into chunks and freeze them for just such an occasion!) Throw in some fresh or frozen blueberries or raspberries for even more good-for-you goodness!
Mixed Fruit Smoothie
2 cup skim milk (or soy or almond milk)
1/2 cup pomegranate juice (or any juice you have on hand)
1 6-oz container Greek yogurt
2 tsp vanilla
1 T agave nectar
2 T honey
1 cup ice
2 tsp ground flaxseed meal
So basically you need all this…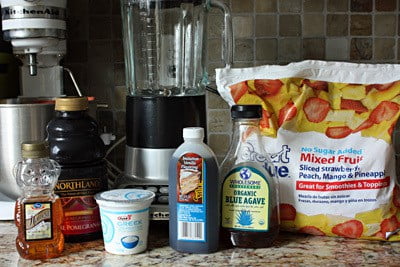 …
…plus this. (It adds that extra healthy kick!)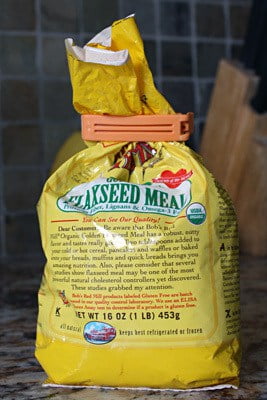 …
Combine all ingredients in a blender and puree (or blend on high speed) until no ice or frozen fruit chunks remain. Serve—and enjoy—immediately.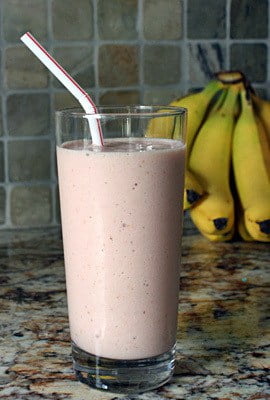 …
Now, if only I could get up the nerve to throw in some spinach or kale, I'd have my daily requirement of fruits and veggies in one swig!