Article first published as Emergency Vegan Pancakes on Blogcritics.
Lately I've been slacking when it comes to dinnertime. Blame it on the warm weather, the kids out of school or my brain on vacation (or a combination of all three), but I haven't been planning meals like I used to…which was at least 3 hours ahead instead of 3 minutes.
Breakfast for dinner is one of our go-to meals, and pancakes are the breakfast dish of choice (probably because they're quick and easy). Unfortunately we were out of eggs when the last pancake night rolled around and so I went on a hunt to find a pancake recipe without them in the ingredients list. And I found one. And they were delicious!
You can find this vegan pancake recipe on Allrecipes.com. I stuck to it perfectly except for the addition of 1 to 2 teaspoons vanilla. The family had no idea they were vegan and loved every bite. This recipe is a keeper for sure!
Note: I did use a whisk to get rid of most of the lumps and found medium heat to be the best setting. (The recipe originally called for medium-high heat.) Also, I found 1/4 cup of batter to be the perfect size! Enjoy!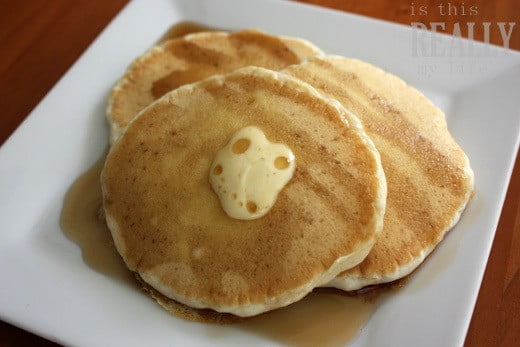 …
Vegan Pancakes
1 1/4 cups all-purpose flour
2 T white sugar
2 teaspoons baking powder
1/2 teaspoon salt
1 1/4 cups water
1 tablespoon oil
1 teaspoon vanilla (optional)
Sift the flour, sugar, baking powder and salt together in a large bowl and set aside. Whisk the water and oil in a small bowl. Make a well in the center of the dry ingredients and pour in the wet. Stir just until blended. (Mixture will be lumpy.)
Heat a lightly oiled griddle over medium heat. Drop batter by large spoonfuls onto the griddle and cook until bubbles form and the edges are dry. Flip and cook until browned on the other side. Repeat with remaining batter.