First, the "why" behind serving Biggest Loser pancakes during a recent Waffle Wednesday...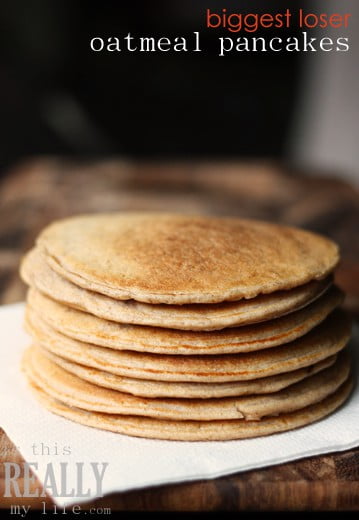 So I've been doing the LeanMoms program for almost 7 weeks. It's a 12-week diet and fitness regimen that helps women get their sexy back (i.e., rediscover their pre-marriage, pre-baby, pre-whatever-packed-on-those-extra-pounds body).
The workouts kick my butt every time, especially the high intensity interval training (HIIT), not to mention the latest challenge that started today on the LeanMoms Facebook page: 300 ab exercises every other day for the next 9 weeks.
Yes, I said 300.
And while I haven't been completely faithful about the LeanMoms meal plan (just ask Nathan how much I love someone telling me what I can and can't eat), it has helped me cut back on the amount of sugar and processed foods in my diet. I'm making healthier food choices—during the week at least—and managing my calories better (thank you, MyFitnessPal). Plus those calories are so much healthier than they used to be.
Another bonus: I've learned to like Greek yogurt, especially the Chobani non-fat blueberry.
It's a miracle!
In an effort to make Waffle Wednesday pancakes a bit healthier, and to avoid making two separate meals, I searched the internets for a healthy pancake recipe and found the aforementioned Biggest Loser pancakes.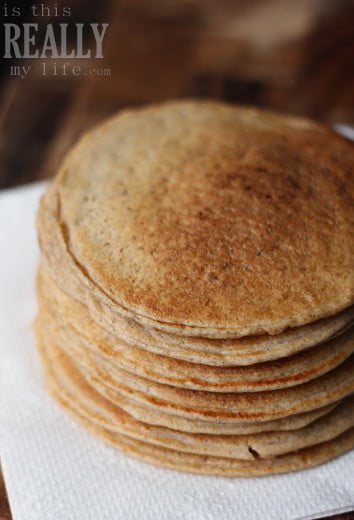 While not as fluffy and melt in your mouth as our favorite buttermilk pancakes, they were still rather tasty. I served them with a side of turkey sausage and unsweetened applesauce; believe it or not, everyone cleaned their plate. And Nathan ate the leftovers for breakfast the next morning.
The texture of these Biggest Loser pancakes is a bit different from your typical pancake due to the seemingly random ingredients, so don't be surprised if they don't become a family favorite. It's safe to say they're not this family's favorite but that won't stop me from making them on the occasional Waffle Wednesday.
I'm mean like that.
Printable recipe for Biggest Loser pancakes below. And yes, I totally doubled the recipe.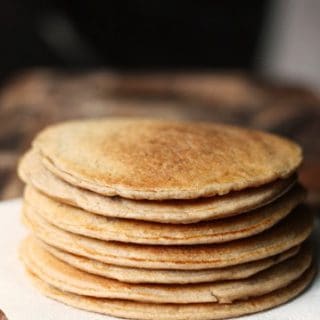 Biggest Loser Pancakes
Super healthy pancake recipe from the hit show Biggest Loser. High in protein and low in carbs, calories and sugar yet still tasty. Crazy, right?
Ingredients
6 egg whites (I used Eggland's Best Liquid Egg Whites)
1 tsp vanilla
2 tsp sugar (I like C&H Light Sugar & Stevia Blend)
1 tsp cinnammon
1 cup low-fat cottage cheese
1 cup rolled oats
Instructions
Add ingredients in blender in order listed. Blend on high speed until no lumps remain and batter is smooth.
Pour ¼ cup onto hot griddle or skillet. Wait for bubbles to appear and edges to set; flip and cook until done in the center.