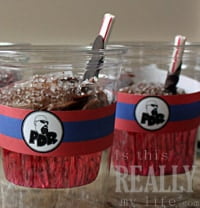 I am not a cupcake (or cake) expert like my friend Ryley but I do enjoy making fun cupcakes once in a while. I've done shark cupcakes, tombstone cupcakes and cookie dough-filled cupcakes for my friend Evonne's baby shower. I recently even made cake pop-topped cupcakes where the cake pops were in the form of a onesie, but you'll have to wait a few more days for that post. (In the meantime I don't recommend attempting onesie cake pop-topped cupcakes. It is not for the faint of heart, trust me.)
When one of my favorite Twitter friends, @Paco_Belle, had a birthday, another fave Twitter friend, @Bittermormon the Great, suggested we bring a cake to the little Smashburger event we were all attending together. I was game and found the perfect cupcake inspired by this post. I handed off the job of the custom #PDR labels to @Bittermormon and searched for a fun, new cupcake recipe to try…and found the Cream Filled Cupcakes on Allrecipes.com. I altered the recipe a titch, topped them with Caroline's Chocolate Fudge Frosting (also on Allrecipes.com) and added a couple embellishments to make those Big Gulp cupcakes look like they were fresh from the soda fountain. Oh, and they taste a lot like Hostess CupCakes…only better because these were made by hand AND with love!
Oh, and the #PDR thing? It's my favorite hashtag on Twitter. It stands for Proper Drink Run—something everyone should do at least once a day. My favorite is a Sonic Route 44 diet vanilla Coke with extra pebble ice…just in case you're in the neighborhood.
And now for the cupcakes!
…
Big Gulp #PDR Cupcakes
Cupcakes
1 box Betty Crocker Triple Chocolate Fudge cake mix*
Ingredients listed on box to make 24 cupcakes
* Or use your favorite homemade chocolate cupcake recipe. I had a crazy busy week and had to whip these together really quickly.
Filling
1/2 cup butter
2 cups confectioners' sugar
1 pinch salt
3 T milk
1 tsp vanilla extract
Frosting
1/2 cup butter
3 (1-oz) squares unsweetened chocolate
1 lb confectioners' sugar
1/2 tsp vanilla extract
3/4 cup milk

Extras
White sugar crystal sprinkles
Chocolate-covered peppermint candy sticks
Frosted plastic cups, trimmed so they don't come higher than the cupcake liner
Custom labels (create your own or look for the link at the end of this post)
Prepare cupcakes according to package directions (or your own recipe) and let cool completely. In a large bowl, beat butter until smooth. Blend in confectioners' sugar and salt. Gradually beat in the milk and vanilla until light and fluffy. Fill a pastry bag with a small tip OR use my trick of a Ziploc storage bag with its corner snipped off.
Using a sharp paring knife (my fave is the one from Pampered Chef), cut a small cone out of the top of each cupcake. (Baking Bites has a great how-to post on filling cupcakes this way.) Fill the cupcakes…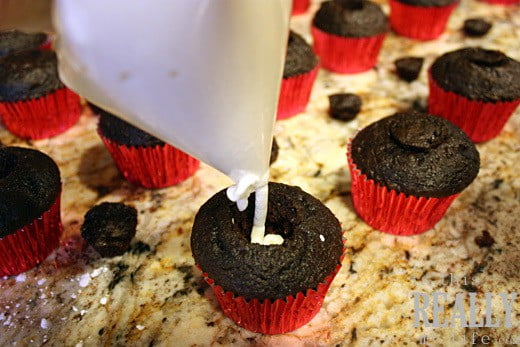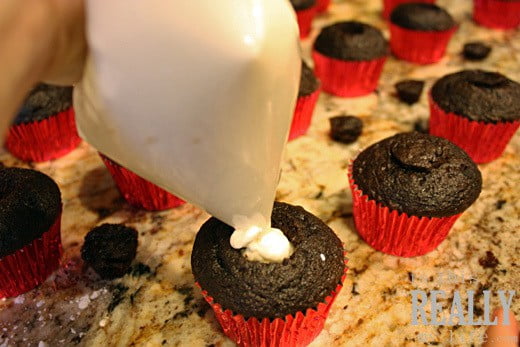 …
…and top with the reserved cupcake cones. (Trim the cone down a bit so it will fit perfectly on top of the filling.) They taste even better if you have two cute helpers in the kitchen.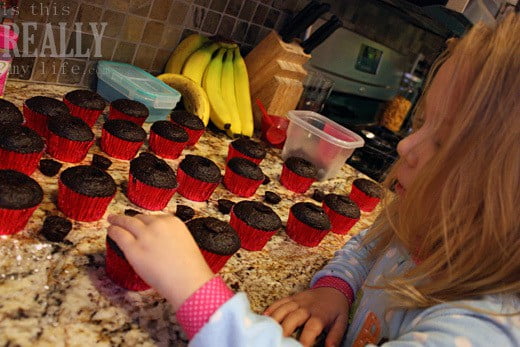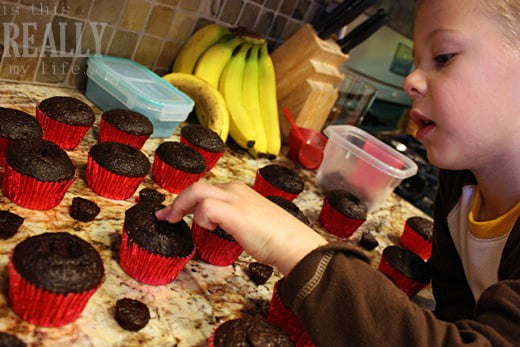 …
For the frosting, melt chocolate and butter in the microwave or in the top of a double boiler. In a large bowl, combine confectioners' sugar, vanilla and 1/2 cup milk. Blend in the melted chocolate mixture. Add remaining milk, a little at a time, until desired consistency is achieved. Let stand until spreadable (frosting will thicken as it cools).
Once your chocolate fudge frosting is at the desired consistency, frost the filled cupcakes and top with the white sugar crystal sprinkles (i.e. pebble ice). Trim the chocolate-covered peppermint sticks and slip into the cupcakes.
Place the labels onto the cups and gently place each cupcake into the plastic cups. Voilà! Big Gulp cupcakes!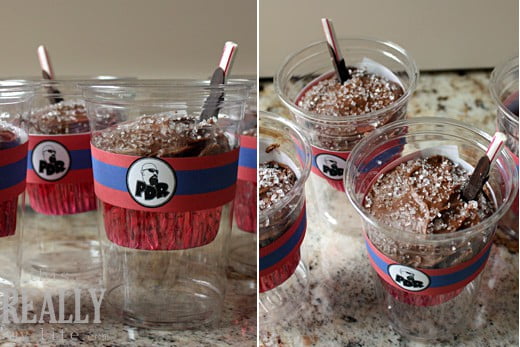 Note: We didn't trim the cups down far enough, but even if you didn't trim them, you could always fill the bottom with that brown shredded crinkly packing material.
You're more than welcome to create your own Big Gulp (or Big Quench or Slurpee) label, but if you're a #PDR fan, you can download the @ProperDrinkRun signature label by clicking HERE. (Thank you, @Bittermormon. You really are great.)
Have fun!